This cherry blossom season, we spotted sakura-themed products across Alibaba Group's cross-border e-commerce platform Tmall Global.
Elsewhere in the ecosystem, the group's logistics service Cainiao Network said it would power same-day delivery in certain areas on orders made through Tmall's online grocery shopping tool.
Sakura-Inspired Goods in Full Blossom on Alibaba's Tmall Global
The season for cherry blossoms – known as Sakura in Japanese – is upon us, and products inspired by the fragrant pink flowers are gaining traction on Tmall Global.
International brands have capitalized on the cherry blossom season for product launches and sales of sakura-themed imported goods increased by more than 80% in the two weeks ending March 20 versus the previous two week, according to the platform.
Bestsellers include a Japanese whisky finished in sakura wood casks and the Rituals of Sakura collection from the Dutch skincare brand Rituals.
These seasonal and limited-edition items are most popular among young female consumers, who have over 1,000 sakura-themed imported goods to choose from on Tmall Global.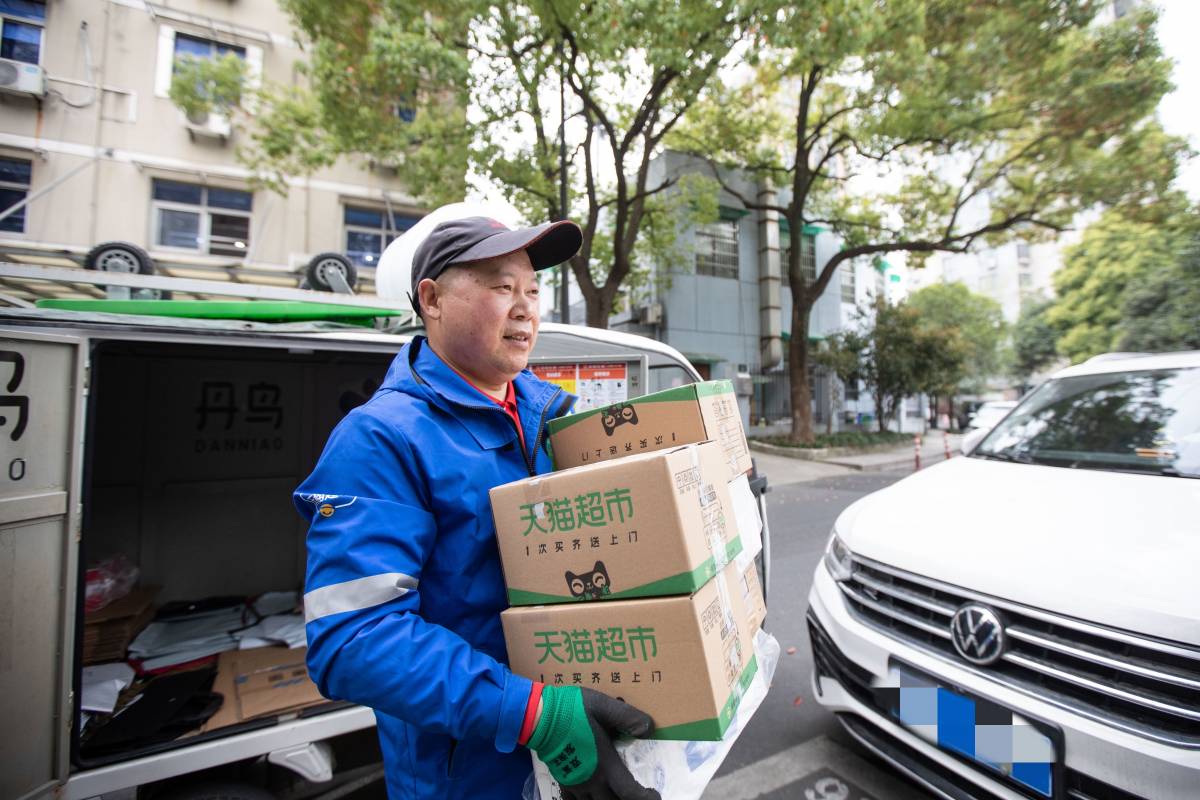 Cainiao Rolls Out Same-day Delivery For Tmall Supermarket
Cainiao announced on Friday that shoppers in Hangzhou would get their Tmall Supermarket orders delivered the same day.
Shoppers who place orders through Alibaba's online grocery service Tmall Supermarket in the morning will receive their packages in the afternoon. Orders placed during the evening will be delivered the following morning.
The half-day delivery service will expand to 20 cities nationwide by the end of the year to cover all urban areas with populations of 10 million or more.
Alibaba Reorganizes To Unlock Value
Alibaba said on Tuesday it would reorganize into six business groups and other investments, a move designed to unlock shareholder value and foster market competitiveness.
Daniel Zhang will continue to serve as Chairman and CEO of the group, which will follow a holding company management model, while each of the six business groups will be managed by its own CEO and board of directors.
The move marks the most significant governance overhaul in the platform company's 24-year history and positions Alibaba's businesses to capture market opportunities and further stimulate growth.
"The market is the best litmus test, and each business group and company can pursue independent fundraising and IPOs when they are ready," said Zhang in an email to Alibaba employees.
Learn more here
Alibaba's CFO Sees Multiple Ways To Boost Shareholder Value Beyond Share Buybacks
Alibaba Chief Financial Officer Toby Xu said he sees multiple ways the group can enhance shareholder value going forward, on top of the existing shareholder buyback program.
The Hangzhou-headquartered internet giant will continue to monetize less strategic assets in its investment portfolio to improve its overall capital structure, said Xu.
"Our commitment to the existing share repurchase program has not changed," said Xu on Thursday's conference call with stock analysts. Alibaba has a $40 billion buyback running until March 2025.
Read the full story here
Alibaba Teams Up With Watches and Wonders To Take Trade Show Digital In China
As businesses normalize operations, trade shows are once again welcoming visitors into physical locations, such as one of the largest annual gatherings for the horology industry, Watch and Wonders, taking place in Geneva this week.
Still, lessons from the pandemic have not been forgotten, and Watches and Wonders 2023 is taking a hybrid approach. Fondation de la Haute Horlogerie, the Watches and Wonders organizer, is collaborating with Alibaba to reach Chinese consumers digitally.
Alibaba's online marketplace Tmall created a 3D space on its app during the trade show, which kicked off Monday and runs until April 2, where consumers can try on the latest models virtually.
"I like the idea of giving the choice, digital is about the freedom of doing whatever, wherever, whenever…So, we'll continue to have this hybrid model in general for Watches and Wonders," Piaget's CEO Benjamin Comar told Alizila in an interview.