Piaget's timing is perfect. The Swiss-based watchmaker and jeweler opened its latest store in Hong Kong just ahead of cross-border travel restarting with mainland China.
Staff at the boutique on Hong Kong's busy Canton Road are readying Piaget's latest collections, videos of the 149-year-old company's craftsmanship and QR codes to navigate Piaget's online websites for an expected wave of Chinese tourists.    
In the storied world of Swiss horology, Piaget has a reputation for anticipating change and innovation, having created some of the world's thinnest watches.
The Geneva-based Maison's latest moves include localization during the pandemic and artfully combining physical and online stores for a new generation of digitally savvy Chinese shoppers.
"Between digital and physical channels, there will be deeper integration," Piaget CEO Benjamin Comar told Alizila in an interview.
Such omnichannel tactics in Hong Kong, at its recently opened store on Rodeo Drive and its souped-up flagship store on e-commerce giant Alibaba Group's digital marketplace, allow Chinese consumers to shop where and when they choose.
"They can see a product in a boutique and buy it online, or vice versa. Or they can see and buy it entirely online or in a boutique. The important thing is to give them the same level of experience across all channels," said Comar.
Nowadays, roughly a quarter of China's consumers are likely to purchase timepieces online, a higher proportion than in other countries, according to consultancy Deloitte's annual survey of the watch industry.
Mainland China and Hong Kong combine to make the largest market globally for Swiss watches, followed by the US and Japan. The blistering pace of export growth has slowed in recent months due to the pandemic, but most brands expect it to pick up again later this year.
While Piaget does not break out sales in China, Asia Pacific is its parent Richemont's biggest regional market, and its mainland China sales are roughly on par with US sales.
"If [travel restrictions linked to China's zero-Covid policy] are removed there will be less barriers to our business, less disruption, and it will ease the business," said Richemont's CEO Jérôme Lambert in a call with analysts in November.
Trend Setters
An omnichannel approach can also help brands stay abreast of Chinese consumers' rapidly evolving shopping habits. For instance, consumers in China are comfortable wearing high-end luxury products in their daily lives, while those in the US and Europe generally reserve them for formal occasions.
"Chinese consumers used to buy what was popular elsewhere, but they now have their own unique preferences. They are more relaxed and casual in how they buy and wear luxury goods, and that trend is now spreading out to the rest of the world," said Comar.
Brands worldwide look to China, the world's most populous market, to learn how to modernize go-to-market activities.
Richemont signed a partnership in 2018 with China's largest e-commerce platform, Alibaba, to provide consumers with a seamless online-to-offline shopping experience.
Richemont's Piaget leans into Alibaba for insights into Chinese consumers' behavior across its digital marketplace, Tmall. Piaget soft-launched in April 2020 on Tmall Luxury Pavilion.
One such insight is that some Chinese consumers see luxury watches as stable stores of value in uncertain times, according to the recently published Tmall Luxury Strategic Consumer Profiles White Paper.
During the world's biggest shopping festival, 11.11, in the fall of last year, the gross merchandise value (GMV) of watches worth above RMB100,000 ($14,423), which are usually considered good investments, recorded a three-digit year-on-year growth on Tmall Luxury Pavilion.
Piaget is also embracing Tmall's marketing tools and technologies, such as live streaming, 3D virtual reality shopping and Hey Box, which leverages big data and artificial intelligence to help brands generate excitement for product launches. And at the vaunted Watches and Wonders trade show, also owned by Richemont, Piaget consistently stands out from the pack with its immersive and interactive digital experiences.
"Innovation has served the luxury business…Tmall, for example, it's helping the luxury business," said Comar.
The Parisian has led these omnichannel initiatives with gusto since joining Piaget in June 2021. He brought with him nearly three decades of experience in the hard luxury sector – including stints at Cartier, Chanel's watches and fine jewelry division and LVMH-owned Repossi.
Young Blood
Luxury watch consumers in China are much younger and more open to digital shopping experiences than elsewhere, found Deloitte's 2021 report. While Comar is reluctant to categorize behavior by generations, he points out that young people have been turning to online research to acquaint themselves with luxury trends and brands.
"The easiness that you have on digital to buy, to make your selection, to receive, to exchange, is very important for those new generations. I think e-commerce will continue to grow and take a bigger share of the sales in the future," said Comar.
Piaget's signature rotating Possession rings, which nod to the watchmaking world with their mechanical mien, and the ultra-thin and skeletonized movement of the Piaget Polo Skeleton are hot favorites with younger consumers in China, he said.
"Those two lines are really booming now thanks to those millennials and Gen Z," said Comar.
Between digital and physical channels, there will be deeper integration
Younger consumers are also driving new trends such as collecting digital luxury products, noted the Tmall white paper. Piaget catered to that demand this Valentine's Day by selling 35 digital collectibles featuring its tiger-themed wristwatch on Tmall.
Brands should "interact effortlessly with new digital technologies including V/R, A/R and the metaverse; that would deliver a more relaxed, pleasant, and immersive experience to customers in the future," urged Kathy Jiang, at consultancy Roland Berger in a recent podcast with Alizila.
Deloitte found that around 40% of the consumers it surveyed last year are interested in the digital twin of a watch, with the overwhelming interest shown in China at 82%.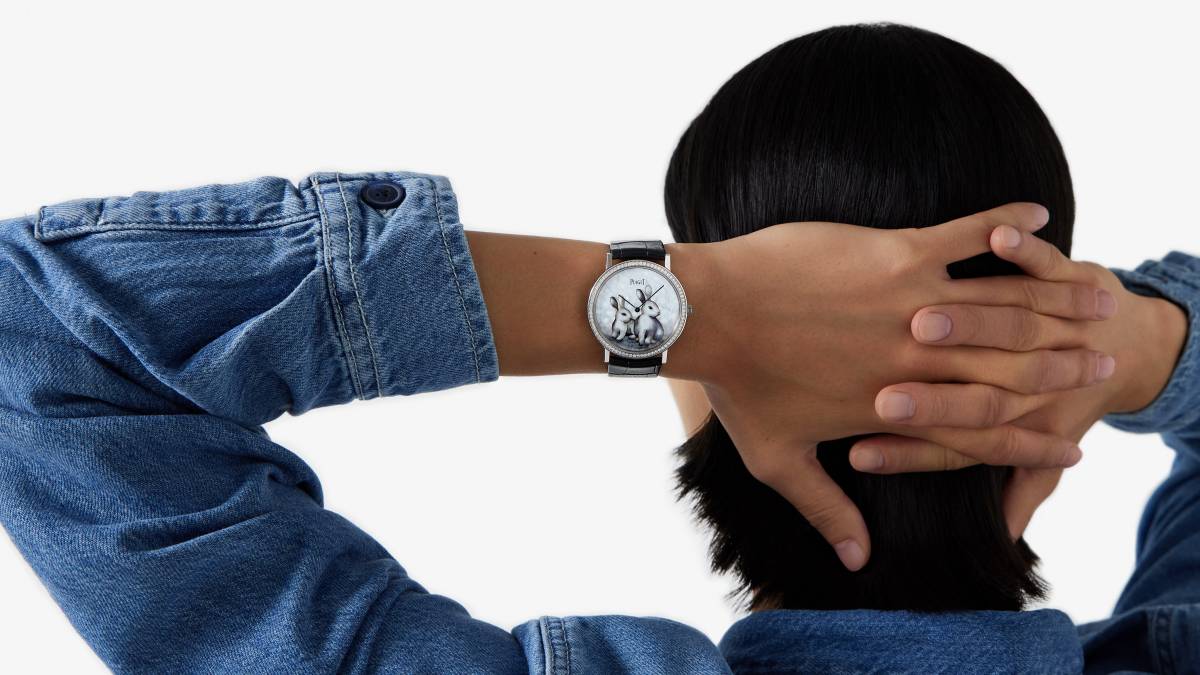 "We'll continue to be very focused on bringing new experiences and specific products designed especially for our Chinese consumers every quarter," said Comar. Piaget's latest limited edition is timed for Chinese New Year, an Altiplano watch featuring the latest zodiac animal, the rabbit.
The rabbit-themed watch is also on display at Piaget's Hong Kong boutique, where staff eagerly await mainland Chinese tourists' return to the territory after a three-year hiatus.
"When the tourists will come back, we will welcome them and we can welcome them. But we are very happy to have a strong local partnership with all our customers in every country in the world," said Comar.