A dozen high-ranking officials from Rwanda visited Alibaba's global headquarters in Hangzhou last week to witness first-hand the transformative power of technology on China's economy and see how the African country can best shape its own digital future.
The four-day program at Alibaba's Xixi campus is part of Alibaba's ongoing commitment to offer capacity-building training to Rwandan officials and policy makers how to build and sustain economic growth in the digital era.
In Kigali last October, Alibaba founder Jack Ma and President Paul Kagame highlightedtheir robust collaboration plans, which include Alibaba's pledge to work with the Rwanda Development Board (RDB) and the National Agricultural Export Development Board (NAEB). The goal was to help Rwandan SMEs export their products, such as coffee and handicrafts, to Chinese consumers through Alibaba's online marketplaces, like Tmall Global, a platform of over a half-billion users.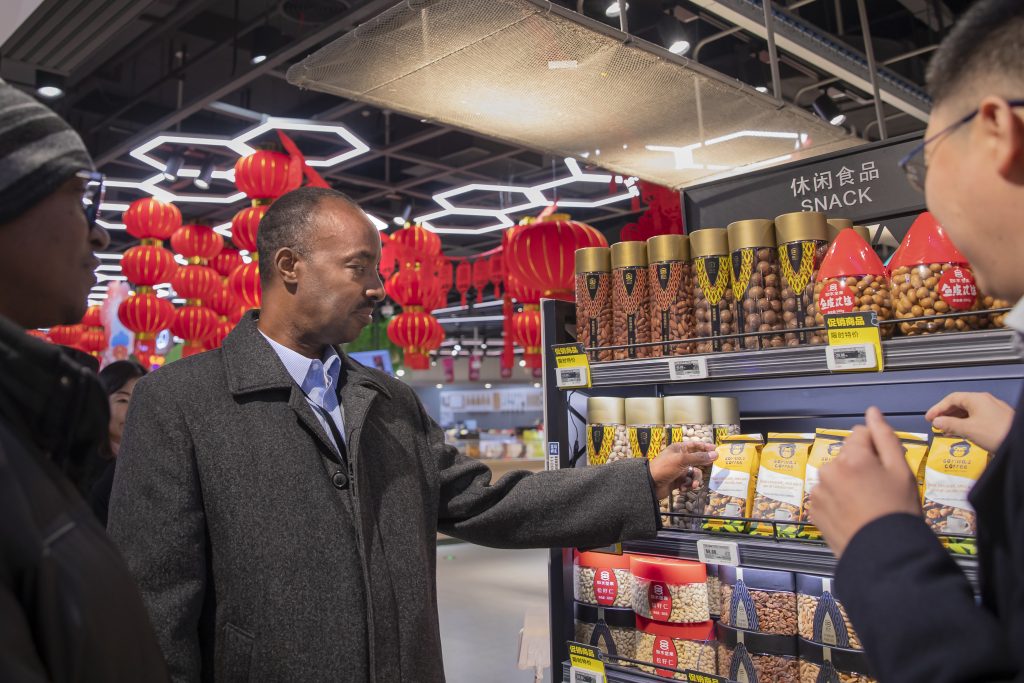 It was Ma's second trip to Rwanda after his initial visit to Africa in 2017. During those visits, Ma had said he was impressed by the country's young entrepreneurs and local businesses and pledged to support the growth of the digital economy in Africa.
"We are here to experience and learn from Alibaba's development and understand how its ecosystem is able to provide solutions and opportunities to millions of Chinese SMEs in this digital age," said George William Kayonga, the chief executive officer of NAEB, who also served as the head of the delegation.
Kayonga added the bilateral cooperation will increase the competitiveness of Rwandan entrepreneurs as they get new ideas and inspirations by engaging with more consumers from around the world through the Alibaba platforms.
"Our young entrepreneurs and SMEs are full of energy and eagerness to introduce their high-quality products to the consumers in China and rest of the world. By working with Alibaba, they can have a direct exposure to the Chinese market and they can also learn valuable lessons from Alibaba's own transformation from an e-commerce company to the technology giant that it is today," Kayonga added.
Brian Wong, a vice president at Alibaba, said Rwanda, like many African countries, is well on track in carving out its own mark in global cross-border trade, thanks to the growing number of homegrown entrepreneurs and support from the public sector, who understand the importance of digitization and technology in this day and age.
"The enthusiasm of these budding entrepreneurs and support from the public sector means Africa has an immense potential to leapfrog in the technology space," he said.
One of tools put in place to propel Rwanda into the digital era is its recent admission to the Electronic World Trade Platform (eWTP), a private sector-led initiative proposed by Ma in March 2016 to provide SMEs with operational infrastructure, such as e-commerce, logistics, cloud computing, mobile payments and skills training.
The aim of eWTP is to extend to local small businesses and companies the chance to access the advanced tools that are traditionally more available to large multinationals. Such aim is aligned with Alibaba's core mission of making it to do business anywhere. Rwanda is the first African country to pilot the eWTP platform. The platform has also been implemented in Malaysia and Belgium.
As part of the Rwanda eWTP collaboration, Alibaba Business School will also conduct the first Alibaba Netpreneur Training program in March. The program is designed to boost the digital knowledge and know-how of entrepreneurs who are currently operating in the Rwanda, or in the process of expanding into there.
The Alibaba also offers an entrepreneur training program called the eFounder Fellowship in partnership with the United Nation Conference and Trade and Development. To date, 52 fellows from Africa and 75 from Southeast Asia and Pakistan have completed the program since the inaugural class in November 2017.