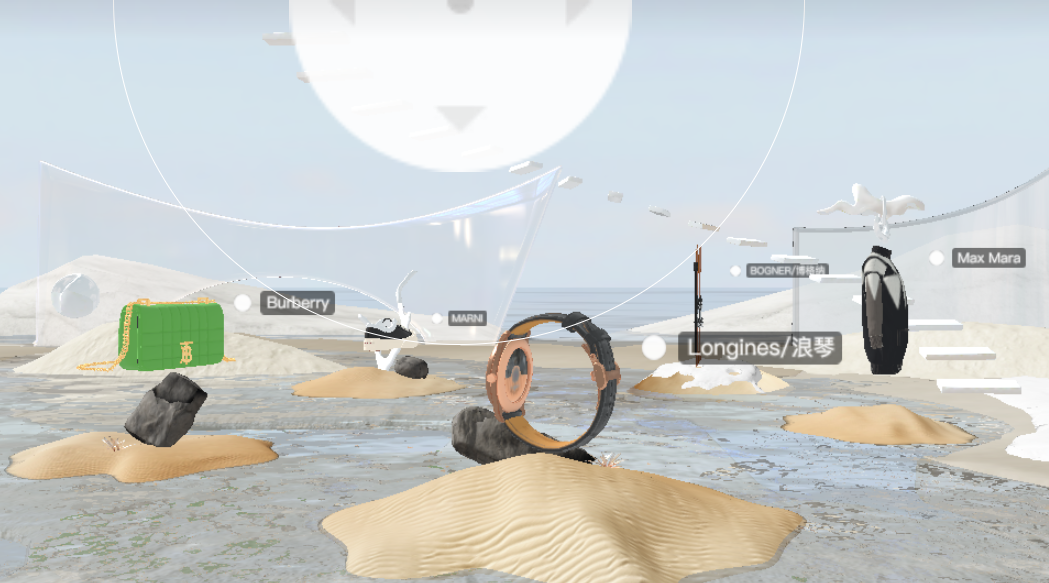 Alibaba Group is multiplying the ways that luxury brands can connect with China's affluent shoppers in the metaverse with a series of digital upgrades and events this month.
Alibaba's luxury shopping platform, Tmall Luxury Pavilion, is hosting an augmented reality (AR) fashion show and introducing a Meta Pass, which confers priority digital access to brands' products, from Burberry to Bogner.
In recent years, the platform has already deployed 3D shopping, augmented reality (AR) and virtual reality (VR) try-ons for products, digital avatars and digital collectibles.
Also this month in Shanghai, luxury executives attended an awards ceremony and explored an exhibition on extended reality (XR) to visualize retail's future.
While the metaverse was the talk of the town at New York Fashion Week mid-month, China's luxury ecosystem has long been at the cutting edge of shopping. The planet's most populous group of digitally savvy consumers and platforms are on track to build the world's largest luxury market by 2025 despite disruption created by the coronavirus pandemic.
"Before "metaverse" became a buzzword, we had already transformed this buzzword into a commercial reality," said Janet Wang, head of Alibaba's luxury division.
Glitterati Gather
Marquee luxury brands, such as Richemont, Kering, LVMH and OTB, gathered last week at a gala in Shanghai to mark the five-year anniversary of Tmall Luxury Pavilion.
After a tough few months for the city that went into lockdown earlier this year, the executives took the opportunity to mingle, collect awards and discuss innovation in the luxury sector.
Some of the brand representatives wandered over to a temporary exhibition created by DAMO Academy's XR Lab and Tmall Luxury Pavilion to immerse themselves in a mock-up of a luxury boutique of the future.
Luxury executives tried on AR glasses, held a digital luxury bag and placed it in a gift box. They could also play with brands' mascots and hold a tiny Burberry deer in the palm of their hand. When they clicked on a product, a window appeared in front of them with product listing details.
The virtual content was superimposed on the hall walls in a renovated industrial warehouse in Shanghai. The show offers a preview of an immersive experience of navigation and interaction while shopping, including 3D visualization of products and multi-dimensional gamification.
Next up will be an AR fashion show in collaboration with Vogue China and various artists. Brand's mascots will strut their stuff down virtual runways on Sept. 22, such as Bogner's Snow Monster. Viewers on the Tmall Luxury Pavilion's platform can interact with the mascots, say by taking selfies with them.
Also this month, followers of fashion within Alibaba's ecosystem can claim a Meta Pass, free entry into the e-commerce giant's metaverse. The pass gives the holder rights to luxury services such as priority purchase of products and admission to brands' offline activities.
Part of this Meta Pass package will be digital warrants certified on the blockchain. Swift-footed consumers will be able to exchange these warrants for limited editions, including from Bogner's 90th Anniversary snowboard, a Max Mara's Fall/Winter 2022 collection oversized sweater, Burberry's signature Lola bag and Marni's fleece-lined Pablo sneakers.
But will clients exercise these rights and use the metaverse services? Brands need to know.
Alibaba is releasing a white paper in conjunction with consultancy Roland Berger this month to help luxury brands active in China track the results of such services so that they can optimize digital strategies, boost conversion rates and improve search results.
Analysis for Tmall Luxury Pavilion is already out. Since last year's 11.11 festival, China's largest shopping bonanza, 21 luxury brands have released 37 digital collections on the platform and 3,500 consumers have claimed digital collections. Nearly 70% of this techy vanguard are male, half are under the age of 30 years old and most of them live in China's first- and second-tier cities.
Early Adopters
Chinese consumers and platforms have long been early adopters of metaverse technologies. While avatars in the West have often appeared cartoonish and clunky, avatars on platforms such as DAMO Academy's meta-human Dong Dong, whose hyper-realistic digitalized features has an appearance comparable to a real human.
"The digital world can provide consumers with the same, or even better, shopping experiences and luxury-brand identities than in the real world," said Wang, an Alibaba veteran and formerly the head of retail juggernaut Zara's online business for the Asia Pacific.
In a world where static images on e-commerce sites are completely old hat, digitalization is allowing greater personalization.
Consumers are experimenting with AR try-ons of watches, jewelry and shoes as the pace of change accelerates.
Over 20 luxury brands have released digital art collectibles via Tmall Luxury Pavilion and laid on virtual fashion shows, where consumers send in their avatars into the metaverse to dress up in luxury products on 3D avatar game Taobao Life.
One cool add-on this year was video consultants, used by Cartier, Vacheron Constantin and Burberry among others, to livestream one-on-one with VIP customers. More than 20 brands have launched watch testing on Tmall Luxury Pavilion, and other digital services such as bracelet adjustment, bag maintenance, even down to shoe cleaning.
Digital storefronts on Tmall Luxury Pavilion maintain the brands' liveries and look-and-feel; but at the backend, the stores use Alibaba proprietary models to leverage insights from across its ecosystem. Its virtual reality landscapes are able to capture the fine details of luxury garments and accessories.
That said, Tmall Luxury Pavilion looks fundamentally different from five years ago. The consumers' experience on the site has evolved and how it helps the brands engage consumers has altered dramatically.
The number of consumers that made purchases on Tmall Luxury Pavilion last year was 153% higher than in 2019, and the total transaction volume was up 309% over the same period. Over 50 million consumers engaged in special activations from September last year to this month.
Who shops on Tmall Luxury Pavilion? The latest data shows consumers are 70% female, as of early 2022, and buyers who make over three purchases and over generate over half of its transaction volume. Tmall Luxury Pavilion is the only platform in China that carries products from all five of the world's luxury giants, LVMH, Kering, Chanel, Richemont and Hermès International.
Pandemic Purchases
In a tough few years for retailers globally, online consumption by the Chinese luxury consumer has been relatively resilient.
While the majority of luxury shopping still takes place in physical retail stores, online and omnichannel expansion has steadily increased – China's luxury online penetration surged to 23% in 2020, up from 12% the previous year.
This year, luxury houses have continued to launch on Tmall Luxury Pavilion even during the economic downturn, such as Bulgari, Moncler and Brunello Cucinelli.
"We saw how quickly brands embraced digital transformation and consumer increased their online consumption," said Wang. She noted consumption trends during the pandemic, such as an uptick in gifting for loved ones, purchases of home furnishings and objects that retain their value such as watches and jewelry.
Tmall Luxury Pavilion hosts more than two hundred luxury brands, up from 150 before the coronavirus outbreak. While many cities in China have sporadically gone into lockdown, over 1,000 shopping events and new product launches took place digitally on the platform this year and last year.
The luxury consumer is relatively immune to inflation. China's luxury market has also been buoyed the last couple of years by Chinese consumers buying products domestically versus on shopping trips to Europe.
While bargain hunters may go on domestic trips to Hainan for discounted products, Tmall Luxury Pavilion has continued to attract high-quality consumers that find value in limited edition launches and the convenience of digital purchases.
"We all know how digital savvy Chinese consumers are and how fast they're able to adapt to new technologies. That's why we're introducing a whole new meta experience," said Wang.
Additional reporting by Yashan Zhao
Check out how brands are using digital strategies to embrace Chinese tourists here