Fashion entrepreneur Brunello Cucinelli grew up without electricity in rural Italy. The sun and the moon provided light and ruled the rhythms of his farming community.
"We lived in harmony with the Universe," said Cucinelli during an interview at his namesake brand's headquarters, deep in the rolling hills of Umbria.
Today, the King of Cashmere sits atop an enterprise of over 2,000 employees spanning Europe, North America and East Asia. The Brunello Cucinelli brand is sported by Hollywood celebrities and Silicon Valley executives alike.
The secret to his success? For Cucinelli, it's that he hasn't forgotten his Italian roots while embracing technology and entering new markets.
All these strands come together in Brunello Cucinelli's fast-growing China business where revenues grew eight-fold between 2011 and 2020.
China is on pace to become the world's largest luxury market by 2025 as the country's swelling ranks of affluent consumers increasingly covet high-quality items that last decades over unsustainable fast fashion.
"I always thought that you cannot throw away a cashmere pullover," said Cucinelli, who says the no-logo brand's sustainable ethos is chiming with a younger clientele in the world's second-largest economy.
The fastest growing luxury sales channel in China is online, as digitally native Generation Z and millennial shoppers turn to e-commerce sites for immersive shopping experiences and to research brands' history and values.
Brunello Cucinelli is expanding in China by launching on Alibaba Group's Tmall Luxury Pavilion this month, just in time for the brand's peak fall/winter season when luxury shoppers snap up its trademark cashmere sweaters.
Cucinelli's team in Shanghai is confident that Chinese consumers will continue to lift the brand's growth trajectory and, over the medium term, contribute roughly a third of group revenues, up from just 1.8% in 2009.
China Expansion
Cucinelli first visited China in 1989 and fell in love with its cultural heritage and the white cashmere combed from the beards of Capra Hircus goats in the country's frigid northern region of Inner Mongolia.
The pace of economic growth and size of the largest consumer market on the planet was not lost on him either.
"In the coming years and decades, this giant country will be a great market for us, for you, for our next generation," Cucinelli told financial analysts during the company's earnings update in April.
Brunello Cucinelli first launched in mainland China with store openings in Dalian and Chengdu and opened its first directly operated store 2013. As sales rolled in, the brand launched a project dubbed "Celestial Empire" in 2018 to accelerate growth.
The brand took over operating its official online boutique in China in 2019 from a local distributor and has rapidly built up its local e-commerce infrastructure.
Moving its China expansion to the next level, the brand is launching a virtual boutique on Tmall Luxury Pavilion, where prosperous consumers shop for premium products. Tmall Luxury Pavilion is part of e-commerce giant Alibaba, with over 1 billion annual active consumers on its platforms in China.
Following a soft opening on Tmall Luxury Pavilion in March, the brand has already garnered over 13,000 Tmall followers. It has slated its hard launch, with a full product lineup marketed to a broader audience, this month with online and offline events.
"With the whole winter collection ready online in September, we are going to have a very successful opening," said Michael Huang, Brunello Cucinelli's General Manager for the Greater China region.
A toehold in China's giant market has already juiced the firm's financial performance. Globally, the group posted 32% sales growth in the first six months of this year, outpacing many of the more famous European fashion dynasties and on track to post record sales for the full year. Its sales ratcheted higher even throughout this year's pandemic-related lockdowns on the mainland.
Brunello Cucinelli's Greater China sales have ballooned from €9.65 million ($9.64 million) in 2012 to €61.73 million in 2020, the last time the brand broke out numbers for this region.
Bridging Cultures
Make no mistake, the Brunello Cucinelli brand remains steeped in Italian culture. A typical family evening at casa Cucinelli involves dinner in the Umbrian medieval hilltop hamlet of Solomeo, where Cucinelli's wife Federica was born.
Their daughters, Camilla and Carolina, mingle with their guests and villagers for al fresco dining and conversation that ranges from philosophy to fashion.
But how can an Italian brand build lasting relationships with consumers in such a far-away culture?
Forging a lasting connection across continents is possible, Cucinelli said. Younger consumers tend to relate to brands in a deeper way than their parents, routinely researching their products and backstories online.
"What I like especially is that young people go to see where [clothing] is made and how it's made and if it has done any damage to Creation," said Cucinelli during an interview at his office in Solomeo.
From 25 years old, Cucinelli wanted to create a company that nurtured Italian craftsmanship to produce quality clothes, a rebuttal to fast fashion's disposable culture as a major carbon emitter.
"I wanted to make "Made in Italy" sustainable…to produce in Italy...a product that you leave behind, and I wanted it to be of exceptional craftsmanship," said Cucinelli during the interview in Solomeo.
His office overlooks the brand's factories, where artisans hand stitch clothes in light, airy spaces with panoramic views of the surrounding landscape.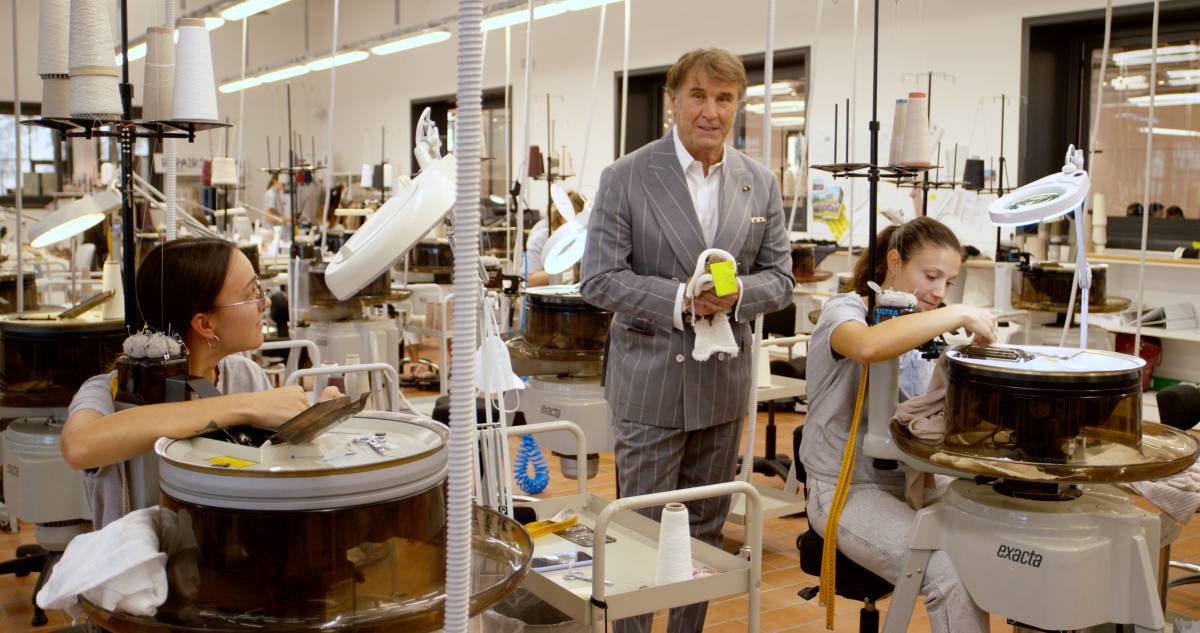 Research has shown that young consumers in emerging markets are just as eager to buy sustainable and healthy products, if not more so, than their peers in the U.S. and Europe. Consultancy Bain & Co suggests this is because many of them see the impact of pollution daily.
For many Chinese consumers, sustainability means "buying something that lasts longer and extending the product life cycle by choosing something of good quality," said Shanghai-based Huang, who has worked for high-end brands in mainland China for over two decades.
So far, Brunello Cucinelli's clientele in China fits the profile. Over half of its consumers in the Middle Kingdom are 35 or under, younger than its consumers in the West. They spend more time on digital platforms trend spotting, said Huang.
With its launch on Tmall Luxury Pavilion, Brunello Cucinelli is doubling down on outreach to younger consumers as about 84% of the shoppers active on Tmall Luxury Pavilion are Generation Z or millennials, according to a recent report.
Cucinelli conveys his young-at-heart style through his designs. Dressed in a double-breasted pinstriped suit from his Spring/Summer 2022 collection, the 68-year-old joked: "Perhaps with my taste in dress, I might be thought of as a 30-year-old."
Future Proofing
Among storied Italian luxury houses, Brunello Cucinelli is a first-generation enterprise. Cucinelli wants the firm he founded in 1978 to prosper well beyond his own lifetime. His two daughters and sons-in-law are intricately involved in the tightly knit family business.
To help ensure his legacy, the family is busily forging connections with China. Camilla and Carolina traveled to China in 2019 to get to know the brand's cashmere producers and both remain curious about the culture and keen to build bridges.
They are also united on reaching out to China's next generation of luxury shoppers ~ and that means online. China's luxury market is already more digitally savvy than most and the shift online accelerated during the pandemic.
"Digitalization is the trend of the decade," agreed Huang.
As a result, much of the industry's marketing and consumer engagement activities have shifted online, even as offline stores remain the primary channel for brand building and purchase conversion. Online luxury sales grew faster than offline across all luxury categories last year, according to Bain & Co's estimates.
To future-proof its business, Brunello Cucinelli, is weaving together its digital and physical stores. A blended strategy means that consumers can discover products and trends online, research the brand and then either buy digitally or go into a brick-and-mortar store to try clothes on and feel the softness of the cashmere.
"Many customers go to a physical store because they want a sense of touch, but they go with an image in mind of what they've seen on e-commerce," said Cucinelli.
Cucinelli set a target in 2019 for Europe, North America and China to contribute roughly equal revenues to the group so that no one nation or culture might have an overweening influence.
Back in Shanghai, Huang believes he can hit that target and expects China to catch up with the United States as a mainstay for revenue in the coming five to ten years. "We need to be patient, but not that patient."