Alibaba Group Holding said it plans to spin off its cloud business within 12 months, kicking off the first phase of its largest-ever reorganization.
Alibaba's logistics arm Cainiao and high-tech grocery chain Freshippo are green-lit to pursue initial public offerings, while international commerce business Alibaba International Digital Commerce (AIDC) will seek external financing. The capital raisings are subject to conditions and approvals.
The platform company said it would embark on a historic restructuring on March 28 to empower its businesses to become more agile, enhance decision-making, enable faster responses to market changes, and promote innovation.
"We are taking concrete steps towards unlocking value from our businesses," said Alibaba's Chairman and CEO Daniel Zhang in a statement on Thursday.
Cloud Spin-Off
Alibaba's board of directors has approved a full spin-off of the Cloud Intelligence Group via a stock dividend distribution to its shareholders.
Before the spin-off, Alibaba plans to bring in external strategic investors through private financings, ahead of it becoming an independent publicly listed company.
Alibaba picked the Cloud Intelligence Group as an early IPO candidate because its business model, customer profile and stage of development are fundamentally different to the other consumer-focused businesses in the Alibaba ecosystem, said Zhang, who is also Chairman and CEO of the cloud business.
"We would love nothing more than to see one of these little Alibabas spinning off from Alibaba [and] becoming another big Alibaba," said Zhang on an earnings call with stock analysts. "We would be happy to see, and indeed would expect to see, Alibaba Cloud as an independent company growing to be as big as, and perhaps even bigger than, the Alibaba Group."
Analysts at brokerage Daiwa said the capital raisings were faster than expected and would likely prompt a rerating higher of Alibaba shares.
"The spin-off of the loss-making cloud operation is likely margin accretive to Alibaba's remaining e-commerce businesses. As the company will raise extra capital from the external funding of its several subsidiaries, we anticipate further aggressive share repurchase," said the Daiwa analysts, including John Choi, in a report.
We would love nothing more than to see one of these little Alibabas spinning off from Alibaba [and] becoming another big Alibaba
AIDC, which spans international commerce businesses Lazada, AliExpress, Trendyol, Daraz and Alibaba.com, plans to use the capital raising to finance its expansion into new geographic markets, invest in new technologies, grow its consumer and supplier base, strengthen its management team and develop and enhance its products and services.
Alibaba targets completing Cainiao's IPO in 12 to 18 months. Cainiao provides supply chain, logistics and delivery services to consumers and merchants that are customers of the Taobao & Tmall Group, AIDC, as well as third-party customers. Alibaba holds a 67% equity interest in Cainiao. Other shareholders in the business include strategic investors in the logistics industry and global institutional investors.
Alibaba expects to complete the IPO of Freshippo, also known as Hema, in the next six to 12 months.
"Freshippo and Cainiao have over the years established differentiated customer value propositions, stable and well-defined business models and a clear path to profitability. We believe these two companies are ready to go public," said Zhang.
Meet The Teams
Under the new structure, Alibaba will act as the holding company of six major businesses and various other investments, each independently managed by its own CEO and board of directors or equivalent governing body.
These businesses' directors and CEOs are subject to the approval and appointment of Alibaba's board of directors. Each director was selected based on their unique insights and skillsets that are relevant and complementary to each CEO.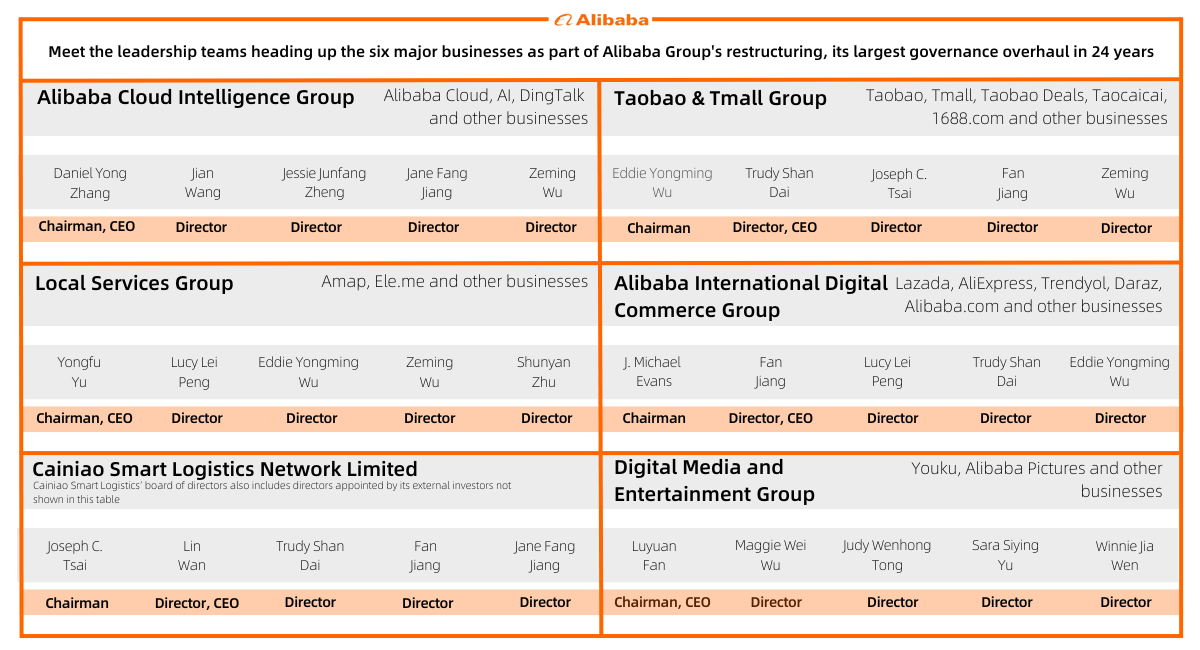 Alibaba's board of directors has formed a capital management committee, which will review and decide matters relating to Alibaba's activities as a holding company, including capital market transactions, shareholder return initiatives, subsidiary equity incentive plans, fundraisings, IPOs and spin-offs. Zhang will chair the committee, and other members are Joseph Tsai, Michael Evans, and Maggie Wu.
"As the group holding company exits certain of these businesses, it will be recovering investments and gaining liquidity," Zhang told Alibaba stock analysts.
A new compliance and risk committee, with independent director Irene Lee serving as chair, will oversee overall regulatory compliance and risks in key areas other than financial reporting, which will continue to be overseen by the audit committee.
Analysts said the restructuring marked a philosophical change in the group's corporate strategy and capital management.
"The result reveals a serious intention to unlock value to shareholders in an intelligent and cost-effective way, and we expect persistent efforts to unlock value in the next few years," said analysts at JP Morgan, including Alex Yao.
Earnings Update
Also on Thursday, Alibaba reported fourth-quarter profits, above consensus estimates.
"Alibaba reported a solid earnings beat," said Goldman Sachs analysts.
Its earnings report card showed that its cloud segment, comprising Alibaba Cloud and DingTalk, posted quarterly revenue down 3% year-over-year to RMB24.56 billion ($3.58 billion), including revenue from services provided to other Alibaba businesses.
The year-over-year drop reflected delivery delays of hybrid cloud projects given the surge in COVID-19 cases in January, the normalization of demand for content delivery networks – distributed groups of servers – compared with the same period last year, as well as the continued impact from a top customer phasing out the use of overseas cloud services.
Alibaba Cloud aims to expand its public cloud customer base and increase cloud utilization, and to leverage the historic opportunity in generative AI.
"The breakthroughs in artificial intelligence will reshape every aspect of our society, how we work and how we live, creating opportunities for disruptive innovations while bringing new problems for mankind to solve together," said Zhang.
In April, Alibaba Cloud unveiled its latest large language model (LLM), Tongyi Qianwen, which means 'seeking truth through a thousand questions' in Mandarin. Alibaba plans to integrate the LLM into all business applications across Alibaba's ecosystem soon, from DingTalk, Alibaba's digital collaboration workplace platform, to Tmall Genie, a provider of IoT-enabled smart home appliances.
"We see massive market potential and remain confident about Ali Cloud's future," said Zhang.
In the next three years, generative AI will develop content creation capabilities on a par with humans to facilitate digital content creation, DAMO Academy predicted earlier this year.
Recently, Alibaba Cloud cut prices of some core utility products including computing, storage, networking and security products by up to 50%. It believes the move will help increase public cloud adoption in China as well as unlock emerging opportunities to leverage AI technology for enterprises.
By 2025, over 95% of new digital workloads will be deployed on cloud-native platforms, up from 30% in 2021, according to a 2021 report by research firm Gartner.
Freshippo, posted positive operating results. Cainiao posted quarterly revenue, before inter-segment elimination, up 15% year-over-year at RMB18.92 billion.
For more on Alibaba's fourth-quarter earnings results, click here
To learn more about the group restructuring, visit Alizila's company news hub
This article has been updated to include comments and analysis from Alibaba's earnings call with analysts on May 18