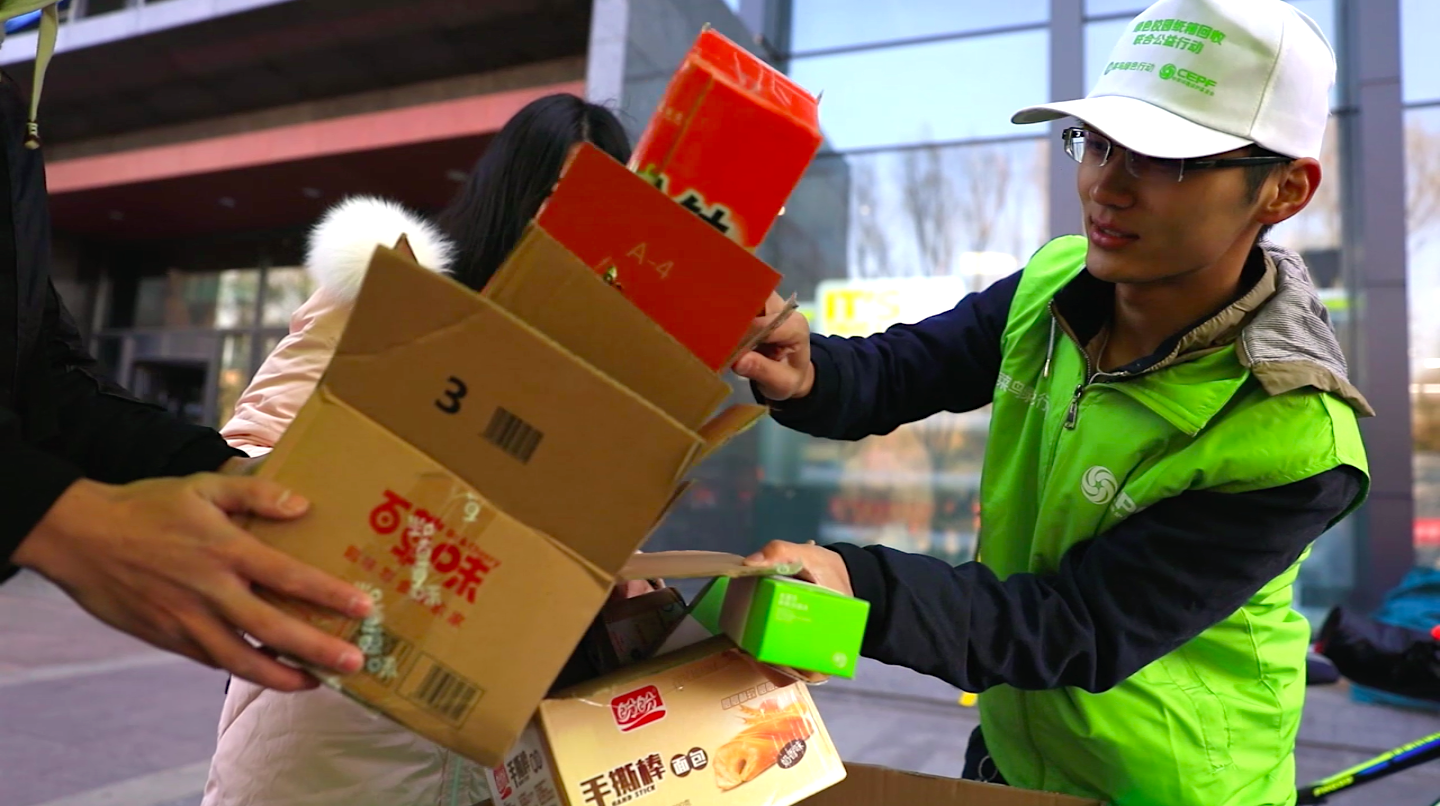 Here's the dirty, not-so-little secret about a record-breaking 11.11: An all-time high in gross merchandise volume means many more packages than a year earlier – and potentially even more waste.
It's hard for the mind not to boggle at the scale of 11.11. GMV was $74.1 billion, which translated to Alibaba's logistics unit, Cainiao, processing a record 2.32 billion packages generated by orders on Alibaba's platforms. Without green measures in place, that would mean literally tons of packaging waste and carbon emissions from deliveries.
That's why Alibaba's ecosystem and brands approach the shopping festival with green initiatives aimed at reducing the event's carbon footprint.
Nearly 100% of the packages shipped from Cainiao's warehouses were biodegradable, and nearly half of the paper packaging was tape-free. Cainiao has already taken the lead among logistics companies, encouraging courier companies to switch to Cainiao's e-shipping labels, meaning 2.2 billion fewer pieces of paper used during 11.11.
This year, Cainiao also used its self-developed smart-packaging algorithms to sort products into boxes of the proper size, minimizing waste from overpacking for 12 million shipments.
Consumers were encouraged to recycle their own packaging at Cainiao's 80,000 recycling stations across China. They were enticed with rewards and the ability to redeem points in the "Cainiao Ocean" game, which translated into coastal clean-up efforts launched by the platform and partnering nonprofit organizations.
Alibaba's Intime department store this year replaced paper receipts with e-receipts for 11.11, reducing paper usage by 2 million sheets. That's roughly equivalent to 200 trees.
International brands also went more-sustainable and greener for 11.11. Swiss food and beverage giant Nestlé joined Cainiao's National Cardboard Box Recycling Day campaign earlier this month to promote recycling across communities, rewarding plastic-recycling efforts from consumers with free products. It also inked a new agreement to co-innovate on sustainable packaging with Cainiao. Nestlé was among the nearly 500 brands that teamed up with Alibaba to use reusable and tape-free packaging across its warehouses. This has since helped reduce over 86 million meters of plastic tape during 11.11 – enough to wrap around the entire planet Earth twice.
L'Oréal packaged all products ordered on Alibaba's e-commerce site Tmall in environmentally-friendly packaging. And Unilever developed a new AI-powered recycling device with Alibaba, which is now being piloted across select mom-and-pop stores, communities and university campuses.
From industry collaborations aimed at cutting back on the use of paper and single-use plastics to innovative technologies deployed across the supply chain to shrink 11.11's carbon footprint, here's a glance at Alibaba's efforts to make the world's largest package-heavy event as green as possible.
Sign up for our newsletter to receive the latest Alibaba updates in your inbox every week.