It's Labor Day weekend in China and customers in masks have been trickling into Intime's Hangzhou West Lake branch incessantly since 10 a.m. Shoppers floated from counter to counter, determined to snatch the best deals the long holiday has to offer. Since the widespread outbreak of Covid-19 across the country at the start of the year, this is the first time that the five-story department store has been able to operate at normal capacity.
Like many other retailers across the world, Intime, China's leading department-store chain, was adversely impacted by the novel coronavirus. The chain operates 65 locations in China. At the height of the outbreak, it had to suspend operations at brick-and-mortar stores in many hard-hit cities.
Fortunately, Intime has been able to recover swiftly from pandemic-induced disruptions, thanks in large part to its robust digital infrastructure and omnichannel capabilities. The chain was acquired by Alibaba Group in 2017 as part of the e-commerce company's New Retail push and has since been increasingly fueled by innovations that bring together the worlds of online and offline shopping.
The investment has paid off during hard times: Through livestreaming, online shopping as well as a series of punchy campaigns and sales initiatives, Intime has been able to not only resume operations but also fight back their losses.
WATCH: Intime reopens for business post-coronavirus
Livestreaming as a Lifeline
When traffic to physical stores dropped off during peak months of the coronavirus outbreak in China, Intime responded quickly by ramping up its efforts on Taobao Live, Alibaba's livestreaming platform. While the store had always made use of the online video tool, since the pandemic, it has increased its number of livestreaming sessions to an average of 200 a day, rolling nonstop from morning to midnight. Meanwhile, more than 5,000 sales associates from Intime's physical stores have registered as livestreaming hosts, while floor managers have been tasked with scheduling duties.
"The backend of each livestream session on Taobao is linked to Intime's online store, making it easy for users to place direct orders," said Eric Cao, associate store manager for Intime West Lake. When viewers see products they like during a stream, they can simply tap on its link to purchase. If the item is eligible for discounts or coupons, these will be automatically applied at checkout.
According to Intime, livestreaming has become the single most-effective way to reach new consumers during the coronavirus. Over 90% of orders placed through livestreaming come from new users, said the retailer.
"When I livestream, my viewers are very different from those we receive at the store, who are often tourists visiting West Lake," said 26-year-old Chenjie Shao, Lancôme's sales associate at Intime. Shao started livestreaming only three months ago and said that her online followers are younger and often look for high levels of engagement. "They tend to type a lot faster and leave loads of comments," she said.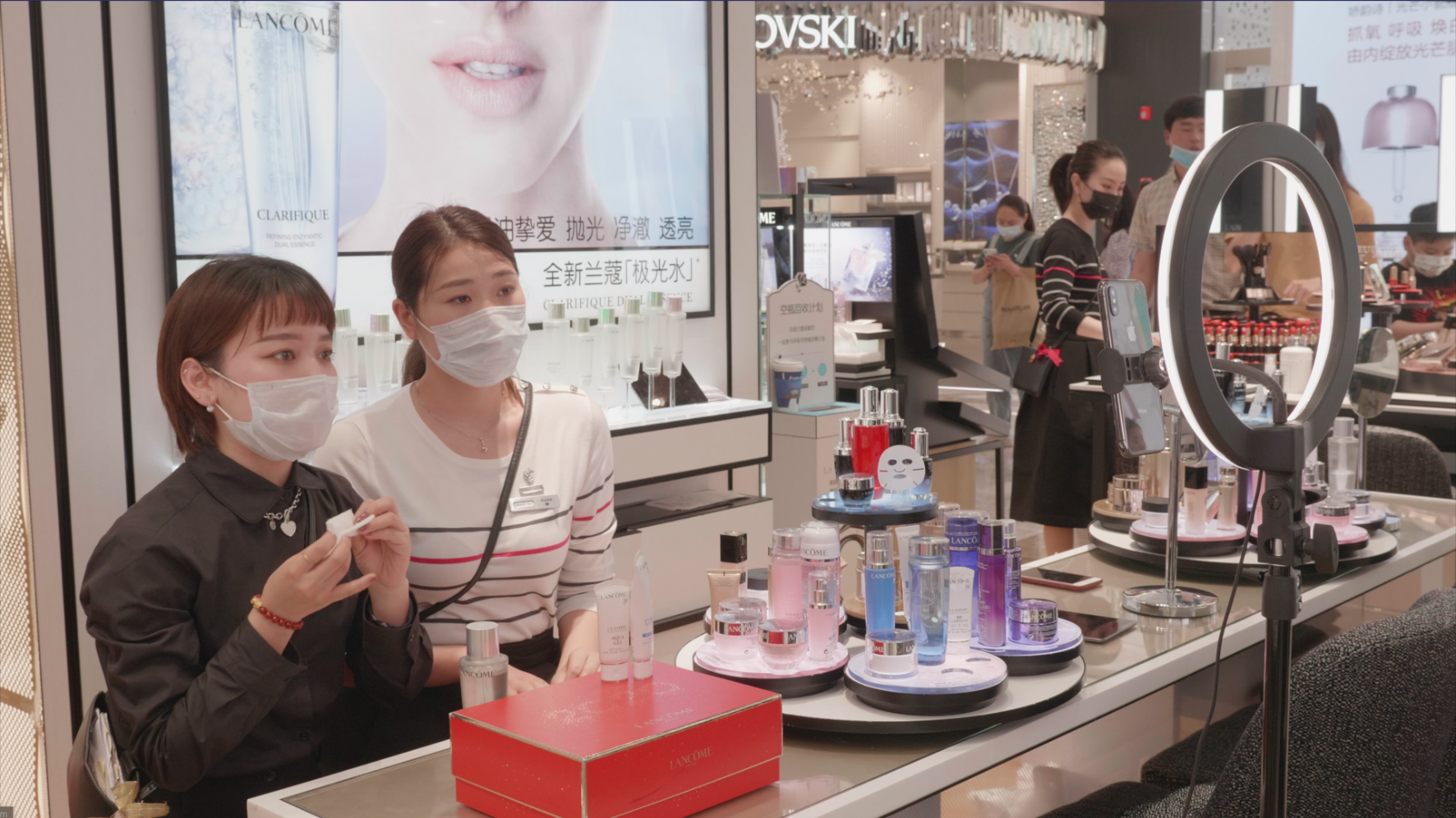 Sales associates like Shao make particularly effective livestream hosts since they boast a keen expertise about their brands and products and are also able to offer unbeatable deals through online discounts, coupons and even freebies which align with Intime's own campaigns.
On International Women's Day on March 8, for example, Shao and Intime CEO Xiaodong Chen hosted a livestreaming session that was watched by more than 220,000 viewers.
"More and more consumers are shopping as they watch livestreaming. It's the same experience as buying offline," explained Shao. "I now refer my regular customers to our livestream sessions because that's where they can get the best deals and each order counts towards our monthly sales target just the same."
The Online Experience
During coronavirus-related lockdowns across the country, Intime made sure to change its strategy to cater to consumers who increasingly relied on online shopping and home-delivery services for daily essential and other purchases. As the stay-at-home economy soared, so did traffic to Intime's offline-to-online shopping app, Miaojie, which lists more than 90% of Intime's stores across the country.
While Intime's physical stores operate between 10 a.m. to 10 p.m., with Miaojie, the retailer is able to take orders 24 hours a day. To further encourage shopping online, it also rolled out free countrywide shipping for all in-app purchases and partnered with Cainiao, Alibaba's logistics network, to help cover deliveries within a 10-kilometer radius of any store location.
As a result, Intime saw a surge in online orders even as early as February. This helped offset losses caused by drops in traffic to its physical stores, and in-store staff who were not busy livestreaming were able to help process online orders and preparing them for delivery.
Getting Back on Its Feet
While Intime's online activities have grown during the pandemic, it's also seen a steady recovery in its offline businesses as China emerges from weeks of lockdowns.
To boost local consumption and consumer confidence, Intime has distributed RMB1 billion ($140 million) in vouchers and discounts since April and ramped up sales efforts for the extended Labor Day holiday. At the same time, it installed eye-catching pop-up displays of indoor cherry blossoms at its stores so shoppers could snap and post photos on their social media accounts.
This combination of online marketing and offline attractions successfully boosted Intime's in-store visits, said Cao. From May 1-3, its average foot traffic grew by 50% compared to the same time in April.
"We are seeing month-over-month growth since reopening," said Cao. "Sales here have been growing from Women's Day to Tomb Sweeping Day and now the May holiday. These are important signs of recovery and boosts of confidence for retailers like us in China."
Sign up for our newsletter to receive the latest Alibaba updates in your inbox every week.