Alibaba Business School last week hosted 30 Rwanda-based entrepreneurs at the company's global headquarters in Hanghzou to learn from Alibaba's experience and the tools needed to run successful business in the digital era.
The entrepreneurs are the inaugural class of the Alibaba Netpreneur Training program, a 10-day course that provides in-depth and country-specific training for entrepreneurs, especially those looking to digitize their operations. For the Rwandaclass, the class includes players in the e-commerce, fintech, tourism and logistics sectors, both online and off.
Alibaba Group Vice President Brian A. Wong, who heads the Global Initiatives division, said the training aims to help these entrepreneurs solve the problems they face in their home markets by leveraging technology. By sharing with them what Wong calls a "digital mindset," the participants can make fundamental changes in the way they do business.
"By offering a curriculum specifically designed for an individual country, we want to empower these entrepreneurs to solve the unique challenges facing their local economy," Wong said.
"This way, participants can easily put into practice the skills and knowledge they learned from this program and become role models for other entrepreneurs back home," he said.
Moreover, the program is tailored to each country that participates, Wong noted. For Rwanda, that meant inviting entrepreneurs across industries so that all parts of the economy were included, from mobile payment operators to shoemakers. The result, Wong hopes, will be a training program that accelerates the adoption of new technologies and, ultimately, a more digital Rwandan economy.
A Case Study for Rwanda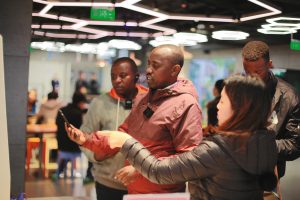 During the program, participants attended lectures given by Alibaba executives, who shared their experience and thoughts on China's digital transformation. In addition, they witnessed the effects of the rise of online shopping in China by visiting the offices of various e-commerce and platform-based companies and local communities in Hangzhou, which has seen significant consumption upgrade since Alibaba's founding in 1999.
Alibaba Business School said the participants were selected through a rigorous application process, with the focus on training entrepreneurs who are already setting the pace for Rwanda's nascent digital transformation. The hope is that the graduates, upon returning home, will quickly and effectively influence more Rwandan small- and medium-sized enterprises to adapt to the new web-based economy.
"Alibaba's impact on trade in China and throughout the world is unrivaled. This training is a worthwhile experience for any private and government institution that really wants to grow in an inclusive and sustainable way," said Clarisse Ibribagiza, the CEO of DMM.Hehe, a leading technology company in Rwanda that provides e-commerce solutions to millions of local SMEs.
Ibrigiza, who co-founded Hehe in 2010 when she was 22, also sits on the Presidential Youth Advisory Group under the African Development Bank.
"This program is a great way to meet other entrepreneurs who are part of the ecosystem we are building in Rwanda," she said.
Haguma Norbert, who heads AfricaGen, a consultancy that helps African companies do business in China, said the similarities between the Chinese and the African economies, such as the lack of credit cards and the fast adoption of e-wallets, makes this training especially relevant for entrepreneurs in Rwanda.
"There is so much Africa can learn from China, from how to build efficient logistics to how to empower rural enterprises to join the global economy through e-commerce," he said.
Fostering African Talent
The Alibaba Netpreneur Training program is only one part of Alibaba's commitment to develop digital talent in Africa's burgeoning e-commerce economy. On March 27, Alibaba founder Jack Ma's namesake foundation will kick off the Netpreneur Prize, providing a total of $10 million in funding to 10 selected Africa-based startups in the next decade.
The Alibaba Business School, in partnership with United Nations Conference on Trade and Development, also conducts the eFounders Fellowship program, through which Alibaba has pledged to train 1,000 entrepreneurs from emerging markets over five years. Two hundred of those entrepreneurs will come from Africa. Five Rwandans have already graduated from the program.
Last August, 50 Rwandan educators also took part in the Alibaba's Global E-commerce Talent (GET) Program, a training course in conjunction with the Rwanda Development Board and the Rwanda Ministry of Higher Education.
Rwanda is also Africa's first eWTP (Electronic World Trade Platform) hub, a private sector-led, market-driven international platform to lower trade barriers for small businesses around the world. For that initiative, Alibaba and the Rwandan government have agreed to work together to accelerate Rwanda's cross-border trade.