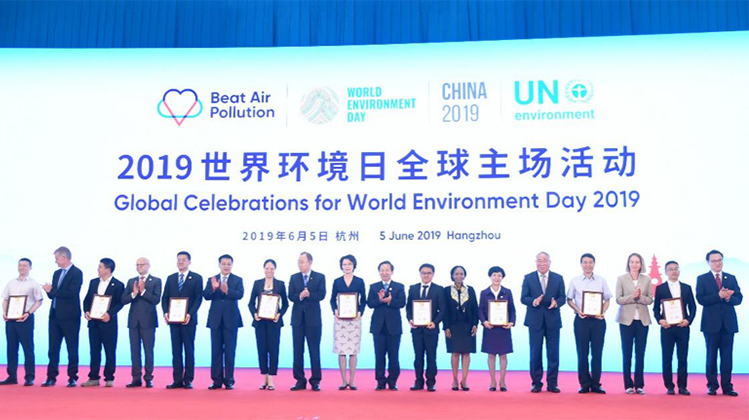 Alibaba Group and the United Nations have partnered to raise awareness of the importance of environmental protection for World Environment Day, the UN's annual campaign held June 5, the e-commerce giant said Wednesday.
Alibaba and the UN Environment Program worked to engage the 721 million monthly active users on the Hangzhou, China-based company's shopping platforms and make it easy for them to participate in activities such as recycling and tree-planting. Users can simply search for "green" in any Alibaba app – including Taobao, Tmall, Alipay and Freshippo – and find suggestions on how to do their part.
"Alibaba's environmental efforts are rooted in ways to enable everyone to become a responsible stakeholder and participate in environmental protection," said Sun Lijun, chairman of Alibaba Foundation, the company's philanthropy arm.
Since it started in 1974, the UN has used World Environment Day to promote actions that protect the planet's ecosystems and natural resources. This year, China is the host country where official celebrations will take place. One event, held in Hangzhou, will recognize the work that Alibaba affiliate companies Ant Financial and Cainiao Smart Logistics Network have done to engender green living in China.
Alibaba's focus on environmental issues is an integral part of how the company does business, Alibaba said in its first-ever Environmental Social & Governance Report, released last September.
"We are driving environmental sustainability by innovating in the highest impact areas of our business," the company wrote. "All the initiatives we undertake in environmental sustainability are fundamentally connected to our core business practices and help inform our long-term strategies to make sure our businesses and systems adapt to the future."
In the report, Alibaba pointed to initiatives such as data centers run by Alibaba Cloud that use water-cooling systems to save energy and reduce carbon emissions or rely on renewable energy for their operations. Cainiao's emphasis on "green logistics," meanwhile, covers everything from recycled packaging material to warehouses powered by solar panels. There's also Ant Forest, a mini-program within the Alipay app that rewards users for environmentally friendly behavior, such as foregoing paper bills or choosing public transportation. Points earned on Ant Forest can be cashed in to have trees planted in areas of China that the country is actively working to reforest.
WATCH: Alipay's 'Ant Forest' Makes Going Green Fun
Here are some other highlights from Alibaba's environmental-protection efforts:
As of March 2019, Ele.me has delivered more than 74 million utensil-free orders.
DingTalk has enabled a paperless, green office, using electronic approvals, telephone and video conferencing to save 227 million kilograms of carbon emissions and the equivalent of planting 12.7 million trees as of March 2019.
Cainiao plans to open 50,000recycling stations for unwanted shipping boxesat its delivery points across China. So far, the company has installed 5,000 recycling stations in 200 cities, with more than 13 million boxes recycled since it launched the program in 2017.
Taking a cue from Cainiao, Freshippo has installed recycling stations for plastics across the country, with the aim of reducing the use of plastics by 3.8 million kilograms.
Cainiao teamed up with Ling Shou Tong, which is digitizing the operations of the 6 million mom-and-pop convenience stores in China, to promote the use of original containers and reuse of cartons across millions of LST stores. Currently, more than 70% of deliveries are no longer using new cartons.
In the last fiscal year, the Alibaba Foundation made RMB 252 million (US$36.5 million) in donations and implemented water-protection programs in 389 cities, protecting 1,312 rivers.
Cainiao's "packaging optimization algorithm," which assigns proper-sized packaging to items being shipped in order to reduce waste, was applied to 290 million delivery boxes and courier bags.
Idle Fish, an online marketplace for secondhand-goods, has recycled over 10,000 tons of clothing.