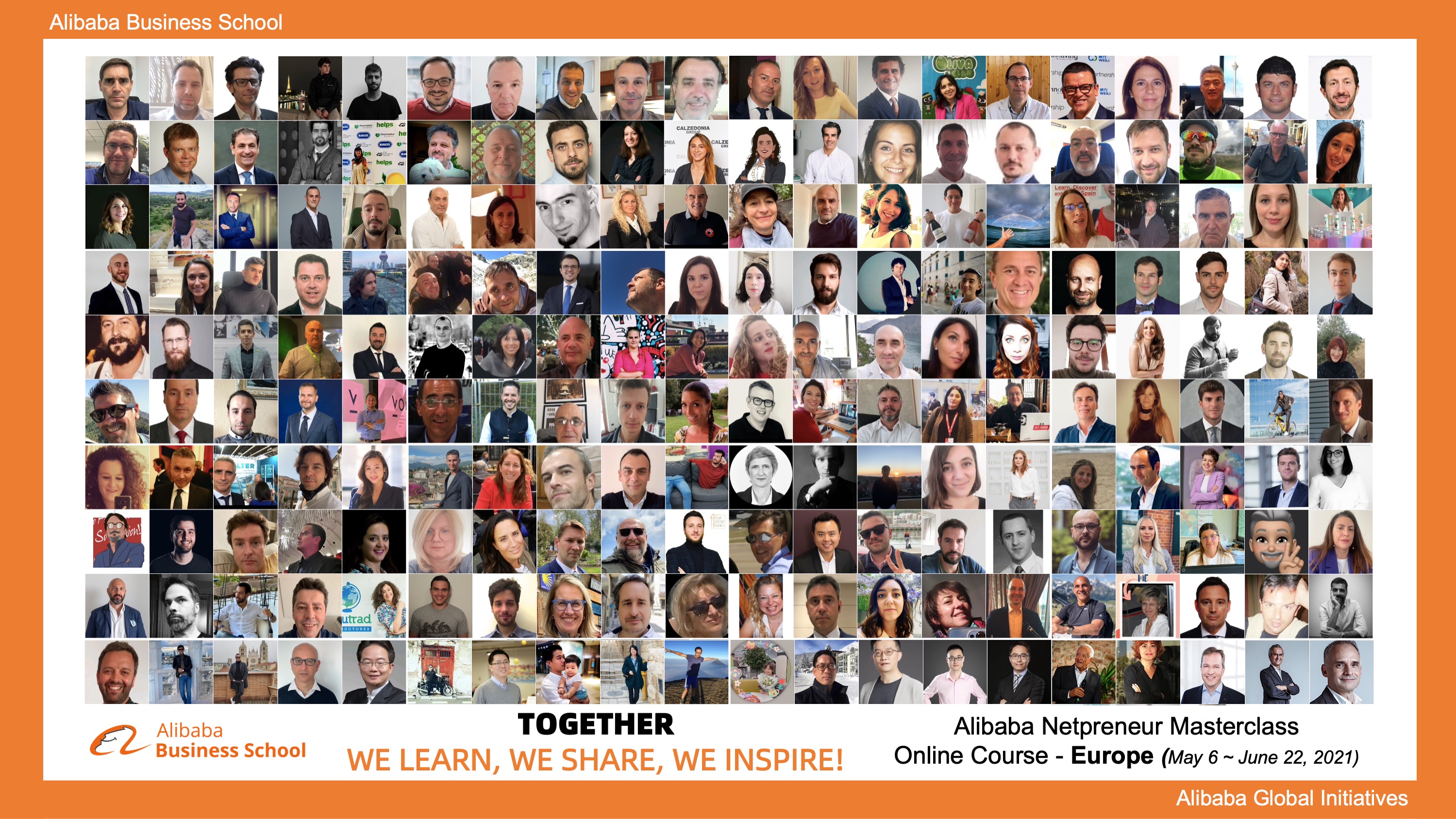 Alibaba Business School (ABS), the company's training and education arm, has concluded the first European edition of its Netpreneur Masterclass program this week as it rolled out learning resources for entrepreneurs and business leaders worldwide.
More than 200 participants from Italy and Spain enrolled in the six-week online training – designed to share insights and equip executives and small and medium-sized enterprises with the knowledge they need to navigate the digital economy. Participants ranged from 25 to 69 years old, and 80% of them represented small businesses.

The Masterclass' lectures and workshops covered topics spanning the best practices and trends from China's digital landscape, to how accelerate growth and innovation within organizations by harnessing technology. Local partners supporting the initiative included Netcomm, the Italian digital consortium and Spain's national trade agency ICEX.
WATCH: A look back at Alibaba Netpreneur Masterclass Italy & Spain 2021
Previously, Alibaba only offered the masterclass in Southeast Asia and Africa, but the group expanded training this year as it has sought to help more companies recover and grow during the coronavirus pandemic.
"I am very happy to have seen such an initiative – the first in Europe – take shape and prove to be such a success," said Rodrigo Cipriani Foresio, general manager of Southern Europe at Alibaba Group.
"For Alibaba, it is essential to promote the development of a digital enterprise culture. This course is just the beginning of a series of long-term initiatives with which we will encourage networking and the creation of a community of entrepreneurs who are able to understand, ride and anticipate market trends," he added.
Following the debut of the first masterclass in Europe, Alibaba Business School now plans to bring the program to France, Germany and the U.K. over the next few months.
Participants who have completed the program can gain access to ABS's global alumni community and network with business leaders around the globe. The highest-scoring students will also have the chance to attend a series of alumni events in Europe this fall as well as receive further training and mentorship at Alibaba's headquarters in China, once international travel resumes again.
"The Alibaba Netpreneur Masterclass is a unique opportunity to learn more about the online world and the Chinese market," said Catarine Cantamessa, an international e-retail specialist at Italian perfume company Acqua di Parma. "I highly recommend it to other entrepreneurs who want to understand the advantages of selling in China and for those who are already present in the country and want to know the sales dynamics, which are very different from that in Europe."
Coral Márquez, CEO of PharmexCare, shared similar sentiments. Márquez said learning about new practices and business models in the Masterclass has expanded her understanding of the business ecosystem in China. "Seeing experiences and specific case studies has helped me to advance further in this regard," she said.
 
Alibaba Business School was established in 2008 by Alibaba Group founder Jack Ma in partnership with Hangzhou Normal University, Ma's alma mater, to cultivate the next generation of global entrepreneurs. 

It also conducts the eFounders Fellowship program in partnership with the United Nations Conference on Trade and Development, through which the company has pledged to train 1,000 entrepreneurs from emerging markets over five years.

In 2018, ABS launched the Global E-Commerce Talent Network to further empower young people in the digital era to have a positive business and social impact. The following year, Jack Ma's namesake foundation also debuted the Africa's Business Heroes prize competition, awarding US$1 million a year for the next 10 years to support Africa-based small businesses, grassroots communities and women-founded enterprises in the next decade.

To receive the latest news directly in your inbox, sign up for the weekly Alizila newsletter.