Alibaba Group is seeing strong momentum in lower-tier cities, high-frequency shopping and international markets as the company continues to invest in future growth.
Below are the key takeaways from Alibaba executives' presentations on the first day of the company's 2021 Investor Day, which was held virtually for the second year running.
Less-developed Areas
With total retail sales surpassing RMB15 trillion (US$2.36 trillion) in 2020, less-developed areas in China — including lower-tier cities and rural areas — hold significant growth potential for Alibaba. E-commerce penetration in these areas is growing rapidly, with e-commerce GMV in rural China up five-fold between 2015 and 2020, according to official data.
Alibaba established Taobao Deals and Taocaicai to better serve price-conscious consumers by leveraging the group's supply chain network to source high-quality products at competitive prices.
Launched in 2020, Taobao Deals has a direct manufacturer-to-consumer (M2C) model, boosting efficiency and lowering costs. The platform works with thousands of factories on Alibaba's domestic B2B platform 1688.com as of September.
Taocaicai, a community marketplace formed this year, offers a next-day self-pickup service for fresh groceries for consumers in less-developed areas. It partners with Alibaba's farm suppliers and company majority-owned grocery chain Sun Art to source fresh and high-quality produce.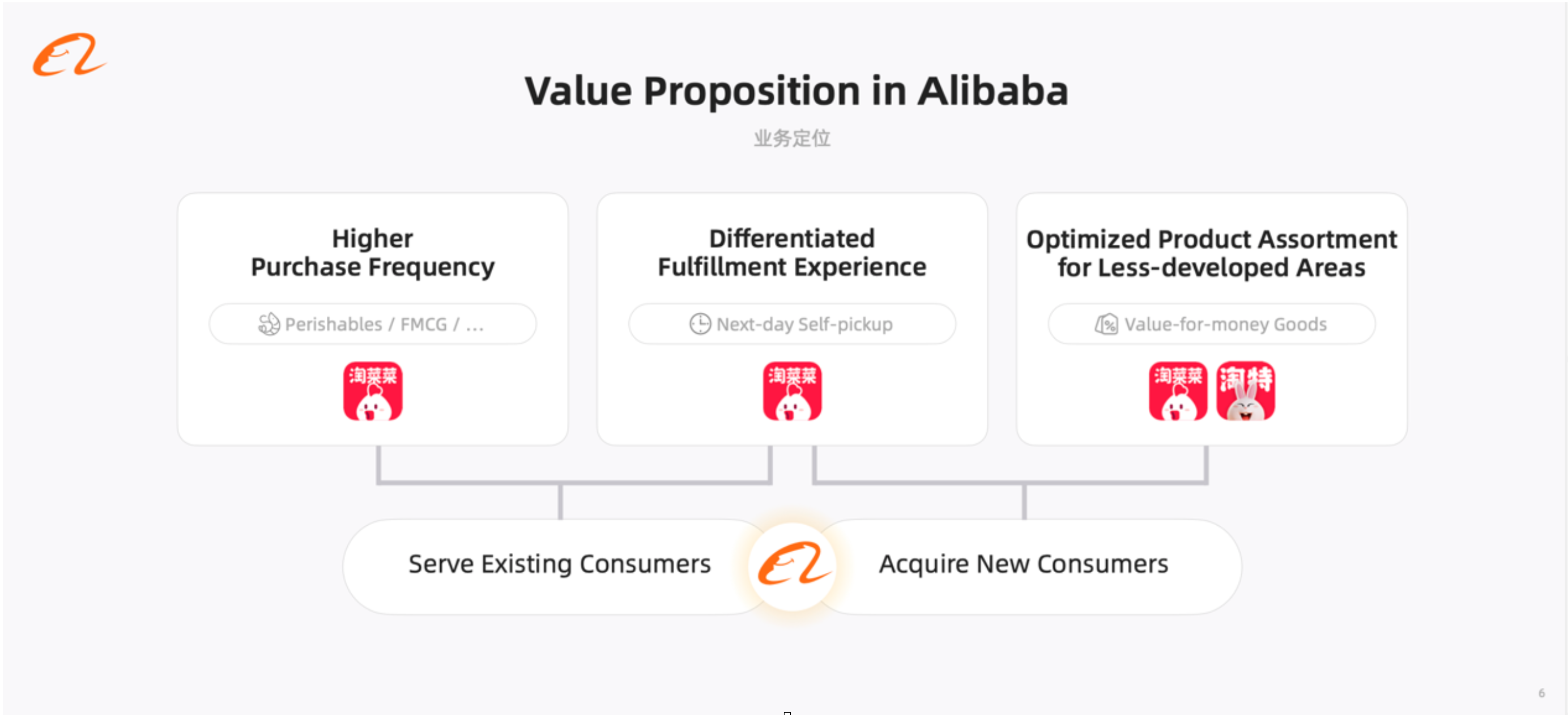 The market share and consumer mindshare held by Taocaicai and Taobao Deals have grown significantly in the last two years, according to Trudy Dai, the President of Industrial E-commerce and Community E-commerce, who leads the two businesses. Dai will take on the role of Group President overseeing China Digital Commerce on Jan. 1, a new umbrella covering Alibaba's China consumer-facing and wholesale marketplaces.
Taocaicai and Taobao Deals have a combined consumer base of 270 million, representing a 200% year-over-year increase, while average daily orders from the two platforms have also increased more than 400% year-over-year.
"Going forward, we will continue to build and upgrade commerce infrastructure and forge a healthy, sustainable, and digitalized M2C business," said Dai.
Multi-App Strategy
Alibaba's retail marketplaces served nearly 900 million annual active consumers (AACs) in China as of Sept. 30, with diverse ever-changing needs. 
Optimizing a multi-app strategy to address different consumer segments — from young consumers to elderly users — will bring in more opportunities for the company, said Jiang Fan, the President of Taobao, Tmall and Alimama. Jiang will take on a new role as Group President leading International Digital Commerce on Jan. 1.
"We are seeing that the more apps a user uses, the higher the user's stickiness will be on the Taobao App," said Jiang. These include Alibaba's Idle Fish platform, which, with its 6 million non-Taobao professional sellers, has introduced a richer assortment of products, from Hanfu garments to second-hand instruments.
Alibaba's 88 VIP membership program – which offers consumer benefits across different Alibaba platforms – also boosts consumer stickiness and drives spending. A consumer's spending grows by 30% on average after becoming a paid 88 VIP member. 88 VIP members are the highest-spending consumers in the Alibaba ecosystem, spending eight times more than an average consumer on Alibaba's platforms.
Taobao Live continues to be a powerful marketing tool for merchants to acquire new customers as well as engage existing ones. The GMV from merchant-driven livestreaming sessions accounted for 60% of the total GMV on Taobao Live, while GMV generated thorough short videos has also grown by 50% in the last 12 months.
Local Services
The market for local services is expected to reach RMB35 trillion by 2025, according to market research firm iResearch. To tap into this fast-growing market, Alibaba is doubling down in local services to instantly meet consumers' needs. Since July, Alibaba's location-based services, including Ele.me, Koubei, Amap, and Fliggy, have been combined under one umbrella.
Connecting consumers and merchants effectively is the key to winning the local services market, so Alibaba's strategy is focused on serving consumers at home and on trips.
"Digitalization is driving innovation and enhanced consumer experience in both scenarios: 'to-home' and 'to-destination'," said Yu Yongfu, President of Lifestyle Services Business, commenting on the company's two-pronged strategy.
In the 'to-home' segment, Ele.me focuses on providing consumers an enhanced on-demand service to their homes. In the 'to-destination' segment, Amap concentrates on providing users with convenient access to quality services en route to and around their destination, Yu said.
Yu highlighted the integration of navigation app Amap into Alibaba's local services multi-app matrix. As of Sept. 30, its local consumer services businesses have connected 350 million consumers to products and services offered by 2.8 million merchants.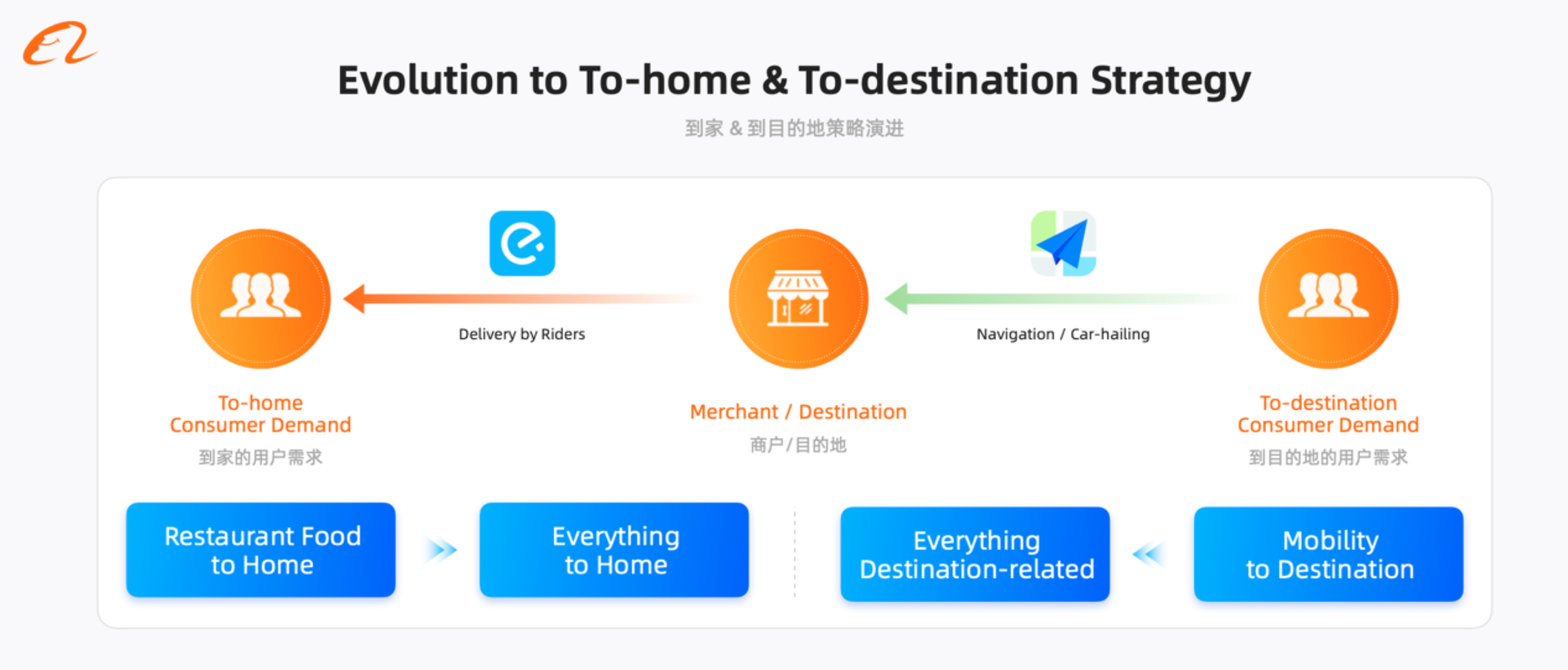 Globalization
Alibaba is making strides towards its long-term goal of serving two billion consumers worldwide with expansion across Southeast Asia and a strong global logistics infrastructure, according to company executives.
Lazada grew across six Southeast Asian markets, driving the number of its annual active consumers up by 80% in the last 18 months to 130 million. In addition to leveraging Alibaba's technology and capabilities, Lazada has continued to strengthen its core capabilities in consumer and merchant experience, marketing solutions and logistics.
"We are devoted to serving more than 300 million consumers and achieving a GMV of $100 billion per year," said Li Chun, CEO of Lazada Group. "For brands and sellers, we are committed to enabling their digital journey."
Despite the coronavirus pandemic's impact on the global logistics industry, Cainiao continues to build up its infrastructure to ensure fast and cost-effective cross-border delivery. It has integrated more than 50 ports worldwide into its logistics network, enabling speedy customs clearance in seconds. Its international revenue in the first half of the fiscal year grew over 40%.
"We see globalization as a critical part of Alibaba's strategy and of Cainiao's strategy alike," said Wan Lin, CEO of Cainiao Smart Logistics Network, noting that Cainiao's revenue from cross-border-related services now accounts for the majority of total revenue.