For Chinese tourists traveling South Korea, paying for a grande latte at Starbucks is now as easy as showing your smartphone.
Ant Financial,which now Alibaba a 33% stake, said Sunday its Alipay e-wallet service is now available at over 1,150 Starbucks branches across South Korea – the first third-party mobile-based payment method enabled nationwide at Starbucks in the country.
"Starbucks branches are among the most-visited places by Chinese travelers in South Korea. We will continue to introduce Alipay to more local merchants, including restaurants and shops to make Chinese travelers' journey as convenient as at home," said Danny Chung, General Manager of Alipay Korea.
Alipay, the world's leading third-party payment platform available in 38 countries and regions, was first introduced in South Korea in 2015. Users of the online payment platform can also enjoy an instant tax refund via Alipay at four major airports in South Korea. Earlier this month, Finland became the first country to offer Chinese tourists fully cashless experience by adopting Alipay.
According to the state-run Korean Tourism Organization, travelers from China make up around one-third of South Korea's inbound tourists each year.
The announcement comes on the heels of Alibaba's launch of an interactive showcase at Gangeung Olympic Park, a staging area for PyeongChang 2018 that hosts the Games' ice sports.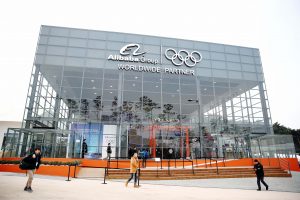 Alibaba Group is an Olympic TOP partner through 2028. As part of the Olympic Partner worldwide sponsorship program, the Hangzhou-based technology giant is the official "Cloud Services" and "E-Commerce Platform Services" partner of the International Olympic Committee, as well as a Founding Partner of the Olympic Channel.
Click here for Alizila's continuing coverage ofAlibaba and the Olympics