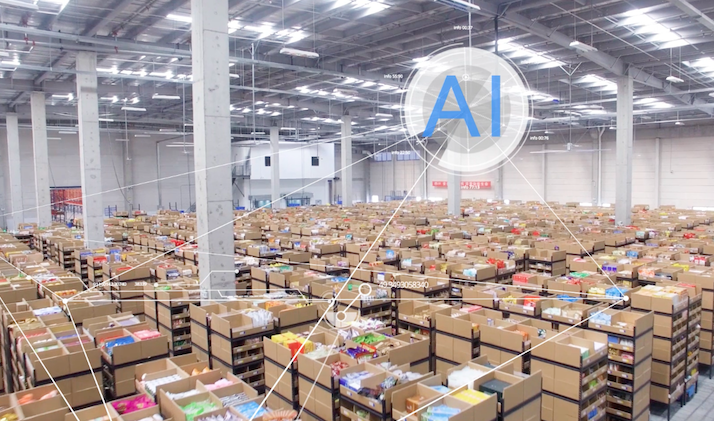 To improve efficiency in the logistics sector, Alibaba's logistics arm, Cainiao Network, unveiled a "smart" system to manage warehouse complexes at scale, during its annual Global Smart Logistics Summit in Hangzhou on Thursday.
Traditional logistics parks remain predominantly labor-intensive operations, relying heavily on manual loading, scheduling and monitoring. Through its latest solution, dubbed "Cainiao Future Park," the logistics platform aims to digitize the park experience with Internet of Things (IoT) applications, big data, edge computing and artificial intelligence (AI).
A 160,000-square meter complex in Wuxi, an eastern Chinese city near Shanghai, is set to become the first stop for Cainiao's Future Park roll-out. In addition to smart warehouses, the complex also houses facilities such as convenience stores and office buildings. Sensors will be installed across Wuxi Future Park—such as inside manhole covers—and through a low range, low power wireless network complement monitoring needs, reporting water, electricity, temperature and humidity conditions in real-time and automatically report abnormalities so that property managers can swiftly respond. Advanced technologies will help assess warehouse storage capacities and the height of inventory stacking, also in real time, as well as guide traffic within the park, such as pointing vehicles towards available parking spaces.
WATCH: Inside Cainiao's Smart Warehouse
Logistics in China today remains fundamentally based on physical labor, driven by the manual handling and heavy lifting of billions of couriers, said Alibaba Executive Chairman Jack Ma, during his opening remarks at the event. "But the logistics industry of the future, I believe, has to be brainwork, driven by intelligence."
Building on their work in smart logistics robots, Cainiao also said they've developed an agile automated warehouse solution that is easy to deploy and scale. Parcels are processed on fully automated assembly lines, equipped with robotic arms and more than 500 automatic guided vehicles man the floor, picking packages off carts and delivering them by the most efficient route to warehouse clerks for sorting and distribution. The self-charging AGV robots are expected to reduce staff walking by an average 50,000 steps per working day, improving personnel efficiency by 30%, Alibaba said.
Cainiao's logistics IoT technology is set to expand beyond warehouses, with an eye on improving the entire logistics value chain. Besides announcing that its upgraded last-mile robot, G Plus, will be put into commercial production by the end of the year, the company debuted the Cainiao Box, a smart locker that consumers can install outside their door for packages and food deliveries. It authorizes couriers to leave packages via facial recognition while also serving as a temporary mini-fridge. The temperature of the smart box can be adjusted through a mobile app to keep food and beverages warm or cold.
Seperately, Cainiao said it would focus five cities into "global hubs" for its platform: Dubai, Kuala Lumpur, Belgium's Liège, Moscow and the home city of Alibaba, Hangzhou. The plan is to help them enhance cross-border logistics infrastructure to improve the consumer experience, with an ultimate goal of boosting the speed and quality of service in 100 cities within three years. Cainiao did not reveal more details on their global hub expansion plan, but said they would be announced at a later stage.
Following last week's launch of Cainiao's updated green campaign, the company today reiterated its commitment to reducing its environmental impact. Cainiao said that by 2020, it would deploy new energy vehicles to 100 cities in China and apply AI algorithms to drive smart routing in 40,000 villages and shorten the average length of delivery journeys by 30% in rural areas. It pledged to expand its e-shipping labels, which replaces traditional paper labels, to 40 billion parcels by that time—a move which it estimated would save over 1 billion pieces of paper, the equivalent of more than 3 million trees.
As part of the green initiative, other Alibaba business units such as Tmall, Taobao and Hema (now also known for Freshippo) supermarket pledged to increase the use of recycled and biodegradable packaging, while millions of mom-and-pop storesthat are part of Alibaba's Ling Shou Tong initiative would commit to reusing sturdier delivery boxes.