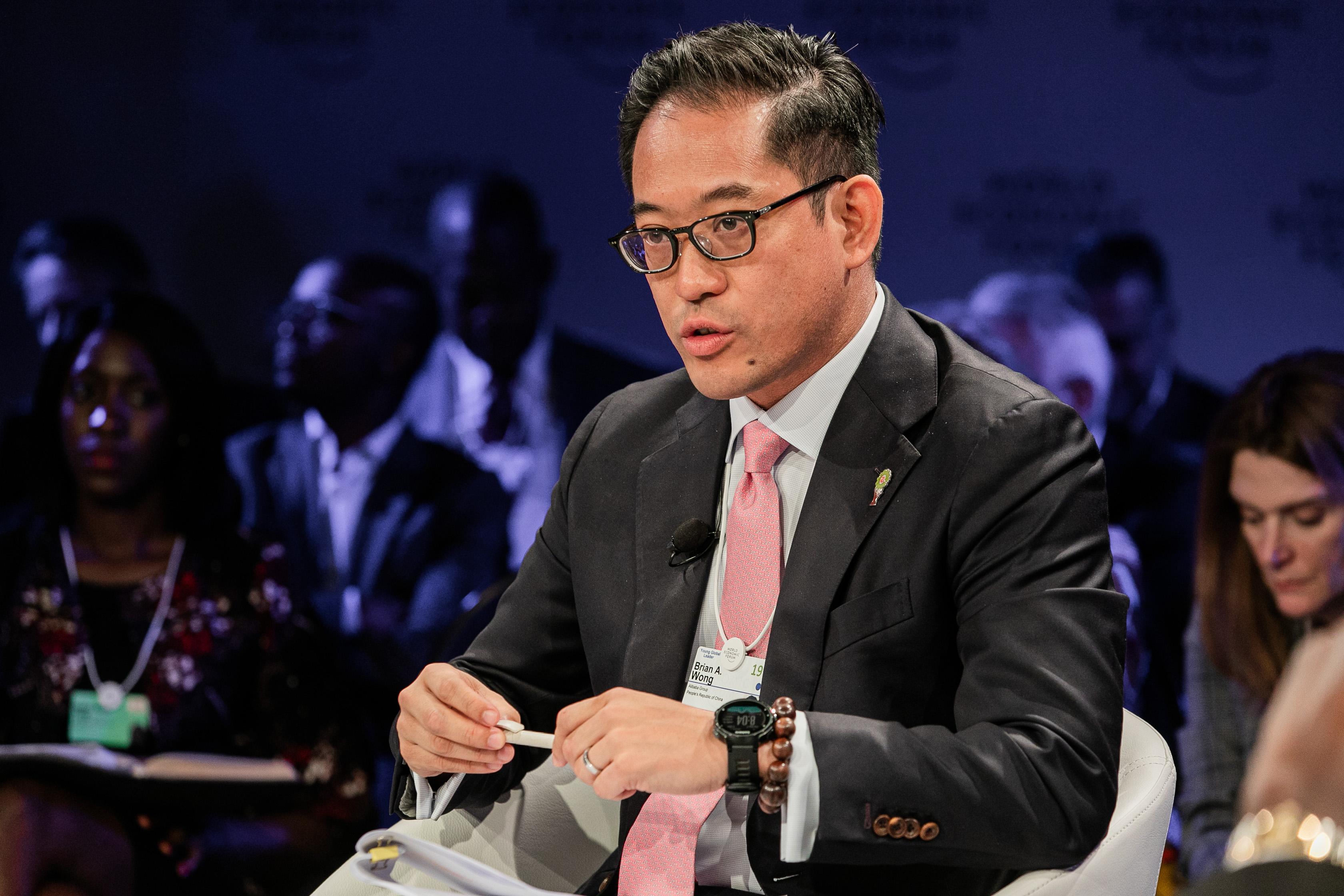 Africa has all of the right ingredients to see its digital economy grow just as China's did when it began its rapid expansion 20 years ago, Alibaba Group Vice President Brian Wong said at the World Economic Forum on Africa event in Cape Town, South Africa on Thursday.
What many people might call limitations – a lack of retail infrastructure, low internet penetration and per capita income – are in fact the very things that will allow Africa to leapfrog into a vibrant digital economy and better engage with the rest of the world in global trade, said Wong, who heads Alibaba's Global Initiatives, during panel discussing "The Retail Revolution" in Africa. (Watch the panel here.)
He noted that in 1999, when Alibaba launched as a company, China had a large population, rudimentary retail infrastructure, only 8.8 million internet users and a per-capita income of $800. Now, those numbers have soared to 850 million internet users, a per-capital income of $9,000 and total e-commerce turnover of $1 trillion.
"Most people would believe this is impossible unless you have a very developed infrastructure. The reality is that not having a developed, say, retail infrastructure, banking infrastructure, logistics infrastructure, provided an opportunity in China for people to leapfrog the traditional sector and go straight into digital. And that's why the growth has been so immense," Wong said.
Fifteen years ago, China accounted for less than 5% of the world's e-commerce sales, Wong said, but today's it's 43%. That same year, 2004, less than 1% of all retail in China was e-commerce, he said, but the number has grown to 33% now.
"The opportunity that China had is what Africa has today. That lack of traditional economic infrastructure, like retail and banking systems, means that Africa can leapfrog," he said.
Wong was echoing sentiments from an editorial he had written for the World Economic Forum this week, where he laid out a road map for Africa to grow a vibrant digital economy. In it, he called for governments to create policies and regulations that encourage innovation and investment in the digital economy and recommended that entrepreneurs be free to build and operate the platforms that will make digital tools cost-effective and accessible for small businesses to adopt. Also, he said that educational institutions should train youth in the skills that are necessary to succeed in the new economy.
"The final result will be that more value is created between Africa between China between the rest of the world and that trade will flourish, because more businesses can participate in trade as opposed to just big businesses," Wong said during the panel.
To help, Alibaba has been working with organizations such as the United Nations Conference on Trade and Development on capacity-building initiatives to give governments, educators and entrepreneurs a deeper understanding of best practices and policies in digital economy. Starting last year, Rwandan educators have participated in Alibaba Business School's "Global E-commerce Talent – Train the Trainers" program, which seeks to deepen teachers' understanding of the e-commerce industry, while Rwandan startup founders visited Hangzhou for training under the school's Netpreneur program. Rwandan government officials have also been to Alibaba headquarters to learn how to build and sustain economic growth in the digital era. Similarly, the eFounders Fellowship, created in partnership with UNCTAD, will bring 1,000 entrepreneurs from developing countries to receive training related to the digital economy. Two hundred of those fellows will come from Africa.
"Of course, no one country is the same," Wong wrote. "But a common success factor is an entrepreneurial mindset that enables resilience, flexibility and innovation. These traits can be nurtured through training, supportive policies, education and community building."
Alibaba Group Executive Chairman Jack Ma is currently hosting the $10 million Africa Netpreneur Prize Initiative with four regional partners. The prize includes an annual pitch competition over the next decade, with 10 finalists receiving a portion of $1 million to fund their businesses as well as access to the Netpreneur community of African business leaders for mentorship and other resources.
The goal is to identify 100 African "business heroes" who are building a more-sustainable and inclusive future to help lead Africa to the next stage of development, the ANPI has said. The competition is open to entrepreneurs who are nationals from any of the 54 African countries, all industry sectors are eligible, and small enterprises, female entrepreneurs and those doing work to improve local communities are especially encouraged to apply.
Launching the Africa Growth Platform
Just prior to Alibaba's participation in the WEF Africa event, the company was announced as a founding member of WEF's new Africa Growth Platform, which will work to bring together governments, investors and entrepreneurs to increase access to funding and create better business environments for the continent's startups.
Alibaba is among six founding members that will work to secure commitments from governments to implement policy reforms aimed at stimulating and accelerating business growth, build a community of investors to provide larger rounds of funding to African startups and foster community among the startups to promote collaboration and share best practices, a release said.
According to WEF, the two-thirds of Africa's 420 million young people that are unemployed highlights a need for new solutions to drive employment growth. Also, while Africa's young people are 13% more active in early-stage entrepreneurial ventures than the global average, the region's startups are 14% more likely to fail than those elsewhere in the world because of insufficient support and infrastructure.
"Africa's entrepreneurs are its greatest economic asset but spirit and resourcefulness alone are not always enough to help them succeed," said Elsie Kanza, Head of Africa, World Economic Forum. "The Africa Growth Platform brings together all the actors – governments, investors and the businesses themselves – necessary to create an environment where they can fulfil their potential in terms of growth and employment."
The other founding members of the platform are A. T. Kearney, Dalberg Group, Export Trading Group, the U.S. African Development Foundation and Zenith Bank.