Chinese beauty consumers are among the most digitally savvy in the world, meaning that a strong digital strategy is crucial for beauty brands looking to find success in the world's second-largest economy.
In a new report published this month, research and advisory firm Gartner outlined the best marketing strategies for beauty brands on Alibaba Group's Tmall, one of the leading e-commerce platforms in China.
Alizila sat down with Danielle Bailey, managing vice president of Gartner, to discuss findings from the report and to get her insights on the latest trends and digital strategies for brands looking to tap into China's booming beauty market.
How should beauty brands think about Tmall's role in their overall China strategy?
Tmall is China's leading online commerce destination for beauty. However, it is critical for brands to not just think of Tmall as a sales channel. Tmall touches all parts of the customer journey, from awareness and interest to purchase and loyalty. Activating on Tmall across all of these customer touchpoints is required to capture mind and wallet share. Beyond product, pricing and service strategy, success on the platform requires a content strategy, an influencer strategy and, most importantly, an ongoing media and marketing strategy.
You mentioned the concept of "Tmall as a search engine" in the report. Can you elaborate?
Tmall is where consumers go to research products and pricing and is often their first stop, particularly if they already have an idea of what they are looking for. However, Chinese beauty consumers are heavily influenced by key opinion leaders, from big names like Austin Li to micro-influencers that might have less than 5,000 followers but are still considered trusted voices.
Social channels with robust influencer ecosystems, including platforms like Xiaohongshu (commonly known as Red) and Weibo, are vital for product and brand discovery and as traffic drivers to Tmall. Directly connecting the media and content investments on these channels to Tmall is critical to driving consumers further down the funnel and capturing conversions.
What are some notable beauty trends in China, and how has Covid-19 impacted the beauty market?
Beauty has weathered the Covid-19 period surprisingly well compared to other discretionary-spend categories. Beauty is a form of wellness and self-care that has become a priority for post-lockdown consumers. In many ways, people have continued to be at-home consumers post-Covid. Brands that have been able to position their products to aid customers in their new realities (e.g. by combating mask acne) are finding resonance.
Lipstick continues to be a growth category, but cosmetics as a whole took a hit during the lockdown and as mandated mask-wearing became the reality. The skincare category as a whole, including face masks, toners and moisturizers, grew during the lockdown. Even before Covid, serums were already the key growth category in skincare. They skyrocketed during the lockdown, with sales from the brands we track in our Beauty Digital IQ Index up 88% in Q1 compared to the same period last year.
Could you share any examples of brands leveraging the various technology upgrades available through Tmall Flagship Store 2.0 to enhance the customer experience?
Through personalization and interactive elements, Tmall 2.0 is designed to elevate the shopping experience and boost conversions. Brands like Estée Lauder customize their storefronts utilizing Tmall's built-in capabilities, including virtual try-on, which has proven to increase consumers' time spent on product pages; drag-down "store lofts" that enable brands to highlight ongoing campaigns; and guided selling tools often disguised as games. The storefront also highlights the brand's loyalty offerings and provides personalized product selections based on consumers' previous buying and browsing habits.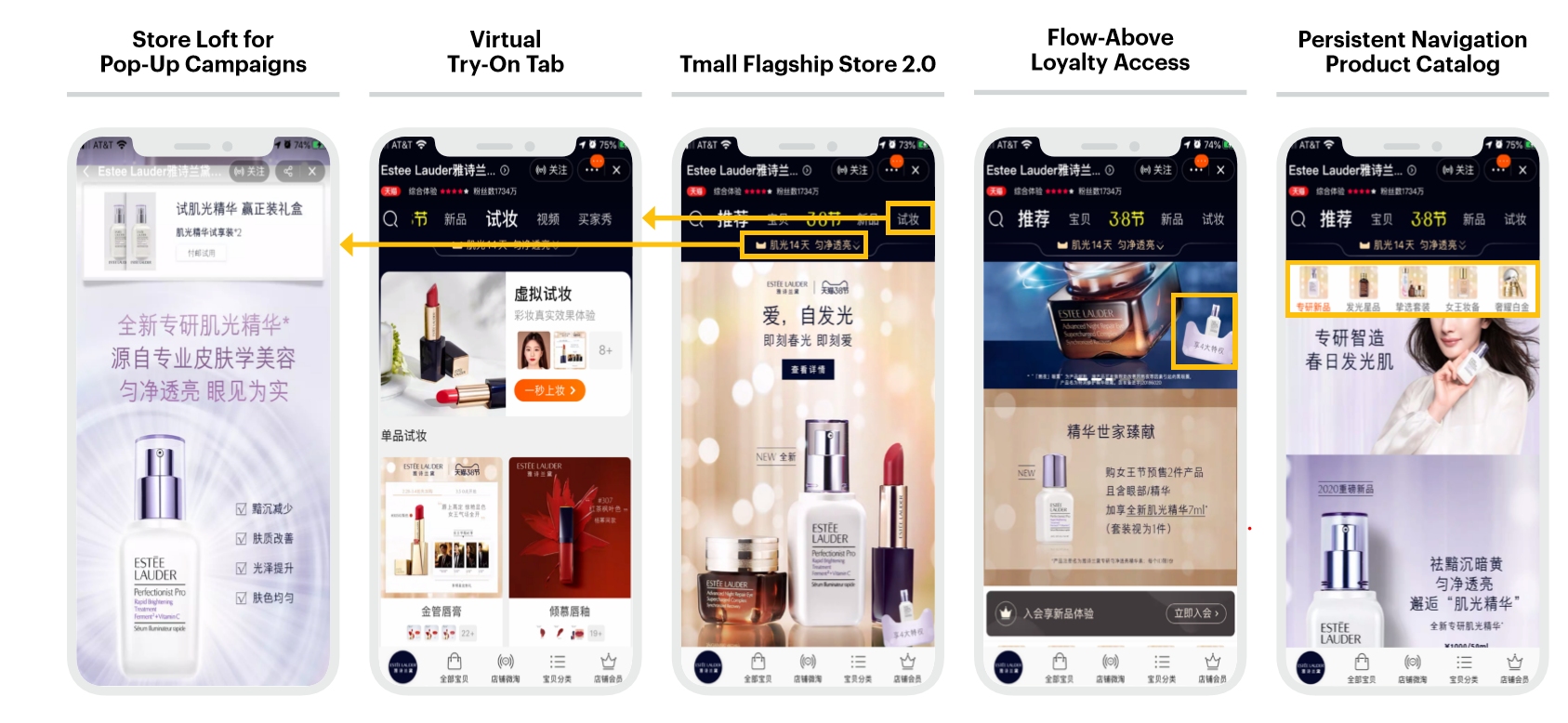 There are a variety of marketing levers that brands can pull in the Tmall ecosystem to build brand awareness, introduce or incentivize product trials and drive traffic to their storefronts or livestreams. One example is Tmall All Star Project, which leverages the opportunity to directly engage with a brand's celebrity ambassador to convert the celebrity's fans to a brand's fans. There's also Tmall Hey Box, which utilizes Tmall's rich customer data to target ideal audiences for new product launches, and Tmall Super Brand Day, which is like a brand's own personal 11.11 and a sign that the brand has achieved market relevance.
You mentioned some heritage brands have experienced a "renaissance" in China. How have they re-invented themselves there?
Elizabeth Arden is a brand that we would consider to be in the midst of a turnaround and is punching above its weight class relative to large global premium brands. Over the past year, the brand has had some wins with innovative product launches that have been on trend and resonated with ingredient-savvy Chinese consumers.
Elizabeth Arden has leaned into Tmall's activations to raise their market profile and build hero products. In July 2019, the brand utilized Tmall Hey Box to launch an ampule serum extension to their Prevage line. This month, it will use the tool to launch its hyaluronic acid ceramide capsules.
In the lead-up to 11.11 last year, Arden was among 30 brands to participate in the Tmall All-Star Project featuring its celebrity ambassador actress Janine Chang. There were personalized voice messages, celebrity-edition gift boxes and the opportunity to meet Chang in person. As part of its Super Brand Day this February, the brand announced dance actor Liu Jia as its new ambassador and focused on driving sales of their retinol and vitamin c capsules.
Livestream-commerce has become mainstream in China, especially in the beauty category. What are some best-in-case engagement tactics you have seen?
The best engagement driver for livestreams is the host. Top-tier livestream KOLs like Austin Li and Viya – whose livestreams draw millions of viewers and, more importantly, drive sales – have the ability to make or break your brand in the China beauty market, often with a return-on-investment higher than what brands can achieve with their own livestreams. Smart brands have utilized these celebrity KOLs in conjunction with their celebrity ambassadors to drive even larger audiences and, in some cases, create viral social moments. Utilizing these KOLs during key sales periods is critical.
For beauty brands, livestreaming has become not only a vital sales channel but, more importantly, a vehicle for product education and launches. To maximize ongoing performance of their own livestreams, beauty brands use tactics such as giveaways with purchases, providing exclusive deals for customers that pre-order, and incentivizing audiences to join and purchase early in the livestream with special deals. Product demos, swatches and the ability to answer consumer questions are key to developing an audience. We are also seeing brands start to diversify their livestreaming content beyond promotions to explore branded entertainment, such as "cloud happy hours." MAC, for instance, hosted a livestreamed reality competition for makeup artists and featured popular KOLs as judges.
What are the important occasions on the Chinese shopping calendar brands should take note of in the second half of 2020?
Performance in the second half of the year will be more important than ever as brands look to make up for the losses from Covid-19. Brands have already started planning for this year's 11.11 and 12.12 Tmall shopping holidays. The Christmas holiday period is typically a slower time compared to the Tmall tent-pole events, but I'm certain that brands will be fighting for every dollar every day for the rest of the year.
Sign up for our newsletter  to receive the latest Alibaba updates in your inbox every week.