Mountaineers sporting down jackets made by China's Bosideng have scaled Everest: this brand has topped the China market and is building its brand overseas.
Like its customers, Bosideng has weathered storms. After over-extending itself and retrenching, the down jackets brand is now hyper-focused on the global premium market to rival brands such as Canada Goose and Moncler.
Fueling its ambition is a global winter sports craze and a nimble omnichannel strategy in partnership with digital platforms such as Alibaba Group.
"We are able to tide over crises and go through rounds of reforms by sticking close to the consumers," Bosideng Executive President Mei Dong told Alizila in Mandarin.
Founded in 1976 in a small village near Shanghai, Bosideng grew over the course of 30 years to account more than one-third of China's down jacket market.
Booming demand for quality outerwear in the 1990s prompted Bosideng to develop its own line of down jackets and by the mid-2000s, it became a mass-market household name in China.
After such precipitous growth, the brand became overstretched and the company's revenue and gross profit plummeted in 2014 and declined for three consecutive years.
"We wanted to try everything, but consumers were confused about what we truly were," said Mei.
After a five-year revamp of the brand, Mei is once again on the offensive and narrowing its focus to the premium market. The brand is gearing up to win young consumers in an increasingly competitive domestic market as well as expand overseas.
"We launched reforms that emphasized brand building, product innovation and multi-channel outreach," she added.
China's down outerwear sector topped RMB130 billion ($18.7 billion) in 2020, according to data from the National Garment Association, and continues to grow by over 10% annually on average.
"Bosideng as a Chinese brand doesn't have so many vertical and direct competitors. When you talk about down jackets [in China], you talk about Bosideng," Hu Yuwan, associate director at China-focused consultancy Daxue, told Alizila.
Deluxe Down
Bosideng aims to be a global down jacket specialist with its sleek silhouettes and bright colors that have captivated online shoppers and jet-setting celebrities around the world.
When the brand made its New York Fashion Week debut in 2018, shock waves reverberated across domestic and global markets.
"The shows let consumers see a completely different Bosideng," said Meng.
The following year, Bosideng collaborated with Jean Paul Gaultier, former art director of French luxury powerhouse Hermès, to create a line of fashion-forward down coats, and the brand participated in the London, Milan and New York fashion weeks three times before the pandemic.
The brand's move into the premium market coincides with the consumption upgrade in China. The annual average disposable income in China has more than quadrupled over the last two decades to reach RMB30,733 in 2019.
"Turnover is increasing in terms of value partially due to consumption upgrading, meaning the prices are rising with better quality and better product offers," noted Hu.
Nearly half of the jackets it sells on e-commerce platforms, including Alibaba's B2C marketplace Tmall, cost over RMB1,800, according to the brand's latest report.
The brand has developed a celebrity following including the likes of Hollywood actor Nicole Kidman and Italian fashion blogger Chiara Ferragni, while domestic Chinese celebrities can be frequently seen wearing Bosideng's trench-style down coats.
The Chinese down jacket retailer has its eyes set on the international market with over 3,000 physical stores globally. While Moncler and Canada Goose have both made down jackets luxury staples, Bosideng said it offers them at a slightly lower price point for the mass affluent market.
"Becoming a global leader in down jackets is our long-term goal," said Mei.
High-Tech Threads
Bosideng may have refocused its efforts strictly on down jackets, but the brand has found plenty of room to grow within this category by building on niche consumer demand from extreme mountaineering to snowboarding.
The brand's Dengfeng collection – literally "climbing Everest" – reached the roof of the world on the backs of the Chinese mountaineering expedition who depended on the thick coats for warmth when they scaled Mount Everest in 2019.
"We gave the brand a modern look and tech upgrade to promote product innovation," said Mei, who is married to Bosideng founder and CEO Gao Dekang and has served as an executive director since 2006.
These field-tested products are appearing on streets and slopes across China as consumers jumped on the latest snowboarding craze or mountaineering trend, both of which reached new levels of popularity after the recent winter Olympics.
"They have a steady production line and supply chain, so they do have a higher capacity to extend their product lines," said Daxue's Hu.
Last year, Bosideng released more than 300 new products for men, women and children.
Staying Nimble
Nurturing a strong omnichannel retail strategy will be front of mind for Bosideng as it chases growth at home and abroad.
The company has been a Tmall merchant since 2009, and the platform – along with other Chinese e-commerce channels – accounts for roughly a third of domestic sales.
In 2020, it tapped Alibaba Cloud for an overhaul of its backend marketing and logistics management system. For example, it relied on Alibaba's data insights to predict sales performance to better manage inventory in physical stores and achieve targeted marketing for its online businesses.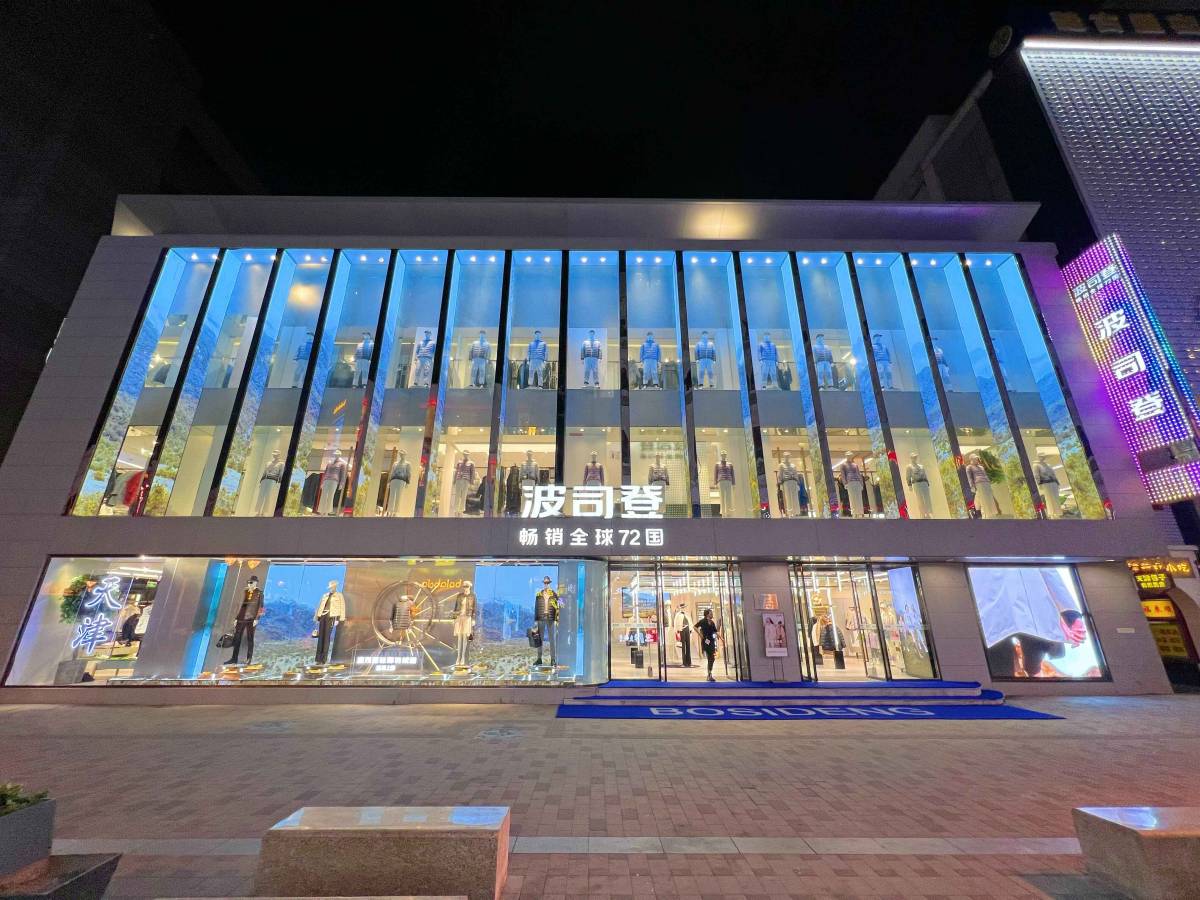 "Tmall helped us connect with younger consumers and achieve breakthrough innovations in offline and online retail channels," said Mei.
During the 2021 financial year, Bosideng saw a 160% rise in Tmall followers pushing the brand above 4.76 million fans on the platform, according to an annual financial report published last year.
Bosideng's Tmall flagship store ranked first in sales in the domestic apparel category every year between 2019 and 2021, and moving forward, it intends to achieve a better result this year by enhancing consumers' experience and doubling down on targeted marketing.
"Tmall is empowering us to break the boundaries of retail and helping with the online and offline integration," said Mei.
Additional writing by Alison Tudor-Ackroyd