In less than 10 years, China has leapfrogged more-developed nations to become the world's leader in e-commerce and mobile payments, according to a newly released report from Luohan Academy, a think tank launched last year by Alibaba Group. And many of the country's demographics are taking part in digital transformation, as more than half of China's online entrepreneurs are women and about 160,000 people with disabilities now run their own internet businesses. These achievements are proof that digital technology can drive inclusive growth, says Dr. Chen Long, who heads the Academy.
The Academy, launched last year with 16 of the world's top minds in social sciences, including six Nobel Laureates in economics, aims to address a common critique of digital technology: that it has driven an even bigger wedge between the losers and the winners. The group recently released a paper, titled "Digital Technology and Inclusive Growth," to discuss this issue, and Dr. Chen sat down with Alizila to discuss the findings. Key among them were the impact of digital technology on social and economic welfare, why China can serve as a new development paradigm for others and how fear-based arguments are counterproductive in assuaging concerns about digital technology.
What is the purpose of the Luohan Academy?
We live in an age where digital technology is fundamentally changing the global economy. This offers a lot of potential, but the question remains: Is society prepared for it? When Alibaba founder Jack Ma helped launch Luohan Academy, the intention was to bring the world's best minds together to help the world better understand how to leverage digital technology to everyone's benefit. That idea is something Alibaba knows very well. As the operator of the world's largest e-commerce platform, Alibaba must work to make sure all the players on that platform do well if the whole thing is going to succeed. So, you can say inclusive growth is in Alibaba's DNA.
What is so different about the digital revolution we are currently experiencing compared with, say, the advent of the steam engine or the automobile?
There are two major differentiators. One, digital technology has a low threshold for adoption – it doesn't require a high level of technical knowledge – and the pace of penetration does not depend on a country's level of economic development. For example, more than 60% of the world's developing countries are using mobile phones and various mobile apps that improve their daily lives without formal training.
Another unique trait is digitized information is non-rivalrous, which means goods or services can be used by many people simultaneously at virtually zero cost. These two characteristics have profound impact on inclusive growth because unlike before, the country's economic level is not a deciding factor on the rate technological penetration or how fast and far-reaching the adoption of the technology can be.
China is a good example of this. In less than 10 years, China's e-commerce market has become the biggest in the world and a major driver of its overall economy. Also, China's 1.2 billion mobile internet users, a great majority of whom use mobile payments, drove total mobile transactions to $22 trillion in 2017, up from just $15 billion in 2011. That's over 100 times more than mobile payments in the U.S. This shows that China, even though it is still a middle-income country, has made tremendous stride in adopting digital technology.
How has the development of digital technologies affected China's economic growth and social welfare?
Digital technology has had a compelling and positive impact on China's economy and society. It has broken down many traditional barriers that impeded small- and medium-sized enterprises (SMEs) and disadvantaged consumers from moving forward.
For instance, thanks to the rise of e-commerce, more women are becoming entrepreneurs. There are over 10 million shops on Taobao, and more than half are run by women. E-commerce also means that the initial overhead cost of starting a business is much lower. This has enabled more sellers from rural regions to start a business. We have also seen a rise in the number of sellers who have physical disabilities. For the first time, without leaving the house, they can run a successful business. Even the age of Chinese entrepreneurs is decreasing, all because e-commerce has made it easier to do business anywhere.
E-commerce is also an effective connector of people. In the past, the average distance between a buyer and a seller was 10 kilometers. Now, with people shopping and paying online, the average distance is 1,000 km. And shoppers in 3rd and 4th-tier cities have a bigger selection of higher-quality items thanks to e-commerce, when they would not otherwise be able to find these goods in their local brick-and-mortar stores.
How else can SMEs benefit from the emergence of digital technology?
One of the biggest hurdle for SMEs worldwide is the start-up cost because many have tremendous difficulty securing loans from banks which request collateral. Without financing, many start-ups don't last. This is where digital technology can step in and help. In China, there are 1.2 billion people who use mobile payments to do money transfers on a daily basis.
By looking at a person's digital footprint and using algorithm-based tools, Ant Financial can accurately assess a person's credit-worthiness in real-time, which reduces the fraud-loss rate to one in a million, the lowest in the world. In the last three years, Ant Financial has approved non-collateral lending to more than 8 million SMEs in China. This is critical for supporting small businesses because startup costs can be high and these entrepreneurs may not have the collateral required by banks. Helping small businesses to move efficiently is a vital factor in achieving inclusive growth.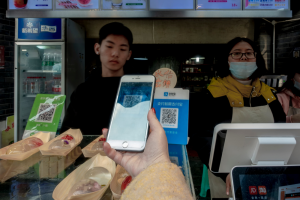 What kind of challenges does digital technology create and what are the solutions?
An economy should never stay stationary. It requires constant motion and new technological innovations to move forward. Inevitably, though, it can disrupt society. However, there is little evidence that technological advancement has caused systematic adverse consequences, such as the displacement of jobs, intrusions into privacy or a widening wealth gap.
Research shows that there is no conclusive evidence that the number of jobs lost due to new technology is outpacing the number of jobs added. Two hundred years ago, the world population was 1 billion versus 7 billion now, but the rate of unemployment has not gone up. In the 1800s, over 90% of America's population worked in farming-related businesses, but that figure is currently about 3%. What this means is, technology doesn't curtail the number of jobs available. It actually creates new jobs and opportunities to replace the ones that have been made obsolete. To say otherwise, it is just really speculation based on fear and not hard evidence, and is not conducive to progress.
How can the public and private sectors work together to ensure digital technology results in inclusive growth?
It is understandable that some people may blame the digital revolution for their loss in income. This is why government leaders must enact a set of sound policies to mitigate the potential risks, such as creating an education system that teaches students the skills necessary to be competitive in the digital era. Government regulations should not become roadblocks to innovation but rather create an environment that encourages entrepreneurship.
Not many countries in the world share the same growth potential as China. So why is the paper focused on China's experience?
No two countries are the same, and each country faces its own unique challenges and opportunities. However, we believe the rate of inclusive growth in China, powered by its high adoption of digital technology, can serve as a model for other developing nations that want to grow inclusively. The lessons learned from China's experience have universal values and can be adopted by different countries to suit their needs.