The full-length feature film based on the U.K.'s popular Peppa Pig cartoon series, "Peppa Celebrates Chinese New Year," is coming to cinemas across the globe, Alibaba Pictures announced Thursday.
The movie will debut in China and the U.K. on Feb. 5, in Singapore on Feb. 7, and in Canada on Feb. 9.
In collaboration with STX Films, the official distributor for the film in the U.S., Alibaba Pictures will release the live action-animation hybrid with English subtitles in select theaters in 32 cities, including New York, Los Angeles, San Francisco, Seattle, Washington D.C., Chicago, Philadelphia, Pittsburg, Miami, Houston, Dallas and Detroit.
"Through our collaboration with eOne, we have created a beautiful Peppa Pig story immersed in Chinese New Year tradition and culture," said Wei Zhang, president of Alibaba Pictures.
"We look forward not only to the film's release in China, but are proud to bring this story to the global market so that audiences around the world can take part in the celebration of Chinese New Year," she said.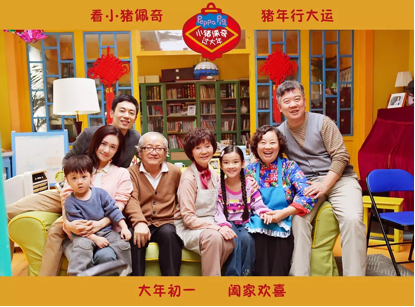 Premiering just in time to kick off the "Year of the Pig" in China, the co-production between Alibaba Pictures and Canadian media group Entertainment One was scripted with Chinese audiences in mind. The companies wanted to draw young families to the theater as a way of celebrating the national holiday.
The film tells the tale of three generations of a family that reunites to celebrate the new year, while incorporating many traditional customs into the storyline, from dumpling-wrapping and dragon dancing to exchanging "red packets" and hanging traditional decorations. And new characters will be introduced, such as the "Panda twins," which will be featured in exclusive limited-edition merchandise by Alifish, Alibaba's cross platform licensing business unit. The company is also using Taopiaopiao, its online movie-ticketing platform, to help drive ticket sales.
'Peppa' Trailer Lights Up Chinese Social Media
The five-minute promotional trailer for the feature film, titled "What is Peppa?," quickly went viral after it was released on Chinese social media on Jan. 17. The video racked up more than 300 million views across various streaming platforms, while the Mandarin hashtag #WhatIsPeppa drew 1.6 billion reads on micro-blogging site Weibo.
Given full creative control over the trailer, the director Zhang Dapeng took an unconventional route. Set in a rural village in China, it follows an elderly sheep farmer's comedic yet heart-warming journey to find out what Peppa is after his city-dwelling grandson asks for it as a new year's present. It's only at the end of the five-minute short that the entire family goes to see the movie.
"Taking tactics that work in the United States and simply translating them is going to be insufficient in this new world," said Connie Chan, a partner at venture firm Andreessen Horowitz in a Twitter thread. "This Peppa trailer reflects a deep, deep understanding of Chinese culture: family duty, generational love, rural cities, community, Chinese New Year."
"Touching the heartstrings through a deep cultural connection is the most powerful kind of localization and marketing," Chan's post said.
OFFICIAL TRAILER:"What is Peppa?"

Alibaba's Ecosystem in Action
"Peppa Celebrates Chinese New Year" is the first film to come out of Alibaba Picture's new initiative aimed at co-producing 20 blockbusters in the next five years. It will also be the first film where it was closely involved throughout the production cycle, from investment to marketing and distribution.
In the lead-up to the release, Alibaba Pictures tapped various business units within Alibaba's ecosystem to promote the film. Alibaba Pictures expanded the movie's reach by co-branding with merchants on e-commerce marketplaces Taobao and Tmall, such as the U.S. ice cream chain Dairy Queen and British publishing house Penguin Books, in addition to posting full-screen advertisements on the Taobao, Ele.me, Koubei, Freshippo, Damai, UC Web, Alibaba Cloud apps.
The "Peppa Pig" cartoon has soared in popularity since it first aired in China in 2015, attracting billions of views on China's main streaming sites. Peppa has since spawned a wealth of commercial franchises, including toys, books, apparel, full-length featured films and theme parks, all while beefing up revenues for eOne in the China market.
In December last year, Tmall and eOne inked a retail partnership to promote Peppa Pig in a 24-hour Super Brand Day campaign on Jan. 8, as well as develop new merchandise based on the cartoon icon.
"Tmall is not only a shopping platform, but more importantly, it is one of the top platforms that help brands expand their influence," Mike Hu, the president of Tmall Fast-Moving Consumer Goods, said when the partnership was announced.
"Through our partnership, we'll be able to allow even more consumers to learn more about Peppa Pig, and fall in love with the character," he said.