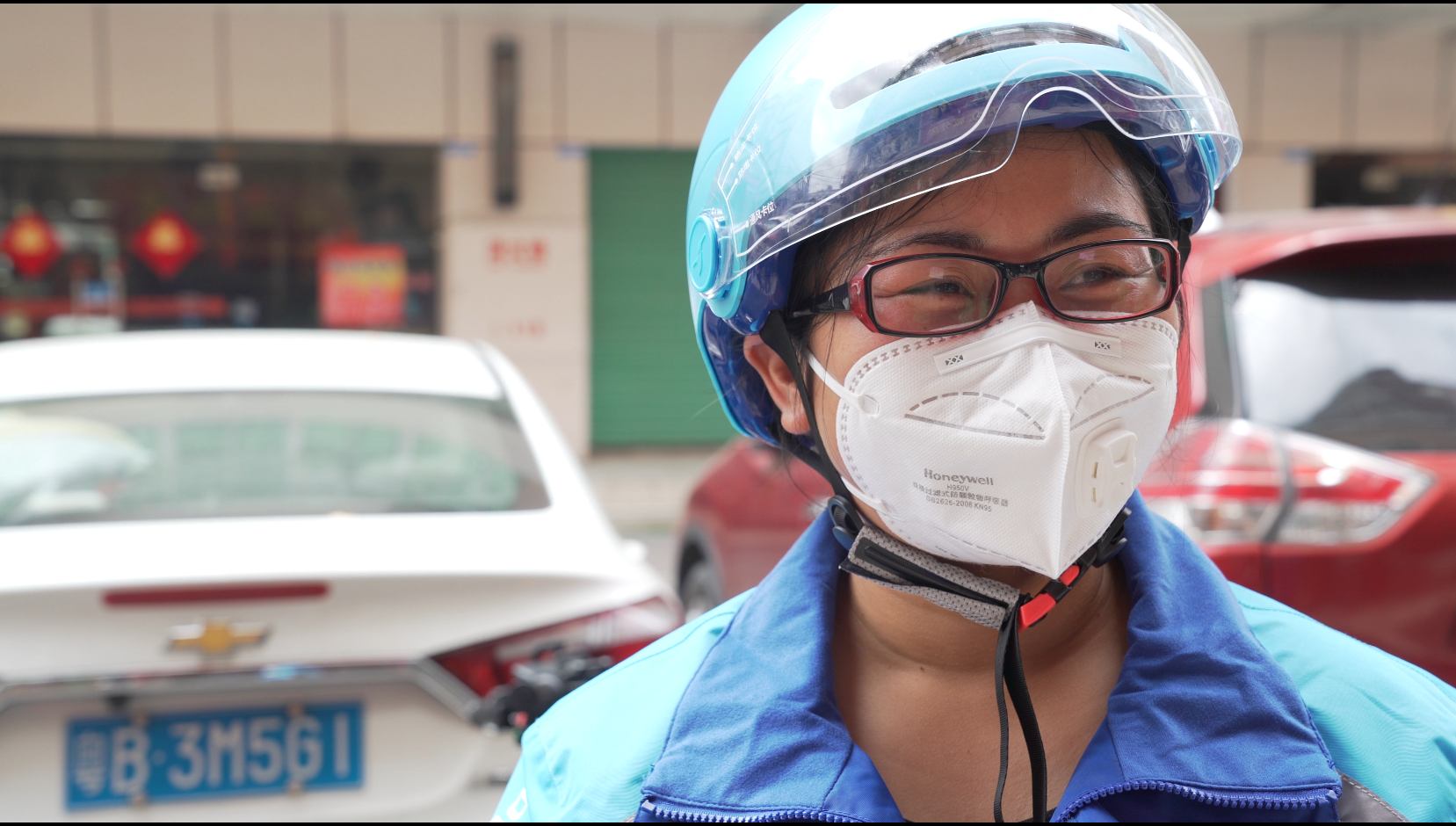 This interview is a part of our International Women's Day series, which spotlights the stories and voices of talented, inspirational women in the Alibaba ecosystem.
China's delivery workers have been a lifeline to millions of housebound consumers, who've relied on online delivery apps during the spread of Covid-19. Fear of the disease had previously left some of the country's busiest cities deserted, with delivery riders zooming by on their motorbikes the only signs of life on the otherwise-empty streets.
We spoke to Shang Xinyuan, 35, one of the delivery workers who helped keep supplies flowing in the southern city of Shenzhen during the coronavirus outbreak. A young mother of two, she is one of the millions of riders – among 9% of whom are women, according to 2018 figures – registered with on-demand delivery app, Ele.me. Shang was recently recognized by the platform as the city's top-performing rider of the year. This interview has been edited and condensed for clarity.
What led you to become a delivery rider at Ele.me?
I'm from Henan but have been living in Shenzhen since moving here after high school to work in a Foxconn factory. That's where I met my husband. When our firstborn was about two or three years old, I wanted to find a more-flexible job with more freedom to take care of him at home.
I started to work part-time as an Ele.me rider, but only handled orders at peak delivery times. The cost of living is very high in Shenzhen. I saw that the more orders I delivered, the more income I could make. So, in January 2019, I became a full-time staffer.
What were some of the challenges you've faced during the virus outbreak?
Our orders dropped when the virus hit, while sales for Alibaba's supermarket, Freshippo, boomed. I was one of six riders from our station who helped handle deliveries for Freshippo full-time to ease their pressure. It was also an opportunity to increase our salaries.
People would bulk buy heavy loads since they couldn't go out during the outbreak. One large container could have carried three customers' orders before, but now a single customer's order might take three boxes to hold. One time, I delivered nine orders at once in the rain, carrying them in the front, back and both sides of my scooter. It was hard to keep balance, and I had to ride very slowly – the trip took over an hour – but the customers were very patient and understanding. Delivering for Freshippo also takes more time than for Ele.me, because we needed to help pack and label groceries. My hands were often seriously cut by the packaging.
During this time, customers would also be worried about coming into contact with us. We would worry, too. There was nobody apart from riders on the streets, which used to be packed with bustling cars and people. That was very upsetting to see.
What motivated you to push forward despite these difficulties?
In the beginning, my dad would call and ask me to leave this job. I told him not to worry and that we were wearing protective masks, gloves and having our body temperatures checked every day. He didn't bring this up again, though my brother told me that our dad would cry every time after we spoke on the phone.
But he understood that this was my responsibility, and that I couldn't just quit a job in the face of adversities. If I persisted, families would be able to eat a hot meal or get the supplies they otherwise couldn't have.
Ele.me employees refer to you as a "delivery champion." You've also won the top award for the Shenzhen area this year, ranking number one in overall performance, from the number of deliveries to customer ratings. What is your personal record?
My personal record is 67 orders delivered in a day. The average is about 50.
When a customer places an order, I want to deliver it as quickly as possible. I'm from Henan, where we're known for speaking loudly. Shop owners always hear my voice before they see me. The sooner they hear my order number, the faster they can prepare it for me.
Maybe that's one reason for choosing me for the award. I never imagined that I would receive recognition like this – it was a peak moment for me. I'm only a high-school graduate, and after my job at the factory, I spent seven or eight years at home taking care of my kids. At the time, I felt completely disconnected from society and would have been thankful for any job that would allow me to earn RMB100 ($14) a day. At Ele.me, I made about RMB10,000 for four months in a row last year, much more than I'd make at a factory paying about RMB4,000-6,000 a month.
What does a typical day look like for you?
My kids wake up for school at 6 a.m., then we have breakfast. I usually work from 9 a.m. until 9 p.m. I eat while waiting for merchants to prepare their orders, so I'm wasting no time. Usually, I'll have two pork buns and a cup of soy milk.
March 8 is International Women's Day, which celebrates the achievements of women across the world. What does this mean for you and the women you know?
When I was working at the factory, female staff were only allowed to check products on the assembly line. We stayed there the whole day and were only allowed to step away for lunch and restroom breaks. But male colleagues who could handle heavy-lifting tasks were allowed to move around. I envied that freedom.
Women have a higher status now. When I first got married, I thought I didn't have a say in the family and that my husband would make all the major decisions. Today, it's the complete opposite. I end up being the one making the big decisions at home, while he decides the smaller things.
At work, I really like our supportive team atmosphere. We're one of the bigger delivery teams in Shenzhen: We have about 100 people, and three of them are women – including me. Our colleagues go out of their way to look after each other. I also like the way people would stop you for a chat at the delivery station. Even when busy, we would always wave when we see each other.
What are you proudest of?
My best decision was marrying my husband and raising our two sweet children.
What is the best piece of advice you've ever heard or a mantra you live by?
You have to take responsibility for your life and work to the best of your abilities. If you've worked hard, life will become better. You can't just wait for an opportunity to drop in your lap. Go out and find it – or even create your own opportunities.
Sign up for our newsletter to receive the latest Alibaba updates in your inbox every week.