As the world celebrates Earth Day, payments and lifestyle app Alipay announced that half a billion of its users helped to plant millions of trees across China as part of a program aimed at getting China to go green.
More than 500 million users of Alipay's mini-program, "Ant Forest," that lives within the app are rewarded for making small, environmentally friendly decisions in their daily lives through "green energy" points, and those points can be redeemed to plant trees in areas of the country in need of vegetation. So far, 100 million real trees, covering a total area of 933 square kilometers, have been planted — roughly the size of 130,000 soccer fields.
WATCH: Alipay Ant Forest Explained

"I am very proud of the popularity of Alipay Ant Forest, which embodies our belief that technology should be used for social good," said Eric Jing, chairman and CEO of Ant Financial, an Alibaba affiliate and the parent company of Alipay. "We are grateful to our many users and partners who have helped plant 100 million trees and advance a shared vision of sustainable and inclusive development."
Launched in August 2016, Ant Forest also has fun features to engage users, such as like leader boards or the ability for friends to water trees for, or "steal" energy from, each other. To make the initiative more transparent, the mini-program allows users to also view images of their trees in real-time via satellite. Together, Alipay and its partnering Chinese NGOs will plant the trees in China's most arid areas, such as desert regions in Inner Mongolia, Gansu, Qinghai and Shanxi.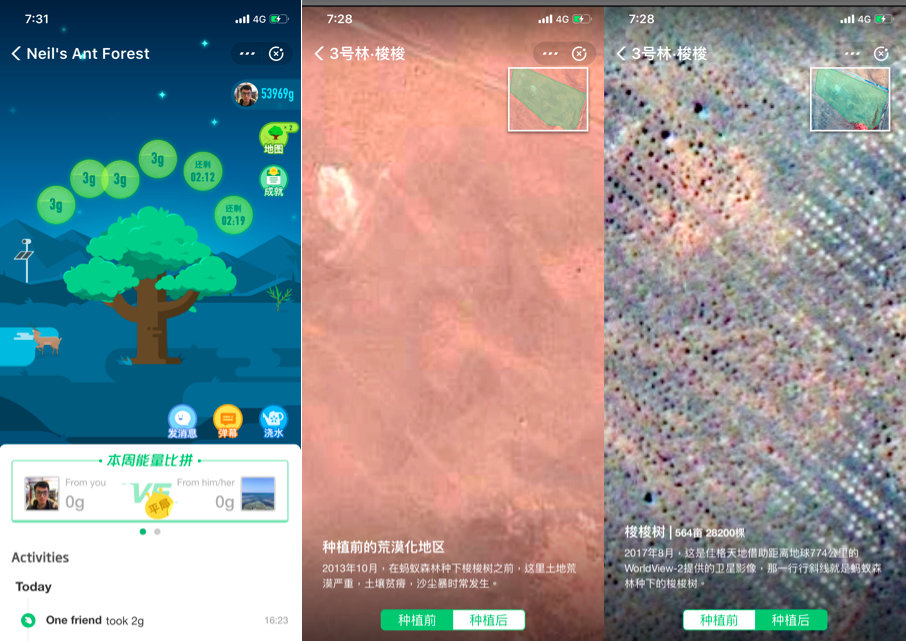 Business units across Alibaba Group's ecosystem are encouraging their users to participate in Ant Forest as well. When consumers do their grocery shopping at the New Retail-driven supermarket Freshippo, they receive green energy points when they opt out of plastic bags. They can also earn points when they use Alibaba's second-hand trading platform, Idle Fish, to recycle their old items, buying movie tickets using the firm's online movie-ticketing platform Taopiaopiao or using Dingtalk, a chat and collaboration app, to hold video conferences instead of commuting for in-person meetings.
The carbon-offset scheme aligns with Beijing's goal of building a 4,500-kilometer "Green Great Wall" that stretches along the edges of China's northern deserts to combat land degradation. If it meets its target, by 2050, the new forest area will cover more than 42% of China's landmass.
In a NASA study published in February, researchers found that China and India accounted for one-third of the planet's increased foliage in the past 20 years. The U.S. space agency said China's "outsized contribution to the global greening trend" was, in large part, thanks its ambitious programs to conserve and expand forests.
Elsewhere in the Alibaba ecosystem, a number of green initiatives have been launched.
Logistics arm Cainiao Network's smart-packaging technologies, designed to reduce wasted materials due to overpacking, have helped improve packaging efficiency for more than 500 million parcels. Cainiao has set up 5,000 recycling stations for unwanted shipping boxes at its delivery points in 200 Chinese cities as well.
Per Tmall, L'Oreal had used environmentally friendly packaging to deliver over 2 million parcels from its Tmall flagship stores by the end of 2018, as part of a commitment made last June. About 40 brands from various industries have opted into the same green packaging solution, including Pandora, Innisfree, Casio and Durex.
Tmall Supermarket reduced 100 million cardboard boxes by reusing old boxes and rejecting repackaging when the original boxes are on par with standards.
See this infographic below for more of Alibaba's green initiatives: