Jacobs Douwe Egberts will sell its coffee and tea brands in China through Tmall Global, Alibaba Group's dedicated cross-border e-commerce platform, making the Dutch beverage giant the latest company from the Netherlands to leverage Alibaba's platforms to reach Chinese consumers.
The new flagship store, which launched Friday, will host JDE's Moccona, L'OR, Kenco and Maxwell House brands, with more brands expected to onboard in the coming months, JDE said.
The company's move to Tmall Global coincides with a shift for China, as the tea-drinking nation increasingly turns to coffee. Over the past decade, coffee-consumption growth in China grew an average of 16% a year versus the 2% annual average for the rest of the world, according to the intergovernmental International Coffee Organization.
"We believe that the range of JDE's high-quality coffee products and their iconic brands will become very popular amongst Chinese consumers," said David Lloyd, Alibaba's general manager'ÄØfor the U.K., Ireland, The Netherlands and Nordics.
JDE's launch on the platform marked three years of on-the-ground operations in the Netherlands for Alibaba, since opening an Amsterdam office in 2016. Alibaba has used the base to help Dutch companies, such as G-Star Raw, Heineken and Philips, better target and enter the China market. That "gateway to China" offering has become increasingly beneficial in the wake of trade tensions between China and the U.S., said attendees at "The China Opportunity," a conference in Utrecht, Netherlands, last week put on by Alibaba and Dutch banking and financial-services company Rabobank.
"The U.S.-China trade war may cast some darker clouds on the economic horizon, but there are some silver linings that we foresee for Dutch companies and businesses who are agile and quick to seize the trading opportunity that a different tariff landscape offers, and this could open new routes for many goods into China," said Rabobank's chief economist, Menno Middledorp, who spoke at the conference.
Middledorp pointed to what he called "substitution effects," as Chinese importers look to new markets for goods they would have otherwise sourced from the U.S. To encourage this trend, China has been lowering tariffs on some of those imports, including some that are key product categories for the Netherlands. Middledorp also noted the larger trend in China's economy, the move from a manufacturing focus to one of consumption, which offers the most promise for Dutch brands such as JDE.
It's this latter point where Alibaba can help overseas merchants reach Chinese consumers, Lloyd said during a presentation to the conference. He showcased the Alibaba ecosystem, from e-commerce and travel to mobile payments and cloud computing, highlighting the ways the company partners with global brands and small businesses to find the best strategies for selling into China. That ecosystem serves 654 million annual active customers, delivers 69 million packages a day and generated $853 billion in gross merchandise volumes in fiscal year 2019, Lloyd said.
Kitty Koelemeijer, professor of marketing and retailing at Nyenrode Business University in the Netherlands, said that ecosystems such as Alibaba's "are so far ahead of the pack with respect to data management and analytics, and the integration of commerce, entertainment, payment, and fulfilment, that for any company it is virtually impossible to keep up with them."
"In addition, e-commerce growth is largely through marketplaces. If you want to enter the Chinese market, better do it through an e-commerce platform that is part of an ecosystem," she said.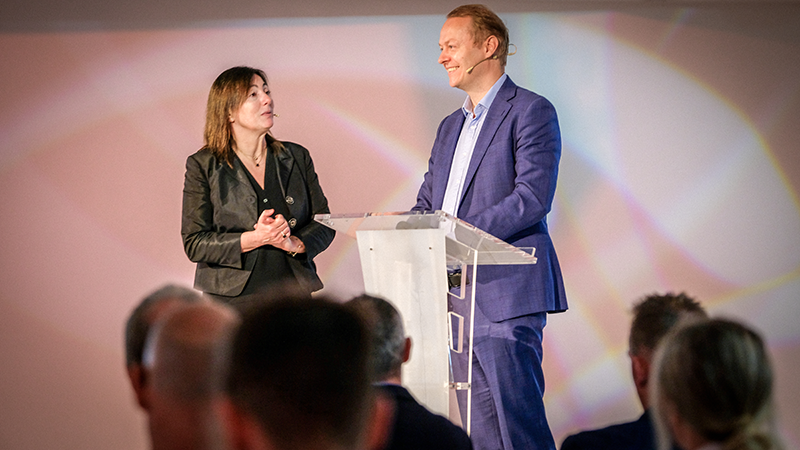 Bjorn Stibbe, general manager of Rabobank China, offered a series of best practices for brands to put in place if they wanted to be successful in the China market, such as investing in local management and choosing a specific city or region to focus on before implementing a national strategy. Whatever the strategy, Stibbe said, companies need to be 100% committed to the market.
"Rabobank has been operating in China for 30 years. There has never been a more interesting and exciting time to be doing business in China, and we see that the most successful companies are those who thoughtfully commit to building a brand and a business for the long term and appreciate the cultural differences," he said.
Roland Palmer, the head of Alipay Europe, said there was an opportunity to capture Chinese consumption in the Netherlands rather than having to go to China to get it, as Chinese visitors to the country have doubled over the past six years. Dutch merchants looking to capitalize on that opportunity might adopt Alipay, China's leading mobile-payments and lifestyle app, Palmer said. According to a report from research firm Nielsen, 90% of Chinese travelers would use Alipay overseas if given the option.
"Alipay is more than a payments solution, it is a lifestyle app with 1 billion users," Palmer said. "In addition to offering consumers more than 100 different services, it also offers merchants the possibility to use digital marketing to attract new consumers to their stores. The Netherlands is an example of the growing opportunity for merchants to capitalize on the increasing demand as the number of Chinese visitors is expected to continue growing."