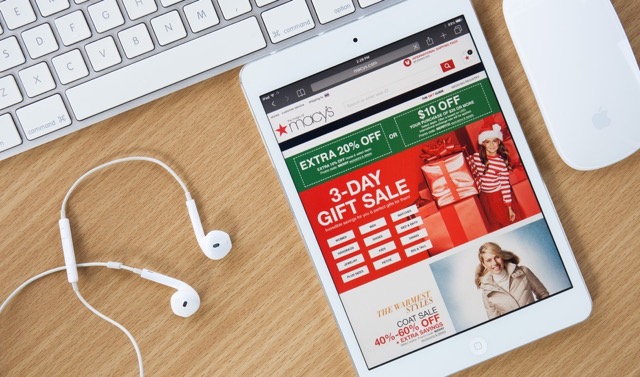 Alibaba Group's effort to draw Western retailers to China got another boost with the announcement today that venerable department store operator Macy's plans to open a flagship store on Tmall Global, Alibaba's cross-border online shopping marketplace.
Macy's is entering the fast-growing mainland consumer market by forming a joint venture with Hong Kong-based Fung Retailing that will "explore retailing in China," the companies said in a press release.
Named Macy's China Ltd., the joint venture will be located in Hong Kong and plans to begin operations in late 2015 with what the companies called an "e-commerce pilot initiative:"theTmall Global virtual store, which willfeature a selection of authentic Macy's merchandise tailored for Chinese customers. The flagship store will be Macy's exclusive third-party online outlet in China, according to Alibaba.
Alibaba Group CEO Daniel Zhang called the planned Macy's store "a major win for consumers across China" that "reinforces Tmall Global's status as the premier solution for brands and retailers in their strategic online presence and direct engagement with customers in China."
Macy's, one of the world's largest fashion retailers and the largest U.S. department store chain by sales, has about 885 outlets, most of them Macy's and upscale Bloomingdale's. Pursuing an omnichannel sales strategy, Macy's in 2011 began selling overseas into China and about 100 other countries through its English-language shopping website, macys.com, shipping goods from the U.S. to overseas online shoppers.
Macy's China Ltd. will warehouse inventory in Hong Kong in order to improve delivery speed, flexibility and pricing for goods ordered by Chinese consumers via the Tmall Global store, the companies said. E-payments provider Alipay, an affiliate of Alibaba Group, will be a primary payment option for Macy's e-commerce offerings in China.
"Millions of Chinese tourists have come to know and love Macy's when they travel to New York, San Francisco, Chicago and other American destinations," said Terry J. Lundgren, chairman and chief executive officer of Macy's. "By making Macy's accessible in China, we have an opportunity to deepen our relationship with international customers and to grow sales," Lundgren said in a statement.
Macy's is the first department store operator to join Tmall Global, a retail website that offers overseas retailers a simplified, direct sales channel to Chinese consumers. Part of Alibaba's market-leading B2C shopping siteTmall.com, Tmall Global provides streamlined logistics and digital marketing support, allowing retailers to tap the Chinese market through e-commerce without investing in mainland offices, warehouses and staff.
Alibaba has been aggressively recruiting Western retailers and brands to Tmall.com and Tmall Global to build up its international business. While the company currently makes less than 5 percent of its revenue outside of China, Alibaba Group Executive Chairman Jack Ma has said he wants to eventually build the international contribution to half of total revenue. Alibaba this month hired former Goldman Sachs Vice Chairman Michael Evans as president to spearhead the expansion of cross-border e-commerce.
CLICK HERE TO READ JACK MA'S WALL STREET JOURNAL OP-ED ON THE CHINA MARKET OPPORTUNITY
The Macy's announcement comes a week after Alibaba said it had secured deals with more than 20 apparel brands, among them Timberland and Marks & Spencer, to provide exclusive online sales outlets on Tmall.com.Alibaba also said it was strengthening its collaboration with more than 160 apparel brands—among them Zara, Uniqlo, Gap, Decathlon and Adidas—in areas such as digital marketing, big-data consumer analysis, and O2O sales.
In another milestone, global consumer-goods giant Unilever last month formed a strategic partnership with Alibaba calling for the companies to work together to boost sales of Unilever's food and personal care products in China through Tmall.com.
Peter Sachse, chief innovation and business development officer for Macy's, said in a statement his company has had "initial success in partnering over the past year with Alibaba on various projects, including accepting Alipay onmacys.comand conducting a special promotion during Black Friday 2014." He added that Macy's presence on Tmall Global "will give us insight that will serve us well in evaluating future international initiatives."
Macy's said it expected to invest approximately $20 million in the operations of Macy's China Limited over the next 18 months. Current plans call for Macy's e-commerce sales of approximately $50 million in China in 2016.
Macy's has no bricks-and-mortar stores in China. The company said it had no plans to build any, but this "may be considered in the future based on the company's experience in its e-commerce pilot."