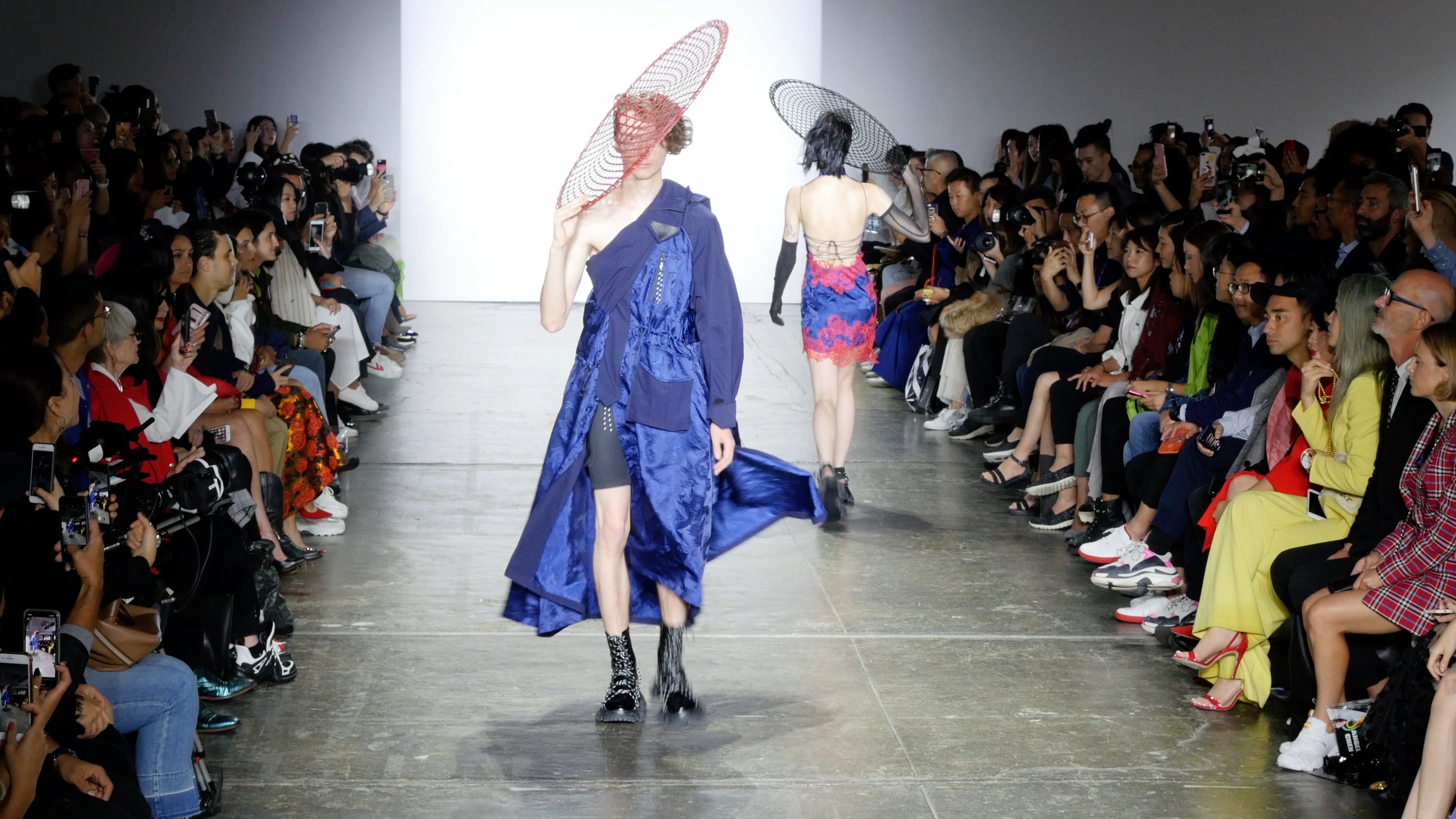 Three Chinese designer labels made their runway debut at New York Fashion Week on Monday.
As part of Tmall's effort to cultivate homegrown fashion talent and the growing creative culture in China, the Alibaba Group-owned e-commerce platform chose three brands to debut their latest work at New York Fashion Week: The Shows, which ran from Sept. 6-12.
Under the banner of Tmall China Day, the designers—including sportswear labelParticle Fever, Hangzhou-based JNBYand indie designerAngel Chen—showcased their collections for spring-summer 2019.
WATCH: Behind the runway of Tmall China Day.
"We are the gateway for American designers, brands, retailers, and small businesses looking to reach Chinese consumers. But we are also committed to helping up-and-coming Chinese brands and designers expand globally which is why Tmall China Day and our partnership with NYFW is so important to us," said Jessica Liu, president of Tmall Fashion and Luxury.
Besides the opportunity to bring their designs to New York Fashion Week, Tmall also supported them with advanced technology and tools to engage retail buyers and consumers. Some of the technology included an online showroom feature and technical support for the brands to adopt a "See Now, Buy Now" format. See Now, Buy Now allows consumers to purchase select items from the runway as they watch the show on the Mobile Taobao app or Youku, Alibaba's video-streaming hub.
"The 'See Now, Buy Now' experience for China Day this year will feature 360-degree imaging technology to create an immersive experience of the designers' collections and make consumers feel as if they are in the front row at New York Fashion Week," said Bo Liu, president of the Tmall Marketing and Operations.
Also new this season is the millennial-minded China Day pop-up market at the fashion label Opening Ceremony's New York store. The pop-up is part of Tmall's effort to showcase popular Chinese brands that are riding the "China Cool" trend, ranging from the traditional medicine maker Yunnan Baiyao to the revived century-old beauty brand Shanghai Vive.
Jessica Liu said Chinese consumers today are more open to experimentation in their style and eager to express their individuality through fashion.
"They're increasingly interested in niche, high-quality designer brands that are innovative and exciting," she said.
"We are seeing a dramatic rise in creativity in China," Liu said. "While China used to look to the West for the latest in fashion and design, we are seeing the phenomenon of 'China Cool,' as young creators incorporate authentic and traditional Chinese elements into their designs, setting major fashion trends in China."
Tmall China Day is only one of the platform's initiatives to foster young designer-entrepreneurs. Within the next five years, Tmall aims to use its consumer insights to support 100 newly graduated designers, helping them build their brands and develop a consistent style. The goal is for the selected designers to generate over 10 billion in sales combined by 2020. The first batch of designers with the program is expected to launch their new collections ahead of Alibaba's annual 11.11 megasale, Tmall said.
Li Lin, chief creative officer of JNBY, said participating in Tmall China Day can help generate more international awareness for the clothing brand, as it looks to expand to beyond China.
"I think the New Retail business model has totally changed the way we do things. The traditional way meant opening a shop and reaching the customer there, but now the online side of business is very important. Even after the customer buys things from the shop, we can also reach them through the digital way," said Li.
"Branding is not only about doing shows. Branding is about finding the correct ways to connect with your customers from all channels," said Jieyi Liu, CEO and founder of Particle Fever. Liu said Tmall has provided an "all-channel" solution for her brand, highlighting a tool that allows store clerks to share with customers a online purchase link to desired products that were out-of-stock in its physical stores (and the staff can earn a bonus for these transactions).
"The new model of retail really exists. It's not just a slogan," she said.