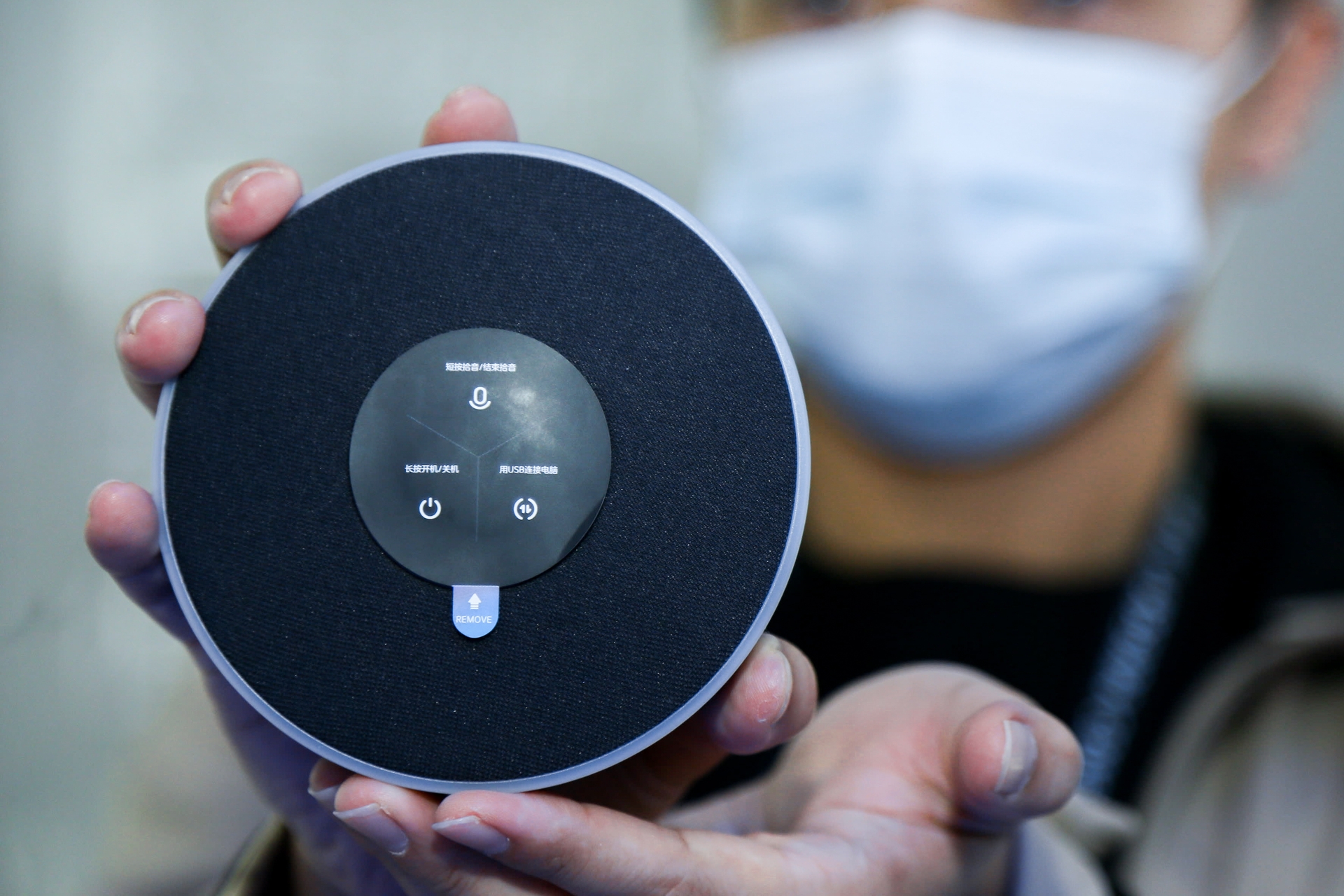 Alibaba Group debuted an AI-powered meeting assistant at the company's annual Apsara Conference in Hangzhou on Thursday, alongside an upgraded cloud computer for remote working.
The AI meeting assistant, named Tingwu, is designed for use at interviews and multi-location conferences, where it can convert speech to text in real time, create meeting summaries and post-meeting to-do lists.
Tingwu launches at a time when the pandemic has fundamentally transformed the way people work. As remote working becomes the norm, corporations report surging demands for communication and collaboration tools to stay productive, even after offices reopen.
"The goal is to free users from note-taking so that they can truly focus on what is happening in meetings and never worry about forgetting things," said Pang Tiancong, product manager of Tingwu at the Speech Lab of Alibaba DAMO Academy, in an interview with Alizila.
Powered by a smart microphone, and new voice recognition algorithm developed by Alibaba's DAMO Academy, the assistant has a transcription accuracy of 98%, according to a third-party test by the State Information Center Software Testing Center.
Tingwu can distinguish as many as 10 unique voiceprints from meeting participants, enabling it to separate speakers in the transcript.
"These features can significantly increase the work efficiency and productivity of users," said Pang. According to users reports, the AI meeting assistant reduces time spent meeting organizational chores from an average of five days to two, she added.
With the trend of next-generation workplaces gaining popularity among companies, "Tingwu is well-positioned to transform business meetings with productive and easy-to-use automated voice transcription capabilities," said Yan Zhijie, head of Speech Lab at Alibaba DAMO Academy.
The AI assistant is armed with deep learning capability to self-correct transcription errors in real time, add custom vocabulary words for uses and generate summaries and action-items that are tailor-made to different users.
In China, Tingwu has been integrated into DingTalk. It can now automatically transcribe the conversations that take place on the communication platform and share notes with all participants.
Also unveiled on Thursday is a new version of Wuying, the company's first cloud computer which made its entrance last year. Unlike the previous version which requires users to connect the cloud computer to a screen, the latest update adds a one-stop 'Cloud Workplace' solution to the all-in-one PC with increased protection for data security.
The upgraded cloud computer is an "office in the cloud", according to Jiang Weijiang, a senior researcher and general manager of infrastructure products at Alibaba Cloud Intelligence.
This allows employees to access organizational resources anywhere, no matter what time it is, with an infinite amount of computing power at hand. The upgrade also enables corporate users to connect to the cloud computer from any device regardless of the operating system installed.
"As remote offices become a more common way of working around the world, we remain committed to innovating products and services that bring the benefits of cloud computing to all," said Jiang.
Wuying has already been put into commercial use.
To receive the latest news directly in your inbox, sign up for the weekly Alizila newsletter