Alibaba Group's B2C online marketplace, Tmall, returned to New York Fashion Week on Wednesday, bringing with it some of the most-creative, forward-looking designers in China.
Under the banner of "Tmall China Cool," five Chinese fashion brands – Peacebird, Threegun, Songta, i-am-chen and Rizhuo – showcased their spring-summer 2020 collections at Spring Studios, a venue that has been tapped by top designers such as Diane von Furstenberg and Michael Kors to showcase their own collections. The shows took place on the opening day of NYFW: The Shows, running Sept. 4-11.
The Tmall China Cool events are the latest to come out of Tmall's partnership with NYFW: The Shows, which started in 2017. They have since rolled out a series of initiatives to showcase Chinese talent at the fashion week, while helping U.S. brands, such as GREY Jason Wu and Robert Geller, break into China's burgeoning fashion market.
WATCH: 'China Cool' Comes to New York Fashion Week
"Tmall is known for being the gateway to China's consumers for the top luxury and fashion brands around the world, so it's always great to be here to catch up with our customers and see their latest collections," said Jessica Liu, general manager of Tmall Fashion and Luxury. "But we also see ourselves as a cultural bridge to help showcase what is a very exciting moment in time for Chinese fashion. Bringing some of the designers to the major fashion centers around the world is something we are uniquely positioned to do."
Prior to the show, Tmall had provided trend forecasts to the designers to help them anticipate consumer preferences over the coming three to six months. Each brand incorporated these future trends, such as military vests and logo-mania windbreakers, into their runway looks. The e-commerce platform also said it will release a new trend report at Paris Fashion Week later this month to help even more brands tap into what Chinese consumers want.
"Because of our robust consumer and brand participation, we have the privilege of seeing and anticipating what will be the major trends in the Chinese fashion market," said Liu.
Taking Good Designs Global
The audience cheered and clapped even before the end of the Rizhuo show, applauding the collection designed by the contemporary fashion label's womenswear designer, Chen Li-Xia. The inspiration for her collection, centered on the theme "Youxia" (wandering vigilantes or knight-errants in ancient China), came from a poem from the Tang Dynasty poet Wang Wan, which captures the melancholy sentiment that many Chinese people feel when they return home during Chinese New Year.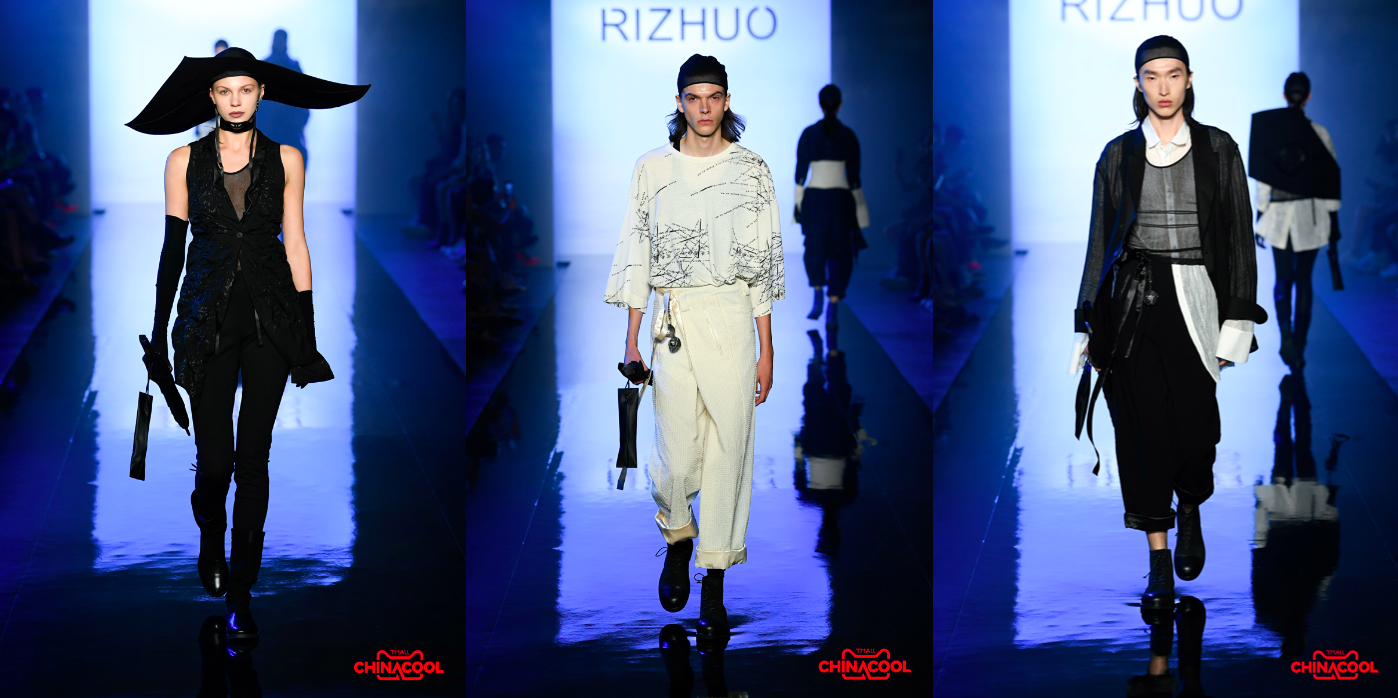 "We hope Rizhuo can become a global brand that carries quintessential 'Chinese expressions,'" Chen said, adding that she wants "to combine Eastern aesthetics with Western tailoring techniques and merge different ideas together."
"Our clothes contain Chinese elements – they are simple and modest – while in the U.S., designs are more free, relaxed and practical," Chen said. "We will combine them with our clothes and hope to convey what we mean by our brand's Chinese expressions."
Zhi Chen, the up-and-coming designer behind luxury knitwear label i-am-chen, said Tmall's support for her NYFW show has already allowed her brand to earn significant exposure.
"I hope people will find my creations on this stage to be great designs that just happen to be made by a Chinese designer, and judge me by the same standards as any other designer," Zhi said. "Good designs don't need labels. Good designs are good. It doesn't matter if they are created in China or in any other country."
Tmall China Cool
"China Cool is our forward-looking vision for global fashion," said Tmall's Liu. Liu said she sees China Cool as a growing trend in China, marked by designs that focus more on heritage and authenticity and driven by consumers who are "increasingly experimental and individualistic."
Per Tmall, its China Cool initiative is aimed at enabling Chinese designers to grow their brands and appeal to a global audience with fashion-forward designs. As part of the initiative, it plans to roll out a series of events throughout other major fashion events during the year, including Milan Fashion Week and Paris Fashion Week.
WATCH: Inside Tmall's "China Cool" Pop-Up

Tmall China Cool is also about celebrating local heritage brands, helping them forge crossovers with cutting-edge designers and reach young consumers, the company said.
Alongside the fashion shows, Tmall hosted a three-day pop-up exhibition, featuring cross-collaborations between designers and consumer goods brands, such as a co-branded qipao from Chinese snack company Hsu Fu Chi and clothing brand Tyakasha and a trench coat inspired by Hegii, a toilet and bathroom furniture manufacturer. Consumers can purchase these crossover products, as well as select items from the fashion shows, on brands' flagship stores and a dedicated NYFW page on Tmall.
Mike Hu, general manager of Tmall Fast-Moving Consumer Goods, said that through the China Cool program the platform is looking to drive new experiences and set the stage for creations that surprise consumers, such as seeing a classic Chinese clothing brand like 82-year-old Chinese lounge and sleepwear maker Threegun shake up its image with more-modern fashion trends.
Threegun had tapped designer Qu Chuang to create modern, minimalist looks for the fashion week that blur the lines between innerwear and outerwear.
"[We are] part of the memory of people born in the '20s and '30s. But for the younger generation, they might forget our brand if we don't promote it," said Tong Jisheng, chairman at Threegun parent Orient International. "We have new ideas and new products like what we showcased [at New York Fashion Week]. The designs used brand-new fabric that we developed by ourselves, entirely different from traditional textiles."