Ever felt like you needed to get rid of a double chin or scrape the gunk from your pores? Tmall Global has you covered.
To wrap up the year, Alibaba's dedicated cross-border e-commerce site collected "quick-fix beauty" products from more than 100 international brands, including everything from facial-cleaning devices to trending gadgets, such as "face-slimming" belts and electronic spatulas, for those chins and pores, respectively.
The new monthly campaign is part of a new content-marketing program designed to incubate small to mid-sized businesses and brands that have just entered China by helping them promote their newest products. Called Global Discovery Day, the Tmall Global initiative curates a series of products and content themed around a specific consumer pain point, which is determined based on analytical insights from parent company, Alibaba Group.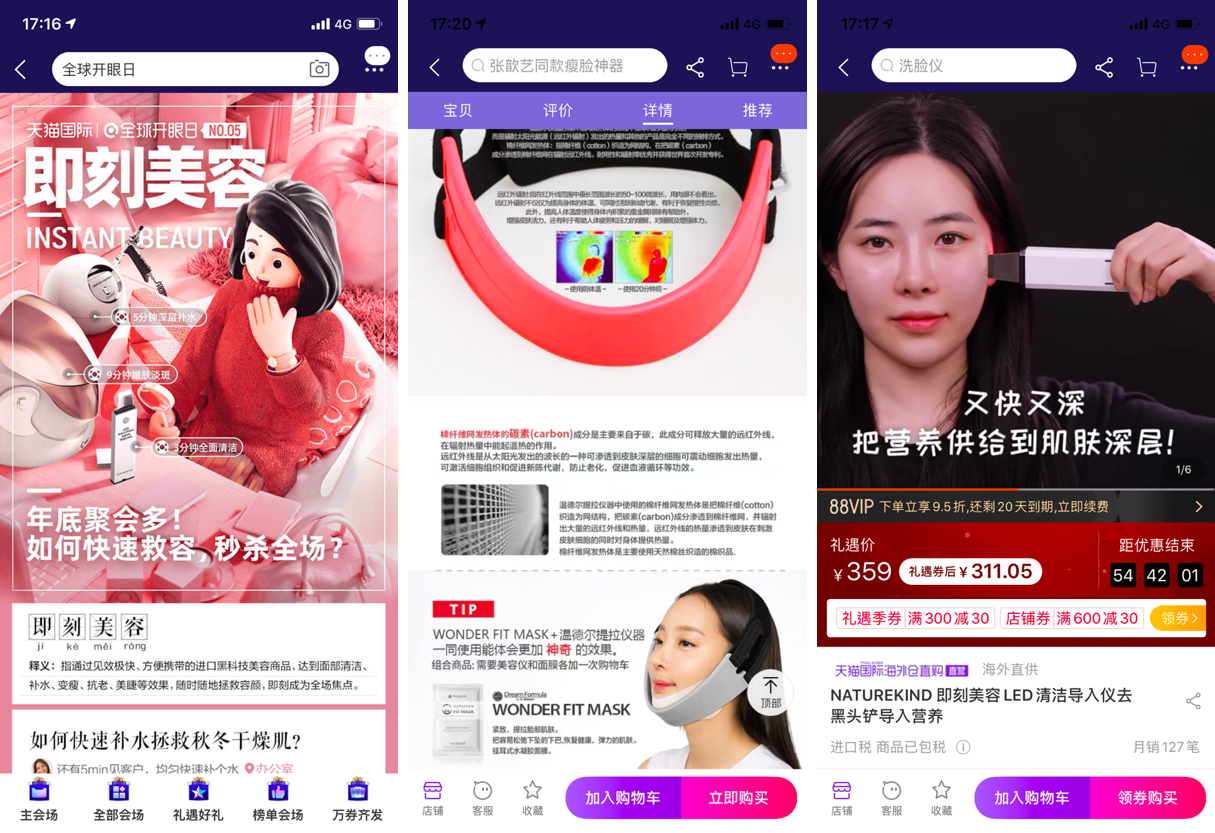 This campaign comes as Tmall expands its tools to help international brands manage their entries into, and engage with consumers in, the world's second-largest economy. The platform currently hosts more than 22,000 brands in over 4,300 categories from 78 countries and regions. For more than 80% of these brands, Tmall is their first entry into China. Earlier this year, it launched Tmall Overseas Fulfillment – a low-cost, low-risk solution for brands to test the waters and fine-tune their go-to-market strategies before making a full entry into China. It has also been connecting brands with local influencers and celebrities to help them reach new consumers via livestreaming. In August, reality TV star Kim Kardashian West collaborated with popular Chinese livestreamer Viya Huang to debut her namesake perfume in a broadcast that drew 13 million viewers.
"Tmall Global has become an important gateway for foreign brands to enter China and quickly gain exposure among young consumers," said Ye Zhengcan, deputy general manager of platform. "We're constantly looking for more ways to help them get their products in front of the Chinese audience and build deeper connections."
"It's not only about satisfying demand but also creating new demand and helping brands make new inroads," he added.
Global Discovery Day helps achieve that purpose, said Ye, adding that while many international brands have powerful brand stories and products, not all have the Chinese e-commerce market experience and early-stage promotional channels needed to succeed.
Multinationals, such as Johnson & Johnson and Nestlé, as well as smaller emerging companies, such as beauty brands Drunk Elephant and BCL, have leveraged Tmall's solution to surprise young consumers with clever products that address everyday problems. After launching a store on Tmall Global in September, Drunk Elephant used Global Discovery Day to promote its The Littles skincare kit to beauty-conscious students during back-to-school season. This move attracted 227,000 new followers and helped the brand reach over RMB6.26 million ($891,800) in gross merchandise volume during its first 11.11 Global Shopping Festival.
WATCH: Promotional Videos for Global Discovery Day
Hitting Hot Buttons
The pilot Global Discovery Day campaign in July focused on a specific consumer group: white-collar urbanites who want to look their best and avoid embarrassing situations in the summer, like awkward tan lines or body odor.
It featured products tied to an "anti-awkwardness" theme – such as hair removers from Israeli beauty-device maker Silk'n and sunscreen from Johnson & Johnson-owned skincare brand Biafine – on a dedicated landing page on Tmall Global and showcased a series of animations, short videos and influencer content to generate social buzz. The three-day campaign helped to nearly triple Tmall Global's sun-protection category sales, while posts with the Chinese hashtag #‰∏çÂ∞¨Â§è§©# – meaning, "no more awkward summers" – attracted more than 11 million views on Chinese microblogging site Weibo.
August's edition of the campaign catered to parents looking to take the stress and anxiety out of traveling with young children. It promoted useful products for parents on-the-move, such as spray-on liquid bandages from German brand SOS, Korean skincare brand Mediheal's one-step makeup-removal pads and Japanese brand Lion's stain removers, which don't require rinsing with water. During the campaign, Nestlé's baby-food brand, Gerber, also launched a new cereal-puff set that featured Disney toys to entertain kids while they ate. The event helped the brand reach 68 million consumers and boosted its snack-category sales on the site by more than 10 times, according to Gerber.
"We want to show moms in China that Gerber's snacks are not only nutritious and help to refine their babies' motor skills but also very fun," said David Zhang, SVP of cross-border e-commerce business at Nestlé Nutrition. Global Discovery Day helped the brand promote that message across key influencers' accounts in the country as well as on Alibaba's platforms such as Tmall, Taobao and Juhuasuan, he said.
"China's new generation of parents are young and fashionable. As much as they focus on taking care of their kids, they are also paying more attention to self-care and ways to de-stress family holidays," Alibaba's Ye said, adding that Global Discovery Day is about standing from the perspective of consumers.
"We start from real pain points in people's everyday lives, and then we recommend a collection of products they didn't know they wanted," Ye said. "We also want to give more exposure to new and trending products as they grow in China, as well as smaller niche brands. It's a platform to help them get on their target consumer's radar."