China's young consumers are taking the country's retail landscape by storm as they hunt for fresh experiences and novel indulgences.
Once-obscure activities such as paddleboarding are fast becoming after-work pastimes. Meanwhile, a greater focus on wellness is boosting retail categories such as non-alcoholic beverages.
"Young people are willing to express themselves, and the values they live by, through their hobbies," Xu Yingfeng, co-founder of designer flying disc brand Yikun, a fast-growing startup from Hangzhou, on the Eastern coast of China, that is pivoting to capture this trend.
Generation Z shoppers, born between 1996 and 2010, account for roughly just 15% of China's population but have an outsize influence on future consumption trends, according to a 2021 report by consultancy McKinsey.
"Gen Zers, one of the biggest spending groups in China, are willing to pay for three things: interest, experience and emotional value," Sun Yuanwen, founder of Guangzhou-based toy retailer Top Toy.
During a tough year for retailers in China, these niche categories have proved bright spots in China's retail industry, the largest consumer economy today in terms of purchasing power parity per McKinsey estimates.
Many of these emerging trends were on display earlier this month at Alibaba Group's Maker Festival. As one of the largest events of its kind in Asia, it has become a venue for Chinese startups to launch products and investors to discover consumer trends.
Alizila roamed the Maker Festival's halls and spoke with business owners and the hipster urbanites browsing the merchandise. During the week-long event, we identified the biggest trends that are likely to hit the streets from Shanghai to Beijing.
Gen Z is entering a league of their own as they look for activities that are more accessible, inclusive and non-competitive than mainstream organized sports.
Witness the growing popularity of stand-up paddleboarding and playing a friendly game of catch with flying discs in China's local parks.
"Outdoor sports have become a form of self-expression for young consumers in China," Wang Xiaoyuan, an industry representative of the outdoor sports category at Alibaba's business-to-consumer platform Tmall, told Alizila in Mandarin.
The flying disk brand Yikun pivoted from professional players to amateurs earlier this year to embrace adrenaline-seeking younger consumers looking for social connection through outdoor sports.
As part of this rebranding, it has incorporated more fashionable elements into its disc designs.
In 2008, there were barely 100 people playing the sport in China. As of last year, the number of flying discs in China reached around 500,000, according to findings from China's flying disc administrative committee.
Paddleboarding, performed standing or kneeling on a floating board with a paddle to steer, is also gaining traction.
Sales of Californian stand-up paddleboarding brand Bote's products tripled year-on-year in August, fueled by the growing interest in the sport, said He Detao, the firm's China-based partner.
Bote has made a name by selling wide-hulled inflatable and solid foam boards that give stand-up paddlers more stability in the water as they make waves or take a break to practice yoga at sea.
In China, many stand-up paddleboarding users are dipping their toes into the sport for the first time.
"Most consumers are in [it] for the experience and for pleasure, rather than regarding it as a competitive professional sport," said Tmall's Wang.
Show Less

Outdoor gear for pets, from windbreakers to tents, is gaining in popularity as Chinese pet owners share their lifestyles with their fur babies.
"The younger generation of Chinese pet owners view pets as their children. They tend to project their lifestyles onto their pets," Xiao Zhiyong, industry representative of the pet category at Alibaba's online marketplace Taobao, told Alizila in Mandarin.
Pet brands on Tmall saw their gross merchandising value (GMV) jump 30% year-on-year during this year's 6.18 Mid-Year Shopping Festival, according to the platform.
Hubei-based Yang Lin, owner of five dogs and a cat, embodies this trend and founded outdoor pet gear brand Aowu in 2017 to serve dog owners.
"I want my pups to be able to run and expend their energy in the wilds of nature," said Yang, who designed a reflective and lightweight doggy raincoat for hiking in the mountains near her Hubei home in central China.
Some pet gear, such as tents, are becoming trendy home décor options when not in use outside.
"Our customers bought the tent to replace traditional cat or dog beds at home, bringing [the] outdoors inside," said Chai Ze, who created a Shanghai-based brand called PlayLogic in March during the city's lockdown to produce and sell pet tents on Taobao.
PlayLogic made a miniature tent from recycled fibers for cats, but Chai added that owners of small dogs have also found the product useful.
Show Less
Chinese Gen Zers are already a host of eco-warriors, recycling and reusing where possible. Young consumers are taking this to the molecular level by choosing products made from post-consumer waste and naturally degradable materials.
According to consultancy Accenture's Chinese Consumer Insights 2022, 43% of consumers in China are willing to pay a premium for green products. Brands using sustainable practices in product design and manufacturing stand to benefit.
"Eco-friendliness will become the basic requirement for consumer goods companies in China," said Zhao Hanqing, co-founder of Slowow, a glamour camping — or glamping — equipment startup based in Beijing.
Slowow quickly embraced sustainable designs to make its glamping products as durable and environmentally-conscious as possible.
For example, its 3D printed glamping light designed for suspending or carrying in hand is made from biodegradable plastic.
Slowow gives camping gear a chic makeover so that consumers can reuse items at home too, and its lamps, tables and best-selling portable camp chair belong in living rooms as well as campsites.
"We try to extend the use of the products to reduce excessive purchasing," said Zhao.
Many sustainable products on Alibaba's e-commerce platforms help consumers reduce waste and make simpler purchasing decisions. Sportswear brand Mountain Fever produces mountaineering gear made with nylon created from old plastic bottles.
"It's a given that those who play outdoor sports tend to care for the environment," Mountain Fever founder Kevin Wong shared with Alizila.
Show Less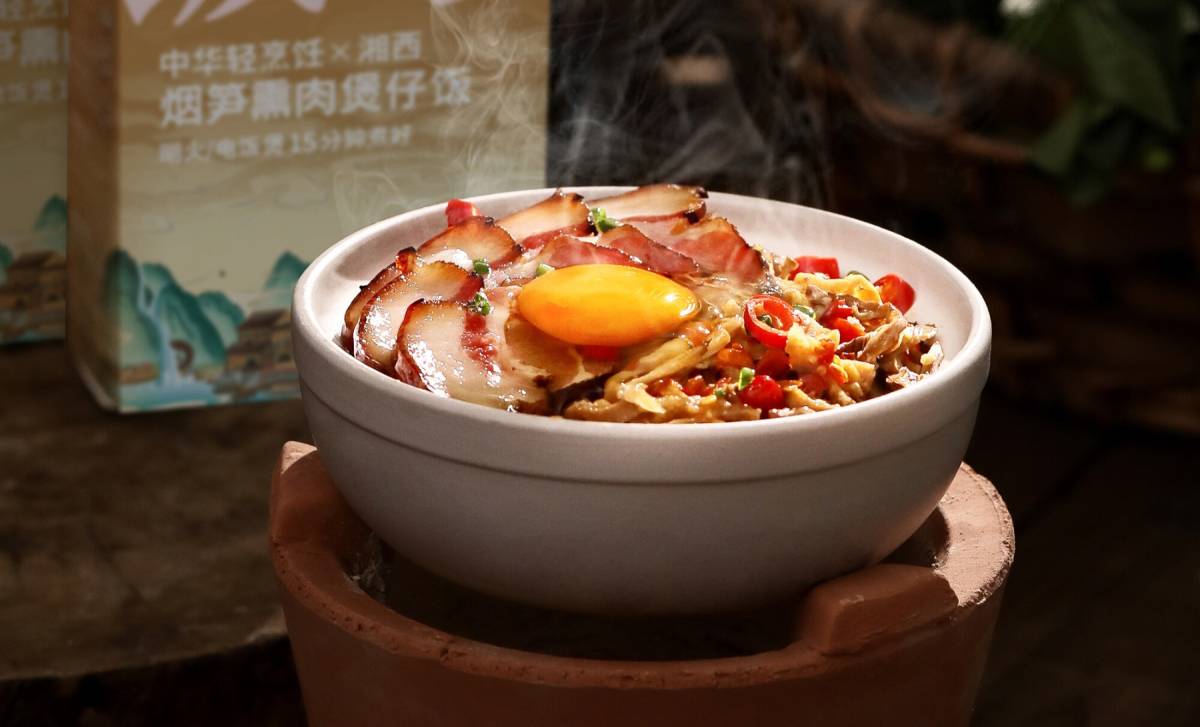 Whether hiking with their dogs or trying their hand at stand-up paddleboarding, Gen-Z consumers are working up an appetite. Entrepreneurs smell opportunity and are cooking up ready-made meals for outdoor adventurers.
Guangzhou-based startup Fanhu entered the ready-made meal market in 2020 with campfire-friendly meals-in-one, featuring pre-portioned ingredients and easily assembled seasoning packs in pottery dishes at RMB20 ($2.89) each.
Unlike conventional ready-made meals designed for cooks to reheat in an oven or microwave, these dishes are meant to be eaten by campers and nature enthusiasts far from their kitchens.
"The traditional white clay pot can be put directly on the camp stove, and the whole cooking process is social media and photo-friendly," He Hua, founder of Fanhu Cooking, told Alizila in Mandarin.
The brand's Tmall store generated RMB25 million in sales in 2021, and at this year's Maker Festival, Fanhu cooked up bowls of rice with sliced Chinese sausage and pork belly, seasoned with green onions.
The meal kit is a perfect option for those who want to taste authentic Cantonese-style clay pot rice but find it challenging and time-consuming to prepare all the ingredients while on the go.
China's pre-packaged meal sector will be valued at over RMB1 trillion by 2026, a more than four-fold increase since 2019, according to a report from iiMedia Research.
Show Less
For thousands of years, China has been known as a nation of Baijiu drinkers, but the cup is running dry as Gen Z and millennial drinkers crave healthier options.
Beerless beer and other non-alcoholic versions of classic beverages are growing in popularity among drinkers of all ages in China, especially trendsetting Gen Z and health-aware consumers.
Tmall said its alcohol-free and low-calorie beer category soared 657% year-on-year in terms of GMV between 2020 and last year.
Established global and domestic players, from beer-producing Belgian multinational AB InBev to Shandong-headquartered Tsingtao Brewery, have jumped on the trend in recent years with low-alcoholic takes on pub favorites.
Chinese newcomer, Shanghai-based New Zero is taking things further by rolling out alcohol-free beer, a step above non-alcoholic drinks that often contain up to 0.5% alcohol.
"[Chinese liquor] Baijiu is for grandfather, beer is for daddy […] and the young generation wants to have their drink too," Sun Xiaonan, founder of New Zero told Alizila.
Founded in 2020, New Zero saw its year-on-year GMV jump 800% over the last six months.
Over 75% of its customers are under 30, and nearly half of its sales come from female consumers, echoing a 2022 report by domestic research group iiMedia showing more than 60% of low-alcoholic beverage consumers are women.
"Female consumers would like to keep fit and stay safe, so they always look for the lowest alcoholic drinks or drinks containing the fewest calories," Sun added.
Show Less