Check out Italian luxury brand Valentino's beauty products roll-out in China. While you're here, learn more about the state of digital exports at SMEs in the European Union during the coronavirus pandemic. We also look at some highlights from this year's 6.18 Mid-Year Shopping Festival that ended last week. Also, we track Cainiao's first cargo route between China and Africa. 
Also, we'd like to inform you that our weekly newsletter has been moved to Monday. If you haven't subscribed already, click here to get the latest news.
Valentino Beauty Partners with Alibaba's Marketing Solution Platform Hey Box
Italian luxury brand Valentino Beauty has teamed up with Hey Box, Tmall's new-product marketing solution, to unveil a new line in China. The brand, licensed by L'Oreal Group, will roll out a full range of beauty products in August, from foundation and blush to eyeliner and lipstick available in over 50 shades. The fashion powerhouse tapped Tmall Hey Box's digital raffle technology HeyDrop this week to bring Chinese consumers 2,000 of its limited-edition makeup bags, driving excitement among young Chinese beauty mavens. The online draw attracted more than 20,000 shoppers to participate in a single day. Valentino Beauty joins a growing number of luxury brands leveraging the HeyDrop tool to engage young Chinese consumers.
WATCH: What is Hey Box?
More European SMEs See Online Marketplaces as a Solution to Expand Globally, Finds Alibaba Report
The majority of SMEs within the European Union (EU) have either already started, or are likely to start, selling via online marketplaces in response to the pandemic, according to joint research by Alibaba Group and British market research firm YouGov conducted in April. More than 2,300 surveyed companies said they have been reluctant about selling abroad, citing shipping costs and a lack of manpower, resources and understanding about various local regulations. The SMEs in the report agreed that online marketplaces would help address these challenges, as 54% of them see exports as critical for their business to survive in the current climate. China remains a relatively untapped export opportunity for SMEs in EU markets, as only 17% of the companies surveyed are currently exporting to China.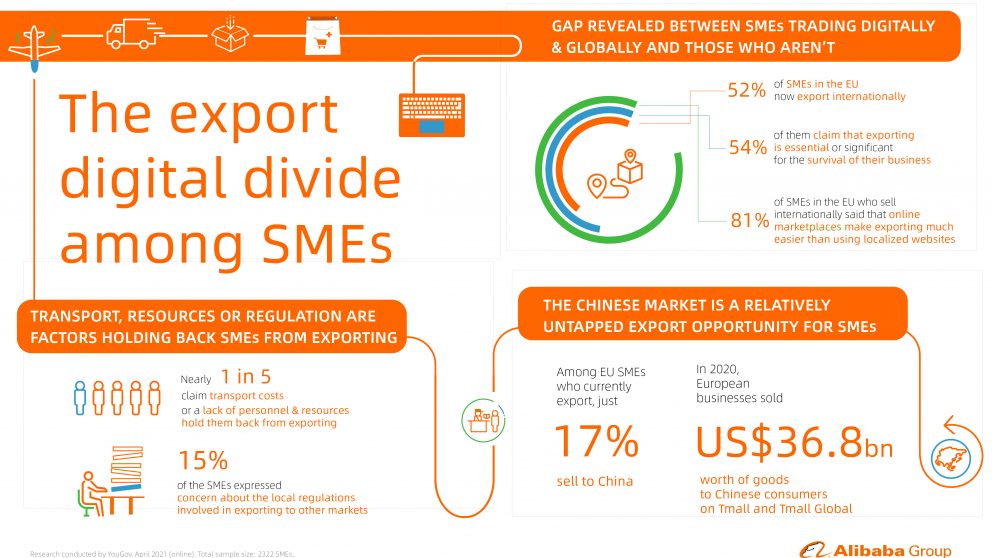 Record Turnout in Alibaba's 6.18 Shopping Festival
The company's second-largest sales bonanza of the year has come to a close with a record number of participating brands and membership benefits for consumers. During the sales period between May 24 and June 20, brands added a combined total of more than 60 million new members. Sales generated through merchant-led livestreams also grew 100% year over year, while the number of stores that achieved RMB10 million in livestream sales doubled. The 6.18 festival has become a sandbox for brands to pilot and fine-tune their strategies ahead of the world's largest online annual shopping festival 11.11. Click here to read the highlights and insights from this year's 6.18.
Alibaba's Cainiao Rolled Out Its First-Ever Air Cargo Route Connecting China and Africa
Alibaba's logistics arm Cainiao Network launched its first-ever air cargo route connecting China and Africa on Thursday, a move that will help meet the growing demand for made-in-China products on the continent. The newly launched route will run six times a week between Hong Kong to Lagos, Nigeria, cutting down transit time from the previous 60 days to 20 days. The upgrade aims to support booming bilateral trade as the number of as international parcels from China to Africa grew by 163% year-on-year this past May, according to Cainiao statistics. The company said it plans to extend the full chain logistics services to more African countries in the future.
To receive the latest news directly in your inbox, sign up for the weekly Alizila newsletter.