When Chinese entrepreneur and celebrity Luo Yonghao took to the airwaves to sell the exclusive use of a new cruise ship for five days, about 10 million people tuned in to watch.
Luo is one of a growing band of influencers making it big in Chinese e-commerce, and their format of choice is livestreaming, live online videos selling products.
Top-ranking influencers in China command followings in the millions and can transform a brand's fortunes overnight. International retailers looking to crack the world's second-largest economy should get to know the names of rising stars such as Luo and look beyond the mega-celebrities of their home markets, such as Kim Kardashian and Paris Hilton.
At this time of year, they shine.
11.11, the world's largest online retail event, kicked off this week. During the marketing campaign, also known as Singles' Day, sales routinely top that of Black Friday and Cyber Monday combined. Alibaba Group, the creator of 11.11, said it expects about 1 billion consumers to participate in the sales that run from Oct. 24 to Nov. 11.
Luo's streaming channel was one among several on Alibaba's Taobao Live platform on Oct. 24 that racked up sales of over RMB100 million each ($13.67 million) within the first four hours of 11.11. During the stream, he sold the run of the 'Adora Magic City' cruise ship, which can accommodate up to 5,246 guests, for RMB20 million ($2.75 million).
Another channel to top the RMB100 million mark from the get-go was beauty KOL Austin Li Jiaqi, aka the 'Lipstick King', who rose to international fame in 2018 after selling 15,000 lipsticks in the space of five minutes.
Others included livestreaming channels Allen Lin Yilun, named after an actor-singer, Azhuo Jiuguan, run by beverage KOL Li Xuanzhuo, Mifeng Jingxi She, which means Honeybee Surprise Club, and East Buy, an e-commerce livestreaming brand of Hong Kong-listed East Buy Holding Limited.
Maybe lesser known but also powerful sales engines, the channels of anchors Lie'er Baobei and Chen Jie KIKI, also racked up sales of over RMB100 million between 08:00 pm China Standard Time when 11.11's pre-sales began and midnight on Oct. 24.
Together, these livestreamers are turbocharging the 11.11 shopping festival and also the market. China's livestreaming market will reach $103.39 billion in three years, a compound average growth rate of 35.29% between 2022 and 2026, said data provider Research and Markets.
A Star Is Born
The world of influencers evolves quickly, and allegiances with e-commerce platforms change.
Earlier this year, Alibaba's wholly owned business group Taobao and Tmall Group vowed to invest in content creation in a drive to attract and entertain China's digitally savvy consumers.
"Our livestreaming and content teams will provide strong support to content creators," Taobao & Tmall Group's Director and CEO Trudy Dai said during Alibaba's quarterly earnings call in May. Taobao Live is accessible 24/7 via the consumer-to-consumer e-commerce platform Taobao.
Taobao Live said it has attracted over 500,000 new internet celebrities from various e-commerce platforms over the past year. Seven of the top ten multi-channel networks are on Taobao Live, the platform said, citing industry statistics.
Luo Yonghao, founder and CEO of Chinese technology company Smartisan, has been working with Taobao Live for about a year. Be Friends Holding Limited, the multi-media livestreaming agency behind Luo, is active across livestreaming platforms.
Taobao Live said its newcomers are gaining traction fast. East Buy's transaction value, which joined Taobao Live less than three months ago, exceeded RMB100 million within four hours on Oct. 24. East Buy first set up shop on Douyin, the mainland Chinese counterpart of TikTok, in 2021.
Li Xuanzhuo, who joined Taobao in addition to Beijing-headquartered Kuaishou, was among the streamers topping RMB100 million in four hours on Oct. 24. Li is no stranger to the spotlight, in June, Li hosted football superstar Lionel Messi on Taobao Live.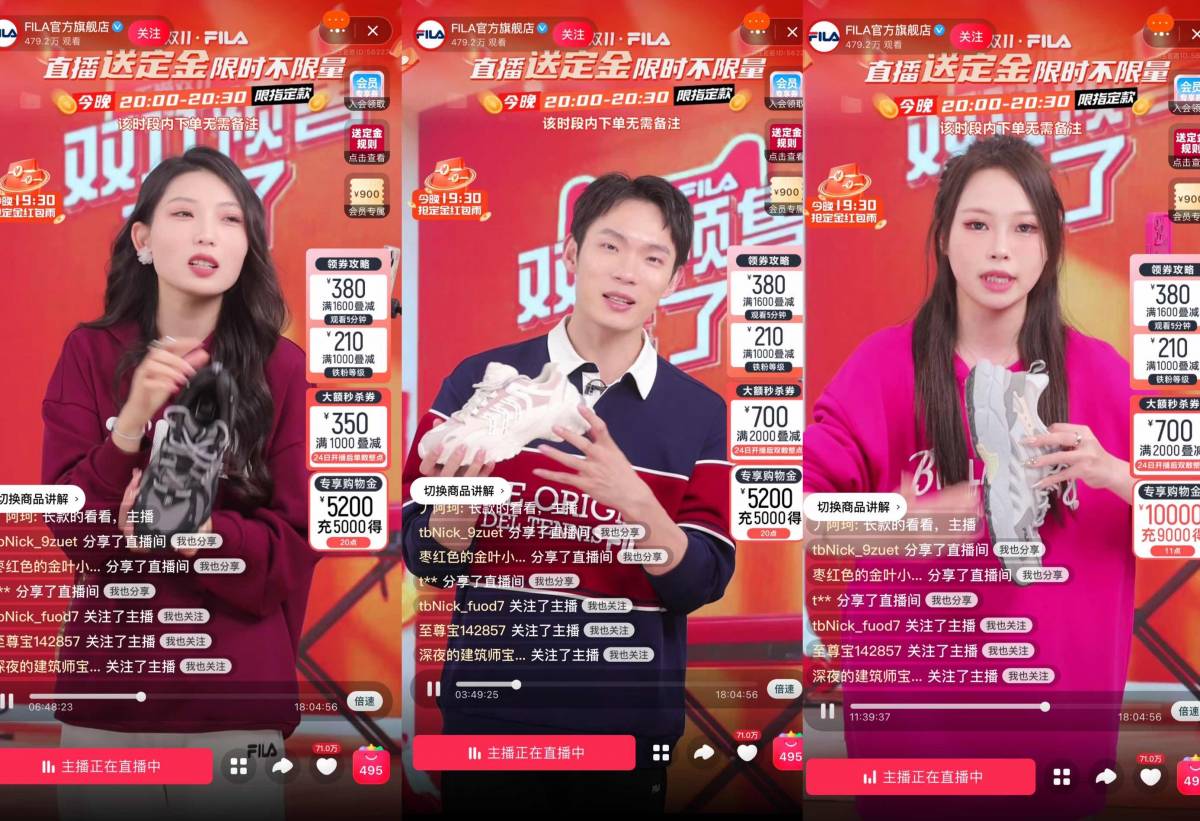 While the livestreaming format is still largely unfamiliar to Western consumers and vaguely reminiscent of TV shopping from the 1980s, forward-looking brands have spotted the potential of this new, interactive format and have started livestreaming for themselves.
So far this 11.11, Taobao Live said the number of livestreaming channels run by brands and the number of viewers on these channels have both registered double-digit growth versus 11.11 last year. In 2022, Taobao Live recruited over 120 million new members for brands' loyalty programs, driving an average of over 20 repeat purchases from the same brand per person.
Sports brand FILA is drumming up support for its own 11.11 campaign with a dedicated livestreaming channel. A group of hosts for FILA generated a transaction value above the RMB100 million mark on Oct. 24 on the stream.