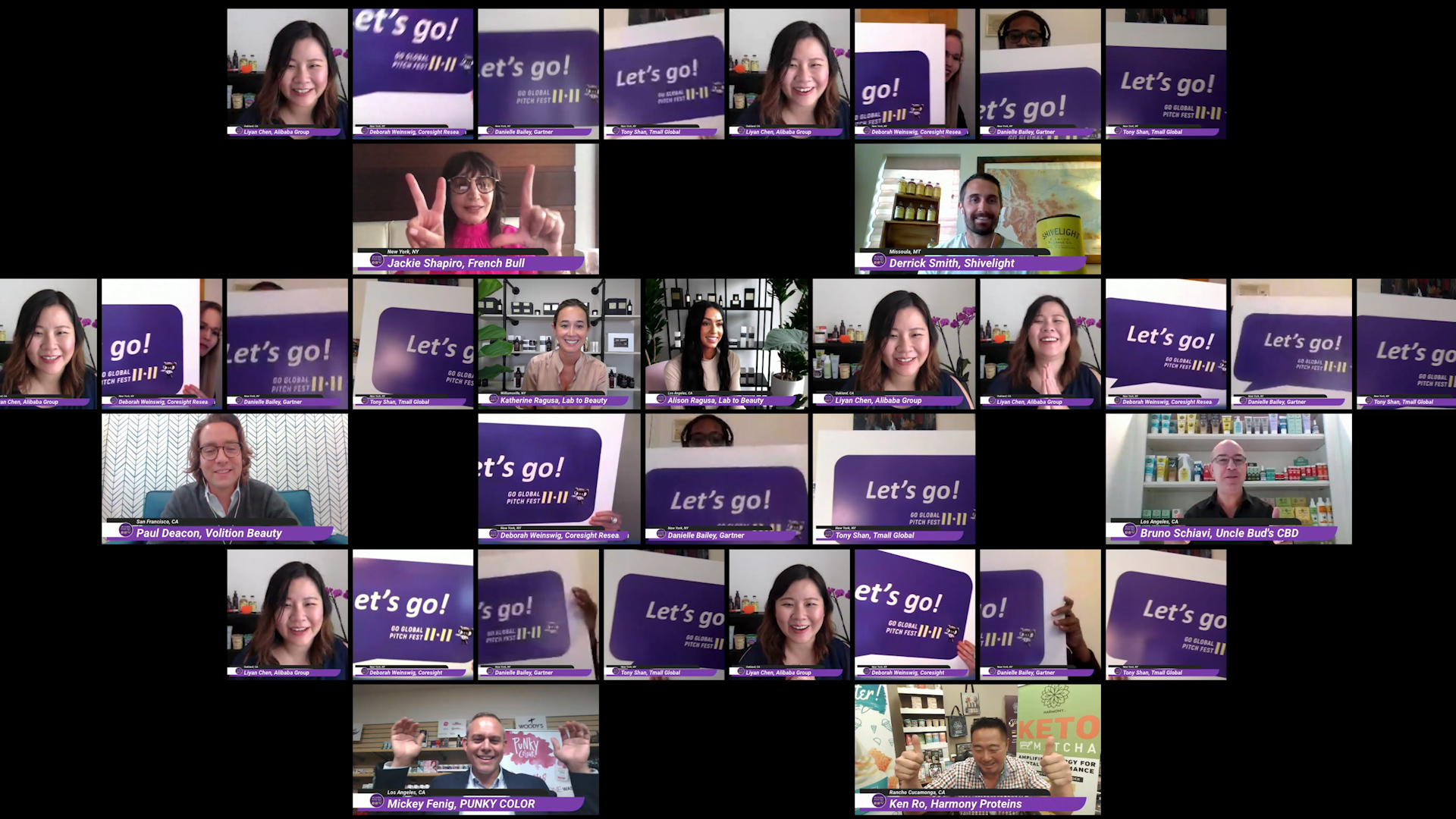 Alibaba Group's Tmall Global on Wednesday hosted its first Go Global 11.11 Pitch Fest, a virtual event that gave U.S. small and medium-sized businesses a chance to have their products spotlighted during this year's 11.11 Global Shopping Festival, the world's largest online shopping event.
Selected from nearly 100 applicants that do not yet have physical operations in China, the nine winning brands will have their launches on Tmall Global – the largest cross-border e-commerce platform in China ­– fast-tracked through its Overseas Fulfillment Program.
As part of the Pitch Fest, the finalists presented their brand stories and products to a panel of industry experts that included Deborah Weinswig, CEO and founder of Coresight Research; Danielle Bailey, managing vice president at APAC Gartner; and Tony Shan, head of Tmall Global for the Americas. Below are key highlights and takeaways from their presentations.
WATCH: Meet the winners of the inaugural Go Global 11.11 Pitch Fest.
China Market Shows Appetite for Heritage Brands
C.O. Bigelow, founded in 1838 and the oldest apothecary in the U.S., remains true to the formulas from its archived recipe books as well as its original turn-of-the-century product packaging. Prior to the pandemic, the brand's New York store was a popular destination for Chinese tourists seeking unique American souvenirs, such as its iconic lip salves. To continue meeting this demand from Chinese consumers, Ian Ginsberg, CEO of C.O. Bigelow, said the brand would pick products that really speak to its heritage for its very first 11.11.
Commitment to Ingredients Key for Clean Beauty Brands
Several Go Global finalists represented the increasingly popular clean-beauty movement. Among these, family-focused personal care brand Pipette impressed the panel by showing it had banned over 2,000 harmful ingredients from its products – a requirement that is more stringent than the EU's standards.
Paul Deacon, chief marketing officer of Volition Beauty, said maintaining the integrity and quality of ingredients was key to success for beauty brands looking to enter China.
"Ingredient safety is all the more important post-Covid," he said.
For 11.11, the San Francisco-based brand plans to spotlight its best-selling snow mushroom serum. Not only is the product made with vegan, non-toxic ingredients, it also falls within the serum category, which has seen explosive growth during the first half of the year.
Pipette's president, Daya Fields, said that the brand's winning strategy in China was to boost consumer confidence by remaining fully committed to its strict clean-beauty ethos, not just with its ingredients but also its certifications and packaging.
KOLs and Digital Content Capture China's Attention
Brands showing digital savvy were also spotlighted at the pitch event.
"We understand the importance of having multiple social media and e-commerce touchpoints in China," said Katherine Ragusa of head-to-toe CBD skincare brand Lab to Beauty.
Ragusa, who co-founded Lab to Beauty with her sister, Alison, said that the brand plans to grow its KOL base and its digital storytelling strategy – including through the use of Taobao Live – to ensure a successful launch in China.
"Our goal is to learn to curate the right product for the China market through these touch points," she said.
Uncle Bud's, a CBD products brand endorsed by popular celebrities, echoed the above sentiment. During its Go Global pitch, the brand said it planned to leverage celebrity power, as well as local KOLs, for its China debut.
Innovative Health Food & Beverage Brands Cater to Chinese Tastes
As Chinese consumers become increasingly focused on health and wellness in the wake of the pandemic, Montana-based beverage brand Shivelight is looking to bring old-fashioned American-style drinking vinegars, also known as shrubs, to the market. Citing China's long-established tradition of vinegar drinks and consumers' strong awareness of their positive health effects, Shivelight's founder, Derrick Smith, hopes to introduce consumers to new flavors of the tangy beverage, from huckleberry to Flathead cherry. Similarly, health-food brand Harmony Proteins plans to use 11.11 as an opportunity to introduce consumers to its alternative superfoods with special Asian flavors.
Connecting with Millennial and Gen Z Consumers
Millennials and Gen Z consumers are dominant spenders in China – together, they make up over 60% of Tmall Global's customer base – and brands that are able to appeal to these two segments are likely to find success in this competitive market. Hair product brand Punky Colour, for example, aims to introduce innovative products, such as its recently launched 3-in-1 coloring shampoo, to connect with young consumers in China who experiment with DIY hair dyes as a way of self-expression.
Meanwhile, for Jackie Shapiro, designer and founder of New York-based lifestyle brand French Bull, connecting with China's young consumers means following her brand's motto, "Live Vivid," and highlighting fun and vibrant products, such as her brand's top-selling dinnerware sets.
Sign up for our newsletter to receive the latest Alibaba updates in your inbox every week.