Alibaba Group on Thursday reported earnings for the quarter ending Dec. 31. Shortly after, Alibaba Chairman and CEO Daniel Zhang addressed investors on a conference call. Below are his comments:
Hello everyone. Thank you for joining our earnings call today.
This past quarter, our business and operations experienced significant challenges due to the rapid changes in the COVID situation during December. Despite these challenges, we delivered double-digit year-on-year growth in our adjusted EBITA and free cash flow through effective business management, cost optimization and operating efficiency.
With the lifting of COVID-related measures and the end of the peak wave, everything is now quickly getting back on track. In general, consumer confidence and business confidence are rising. Logistics has resumed normal operations, with the entire supply and manufacturing chains becoming active. Digital transformation across different industries and sectors has accelerated significantly.
Against this backdrop, our various businesses are showing positive trends.
Recently, the IMF raised the estimated GDP growth for China to 5.2% this year. Given the expectation for economic recovery following the lifting of COVID-related measures and China's reopening, I have chosen "progress" as the keyword internally to set the tone for Alibaba's development this year.
With the lifting of COVID-related measures and the end of the peak wave, everything is now quickly getting back on track
We need to respond quickly to the changes in the macroenvironment and major cycles. The theme of "progress" represents the need to adapt to trends in the macroenvironment and for Alibaba's own development.
In China's post-COVID economic development, although different businesses across our complex ecosystem face their own unique circumstances, we remain confident in our three main strategic pillars of consumption, cloud computing, and globalization.
Now I will share how our business performed this past quarter in a difficult COVID environment, together with some color on the situation in January and February, and how we plan to capture opportunities across our businesses.
Consumption Recovery
During the December quarter, the China consumer market was highly impacted by COVID cases. Taobao and Tmall GMV dropped mid-single digit year-on-year, and consumption demand was greatly suppressed.
In terms of categories, apparel and other discretionary goods were weak, while healthcare and wellness-related grew strongly. This is consistent with the data trend released by the National Bureau of Statistics of China.
From January to early February of this year, overall sales of online physical goods remained weak, and our China commerce continued to be highly impacted due to COVID cases as well as people traveling home or to other places during the Spring Festival holidays.
But as the influence of COVID cases and Spring Festival travel subsided in February, we have observed momentum in consumption recovery – especially recovery in categories such as apparel and sports & outdoors – as work and life returned to normal. All of our merchants have also expressed their strong desire to get to business. We expect this recovery to continue.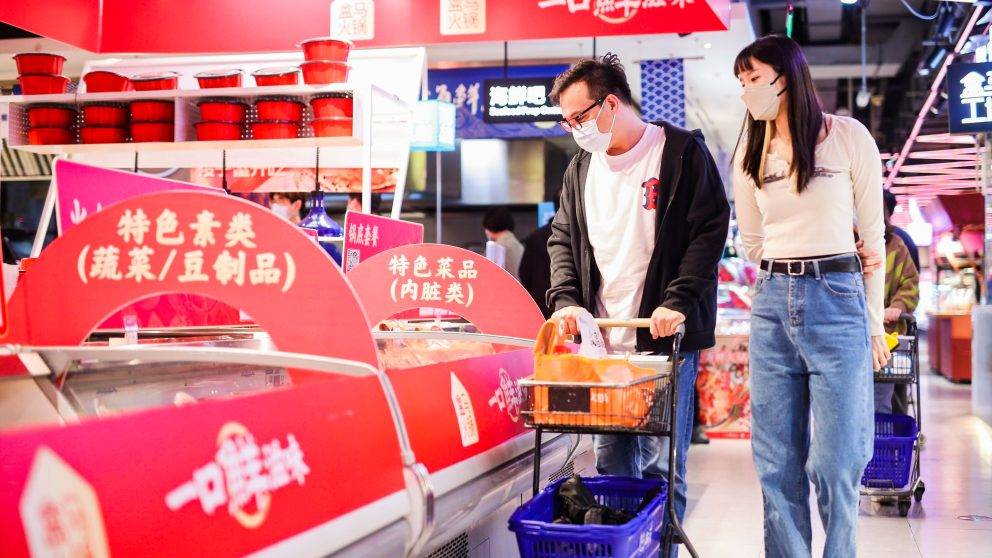 In our operations, we are strengthening the user experience and customer value proposition on Taobao and Tmall to reinforce our market leadership with the following measures:
First, enhance user stickiness and time spent. Taobao and Tmall are home to China's most comprehensive population of online shoppers and is the most efficient consumer transaction platform. We are building on our competitive advantage by continuing to introduce a wider variety of consumption-related content in the form of short-form videos, livestreaming, and other formats to strengthen consumer stickiness, product discovery, influence, and user engagement.
Second, enhance value-for-money proposition. Price is always a key factor in consumer purchasing decisions. We will continue to improve competitive pricing on products through the design of marketplace mechanisms, promotional marketing features, and retail model innovations such as Taobao Deals' direct-from-factory goods and farm-to-table offerings.
Third, neighborhood digital retail. We will cater to consumers' time-sensitive needs for high-frequency everyday necessities through our neighborhood digital retail businesses, such as Taoxianda and Taocaicai, that fulfill orders from local supply chains using local delivery.
We are building on our competitive advantage by continuing to introduce a wider variety of consumption-related content
In local consumer services, Ele.me's restaurant order volume growth rate picked up towards the end of this quarter due to increased home-based consumption from COVID cases. Notably, non-restaurant order volume growth rate was far higher than what it was for restaurants.
The business saw an increase in revenue due to higher average order value. Ongoing improvements in operating efficiency resulted in lower expense ratios in marketing and logistics. Ele.me continued to demonstrate positive unit economics and it will continue to improve. During COVID, Ele.me adjusted its operations strategy, safeguarded its delivery capabilities, and supported supply recovery.
During peak COVID cases, Amap's user scale and scale of services used were greatly affected. As cases eased, usage of Amap quickly recovered. Ride-hailing and hotel room booking volume grew very rapidly. Amap has become a new platform providing various destination-based consumer services.
Fliggy's domestic and outbound travel activity also quickly grew during the Spring Festival holidays.
As a result of our ongoing development of the supply chain and service capability over the past two years, recovery of Fliggy's domestic airplane ticket and hotel bookings was significantly faster than the overall domestic travel performance reported by the China National Tourism Administration, and noticeably better in comparison to 2019 before the COVID outbreak.
A Global Footprint
In international commerce, our various businesses made steady progress. Trendyol continued to deliver strong growth as overall order volume grew around 50% year-on-year, with local consumer services growing even faster.
When Turkey was suddenly hit by earthquakes in early February, we actively organized and delivered support for emergency relief. So far, all our employees in Turkey are safe. Trendyol's business operations remain stable, and they have mobilized resources to aid disaster relief.
As for Lazada, as the business continued to optimize for order volume growth, they also reduced loss per order by more than 30% year-on-year. We remain firmly committed to continuing to invest in Lazada's region of Southeast Asia.
Through close collaboration with Cainiao, AliExpress greatly optimized time-bound order deliveries on key routes. As logistics service quality continued to improve and the impact of V.A.T. and foreign exchange rates in Spain and France continued to ease, AliExpress order volume is starting to show positive growth.
Our globalization strategy will continue to be firmly focused on Southeast Asia and Europe through a mix of localized retail and cross-border commerce. We will continue to make sustainable long-term investments and build businesses that can withstand economic cycles.
Cainiao is celebrating its tenth anniversary this year. It has built a robust comprehensive business covering China and cross-border international logistics, last mile, logistics technology, and more. It is also continuing to make progress in green logistics and emergency response logistics.
In China, Cainiao continued to expand its doorstep delivery services for our Taobao and Tmall consumers. During the most recent 11.11, more than 18 million orders from Taobao and Tmall were delivered to customers' doorsteps daily at its peak, which includes those delivered directly to doorstep or through Cainiao Post locations in residential communities.
Cainiao has also built its own international logistics network over the past few years. As of this past quarter, it had more than 15 international sorting centers in operation.
On The Cloud
Our cloud business's overall revenue growth rate this quarter was 3% year-on-year. The growth rate for public cloud was double-digit year-on-year, which was partially offset by a decline in hybrid cloud revenue from project delays due to COVID. In terms of revenue by industry, financial services, education, and automobiles are among the growth drivers.
We also announced an important organizational change towards the end of last year. I took on the role of Acting President of Alibaba Cloud in addition to my current role as Chairman and CEO of Alibaba Group. This decision was based on a few considerations:
First, cloud computing is one of Alibaba's core strategies for the future. Innovation and other technologies will have an impact not just on Alibaba Cloud, but the entire Alibaba Group.
Second, Alibaba Cloud is also the foundation through which Alibaba serves the real economy and will continue to drive physical-digital integration.
Third, we believe this is a critical period for technological breakthrough and development in this nexus of cloud computing and AI.
As one of the leading cloud computing service providers globally, we strongly believe in the vast potential of industrial digitalization and the role of cloud computing as infrastructure to the digital economy.
Going forward, we will focus on a few areas to reinforce and strengthen our market leadership position as we look at the opportunities ahead.
First, enhance the stability and security of our cloud computing services while continuing to optimize performance and manage costs through technology advancements.
Second, continue to build a dynamic developer and industry ecosystem for cloud computing.
Third, collaborate with partners to provide intelligence-based industry solutions to our customers in different industries and sectors.
Fourth, continue to push forward a holistic cloud-based service product that integrates DingTalk, our intelligent online workplace collaboration and application development platform.
Lastly, in this exciting era of disruptive breakthroughs initiated by generative AI, computing power is essential. On the one hand, we will continue building our own large-scale pre-training models. We are also ready to capture the market opportunities to provide the computing power for the various generative AI models and its applications.
This year marks Alibaba Group's 24th year, and, in Chinese traditional culture, this means we have gone through two complete calendar cycles.
We captured two historical opportunities of e-commerce in China for the consumer internet, and the start of cloud computing in China for the industrial internet.
We will continue to capture the vast opportunities ahead through the impact of technology on commerce and other facets of our society and environment. Although there are many uncertainties in the journey ahead that are very difficult to evaluate, we remain highly confident in the future of Alibaba and China's development.
Thank you, everyone. Let me pass the microphone to Toby, who will share our financial results.