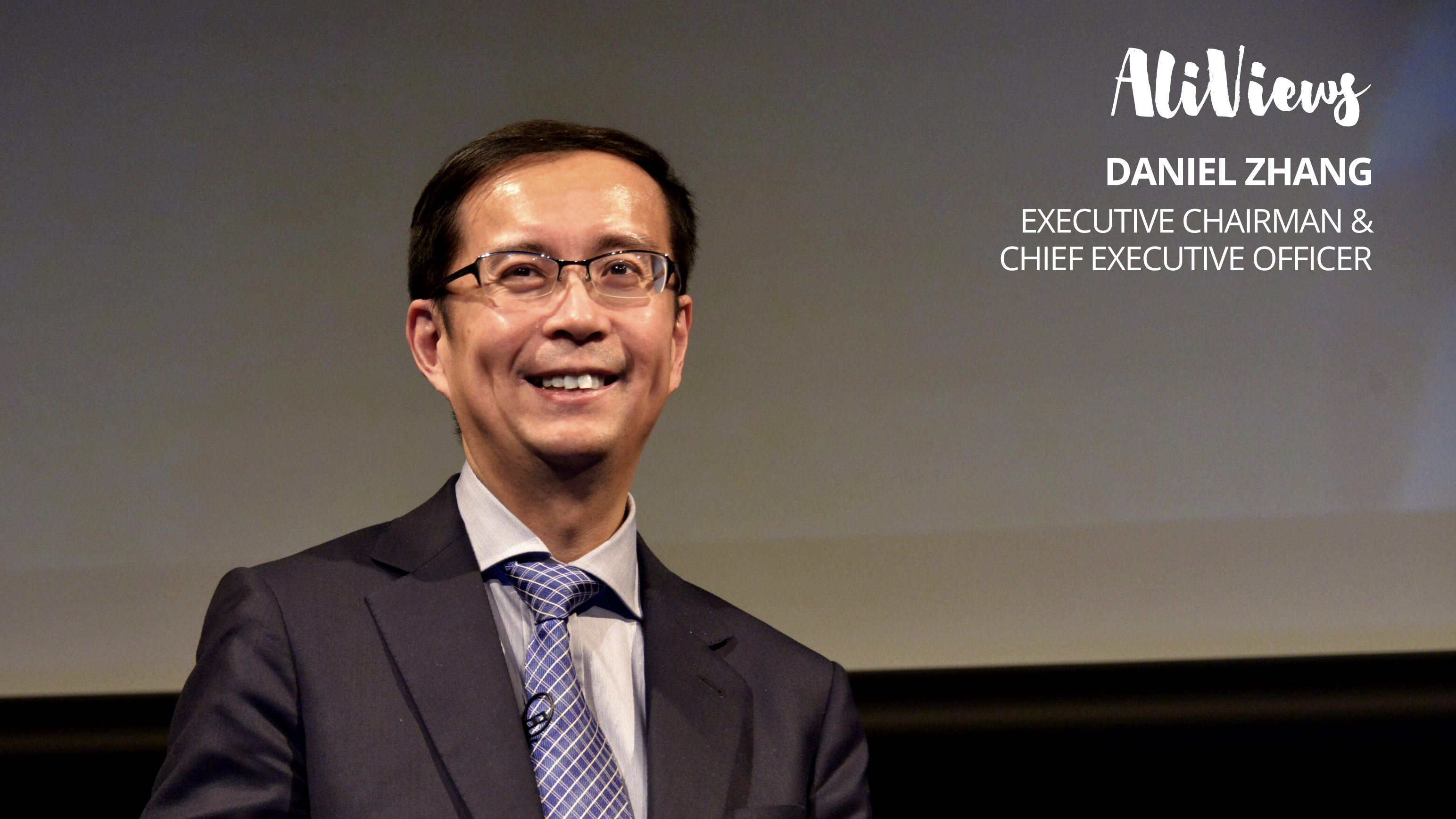 Alibaba Group reported its December 2019 quarterly earnings today. Below is the transcript of comments Executive Chairman and CEO Daniel Zhang made during a call with analysts.
Hello everyone. Thank you for joining our earnings call today.
We delivered an outstanding quarter for a strong finish to the 2019 calendar year and celebrated three major milestones especially important to Alibaba. First, we successfully held our 11th 11.11 Global Shopping Festival. Secondly, we successfully listed on the Hong Kong Stock Exchange. Thirdly, Dr. Wang Jian, chairman of the Alibaba Technology Steering Committee, was the first-ever representative from the private sector to be appointed as a member of the Chinese Academy of Engineering.
However, like all other companies in China, we were confronted with a Black Swan event soon after the start of 2020 – the novel coronavirus. The outbreak is having significant impact on China's economy and may potentially affect the global economy. It will present near-term challenges to the development of Alibaba's businesses across the board, but at the same time we will see opportunities created by the forces of change. Before further elaborating, I will share an overview of our performance for the December quarter.
According to the China Ministry of Commerce, total retail sales across China increased by 8% year-over-year in 2019 for a total of RMB41 trillion. Consumption contributed 58% of China's economic growth and accounted for 3.5 percentage points of China GDP growth. Online retail sales of physical goods for the year was RMB8.5 trillion, up 19.5% year-over-year. From these figures, it is clear that consumption has become the major driver of economic growth in China and online retail is the engine driving consumption growth.
Over the past quarter, our China retail marketplaces continued to maintain rapid growth in both GMV and user base. As of December 31, Annual Active Consumers reached 711 million, representing a net increase of 18 million over the previous quarter. Over 60% of new AAC came from less-developed areas. China retail marketplaces MAU reached 824 million, up 39 million from the previous quarter. We noticed stronger user engagement and buyer frequency as measured by DAU growing faster than MAU. This reflects healthy user stickiness on Taobao. Tmall physical goods GMV grew 24% year-over-year, further consolidating our leadership position as the top consumer engagement and distribution platform for brands in China.
Our 11th 11.11 Global Shopping Festival set a new GMV record of RMB268.4 billion. This is equivalent to 2.3 times the combined online sales of Black Friday and Cyber Monday in the US. It reflects the strength of Alibaba's digital economy and of Chinese consumers' robust consumption power. More and more merchants are leveraging 11.11 to acquire new consumers, launch new products and develop new categories. During this year's 11.11, 15 brands surpassed RMB1 billion in their total sales, 215 premium brands launched new products and new categories, and 120,000 merchants each acquired over 10,000 new customers.
Our globalization strategy enjoyed solid progress this quarter. Lazada and AliExpress continued to grow rapidly as a result of effective strategies in user acquisition and merchant onboarding. Lazada's quarterly orders increased 97% year-over-year and AliExpress' DAU grew by 56% for the month of December. Tmall Global paid GMV grew by 45% year-on-year and continued to consolidate its leading position in China's cross-border import market. And with the ongoing optimization of bonded warehouse import logistics solutions, Tmall Global's end-to-end order delivery time has further improved by 2.78 days, which is a 10% reduction in delivery time compared to the same period last year.
Cainiao Network continued to go from strength to strength. During this year's 11.11, Cainiao processed a record-breaking 1.29 billion number of packages. Of those, 960 million packages were delivered within one week, an improvement of 30% year-over-year, as a result of ongoing platform optimization and collective efforts with our logistics partners. We also saw a preference for using Cainiao Post, our last-mile service stations in residential areas and campuses. The number of packages collected via Cainiao Post increased by 88% year over year. In November 2019, we invested RMB23.3 billion to raise our equity stake in Cainiao from 51% to 63%. This investment is a demonstration of Alibaba's commitment to the development of a smart logistics backbone as one of the core pieces of infrastructure for digital commerce.
Alibaba Cloud continued its rapid rise with 62% year-over-year revenue growth. We celebrated two meaningful milestones this quarter. The first milestone is Alibaba Cloud revenue surpassed RMB10 billion in a single quarter for the first time. The second milestone was the successful migration of our e-commerce businesses' core systems onto the public cloud. During 11.11, our public cloud infrastructure and technology helped us to power the creation of over 544,000 orders per second at peak, process 970 petabytes of data without any disruption and defend against 6 billion cyberattacks – all within the 24-hour period. We believe the migration of Alibaba's core e-commerce system to the public cloud is a watershed event. Not only will we ourselves enjoy greater operational efficiency but we believe it will also encourage others to adopt our public cloud infrastructure.
Now I would like to speak to the coronavirus situation on three areas. First, the responsibilities and duties that we assumed towards the community immediately upon the outbreak. Second, our relief measures to support SMEs. Third, the potential challenges and opportunities that we see for Alibaba's businesses in connection with the outbreak.
Let me start with our actions related to our community. We took every effort to protect the health and safety of our employees through flexible work policy and remote office collaboration using our proprietary technology. At the same time, we leveraged Alibaba's powerful forces of commerce and technology to deliver supplies to the affected regions. This is our responsibility to our community.
Soon after the outbreak, we also began to procure medical supplies from around the world. To date, over 40 million units of medical supply worth RMB468 million are on their way or have been donated to Wuhan and other affected cities. Cainiao teamed up with our global industry partners to launch a "fast track" logistics channel that facilitated delivery of over 26 million units of medical supplies into Wuhan and other cities to date.
We also worked to ensure supply of food and other consumables for residents in affected regions. Our self-operated grocery chain Freshippo committed to a policy of remaining open for business, not raising prices and remaining stocked, particularly in the 18 stores across Wuhan. Freshippo became a lifeline for many local residents. Additionally, Freshippo and Ele.me teamed up with restaurant chains to provide free meals and necessities to the hospital staff in Wuhan and emergency response teams.
Alibaba also contributed the power of our advanced technologies to combat the outbreak. DAMO Academy provided free AI voice chatbot service to government and epidemic prevention agencies to efficiently keep a daily health record of those who might have close contact with infected patients. Our enterprise communication and collaboration app, DingTalk, introduced a digital health check-in feature to help companies maintain up-to-date health monitoring of their employees. To date, there have been more than 150 million daily health check-ins recorded on DingTalk.
Now about our relief measures in support of SMEs. Together with Ant Financial, we announced a comprehensive set of relief measures that fall under six categories. One, reduction of business operational costs on our platforms. Two, financial support by waiving or lowering interest rates. Three, subsidies for delivery personnel and raising level of logistics efficiency. Four, provision of flexible job opportunities to guarantee income. Five, additional tools for businesses to accelerate digitization. Six, remote working management for enterprises. We will support our merchants to overcome this challenging time and are taking proactive measures to fulfill our mission to "make it easy to do business anywhere."
Lastly, the potential impact on our business. We are closely monitoring the challenges as well as identifying opportunities for Alibaba's businesses as the situation evolves.
For our e-commerce business, the delay in employees returning to work following the Spring Festival holiday is preventing merchants and logistics companies from resuming operations. For the first two weeks after the Chinese New Year holiday, we have observed negative impact on our commerce business as merchant operations have not returned to normal and a significant number of packages were not able to be delivered on time.
In our New Retail business, Freshippo and Taoxianda's average basket size increased significantly as a result of consumer migration to online purchasing of fresh food, groceries and a broader selection of daily necessities. However, limitations in delivery capability is preventing order volume from fully recovering.
For local consumer services, restaurant visits and food delivery orders declined noticeably year-over-year because many restaurants have not resumed normal operations. Other categories like grocery shopping have increased sharply.
Our travel booking service, Fliggy, received material levels of cancellations for air tickets, hotel reservations and tour packages. In accordance with government regulations, Fliggy provided unconditional and penalty-free cancellation to consumers.
DingTalk has experienced explosive growth in DAU and number of corporate users. It is providing businesses with remote working features to maintain their operations and accelerate their digitization. In addition, DingTalk also saw increasing popularity of virtual classrooms that help school and students resume their studies via livestreaming classes.
We are closely monitoring the impact of the ongoing outbreak on our businesses and will take necessary measures to ensure our business operations. Our mission is to make it easy to do business anywhere and we are being tested. True to our mission, we will stand together with all of our merchants to overcome the current challenges and facilitate our users and our communities to fight against the virus. Seventeen years ago, the e-commerce business experienced tremendous growth after SARS. We believe that adversity will be followed by changes in behavior among consumers and enterprises, and bring ensuing opportunities. We have observed more and more consumers getting comfortable with taking care of their daily living needs and work requirements through digital means. We are confident in the ongoing digitization of China's economy and society, and are ready to seize the opportunity to build the foundation for the long-term growth of Alibaba's digital economy.
Sign up for our newsletter to receive the latest Alibaba updates in your inbox every week.