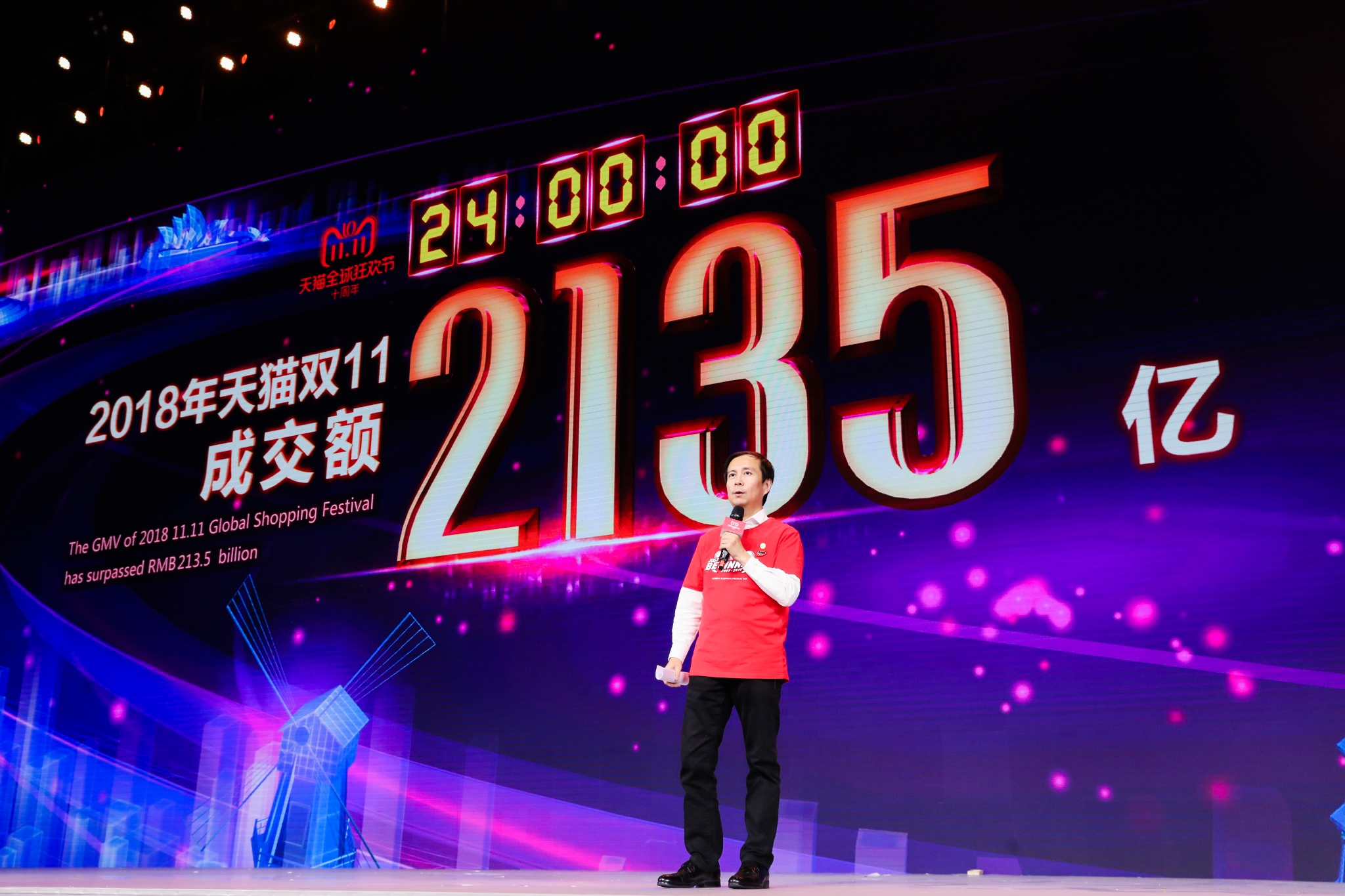 Another year, another gross merchandise volume record for Alibaba's 11.11 Global Shopping Festival.
At the stroke of midnight, when the rolling counter stopped, 2018 GMV was RMB213.5 billion ($30.8 billion), 27% higher than last year's RMB168.3 billion. As 11.11 wore on, milestones from the previous 10 years fell, one by one. Just after 4:00 p.m., it was a foregone conclusion that this year would be the biggest 11.11 ever – something Alibaba Group executives had promised heading into the shopping festival.
But as they took the stage to speak to media, while satisfied with the record GMV, abundantly clear was how proud they were that the digital ecosystem they'd crafted over the past several years performed as robustly as anyone could have hoped.
WATCH: Highlights From the 2018 Global Shopping Festival
Even facing cyclical and geopolitical economic challenges, they gave a sense that there's no stopping the rise of China's middle class and its quest for an upgrade in lifestyle through the consumption of higher-quality products and services.
"I think you have to understand Alibaba and what Alibaba's doing in the context of the long-term secular trend that's developing in China, which is the rise of the Chinese middle class," said Alibaba Executive Vice Chairman Joe Tsai. " That trend is not going to stop, trade war or no trade war."
Eye-Popping Numbers the Norm Again
"Everything in China is bigger," the saying goes. Nowhere is that more apparent than at the 11.11 Global Shopping Festival.
Apart from the new GMV figure, the sheer size and scale of other 11.11 data provided by Alibaba was staggering. Orders poured in at an unprecedented rate over the 24 hours of 11.11, said Tmall President Jet Jing. That underscored how solidly the B2C platform and Alibaba Cloud performed on the group's busiest business day of the year.
"Behind the transactions, what's more is the power of technology and support of our infrastructure," Jing said.
With just over 40 minutes to go before the end of 11.11, delivery orders handled by Alibaba-owned Cainiao Smart Logistics Network topped 1 billion for the first time, eclipsing last year's 812 million. Cainiao said, as it prepped for the 11.11 season, that it had upgraded its technology and systems and was ready to handle over 1 billion packages, even relying on satellites to improve the efficiency of its delivery partners.
Cainiao also upped its green-packaging initiatives, including increasing the number of recycling stations across the country and encouraged their partners to use environmentally-friendly boxes for their 11.11 orders.
During the 2018 festival, over 40% of consumers bought from international brands. Also, 237 brands topped RMB100 million in GMV, including leading international brands Apple, Dyson, Kindle, Est√©e Lauder, L'Oréal, Nestle, Gap, Nike and Adidas.
The top countries selling to China were Japan, the U.S., South Korea, Australia and Germany.
Ecosystem 'All-In'
Alibaba Group kicked off the 20-day Global Shopping Festival season promising this year's event – celebrating its 10th anniversary – would be the most-inclusive and farthest-reaching ever.
WATCH: The Evolution of 11.11
Executives proclaimed that, with 29 Alibaba units participating in 11.11, the group's ecosystem was "all-in." Promotions targeted overseas Chinese across Asia, in the U.S. and Australia. Brand participation hit 180,000 domestic and foreign labels. And for the first time, recently acquired unit Lazada held its own single-day shopping festival in its six Southeast Asian markets.
The 200,000 mom-and-pop stores powered by Alibaba's Ling Shou Tong platform provided online sales promotions. Rural Taobao added coupons to its services in 800 counties across 29 Chinese provinces.
Freshippo, Alibaba's New Retail supermarket chain also known as Hema, designated signature stores, each featuring a number of promotions.
Local services were a focus, with Ele.me providing delivery for select Starbucks stores across 11 Chinese cities. And 150,000 Koubei merchant partners offered 50% off on catering, beauty salons, hair salons and karaoke bars.
Entertainment was again a feature of 2018's 11.11 festival, with Tmall Collection's "See Now, Buy Now" fashion show broadcast live on 10 platforms, including Taobao, Youku, Weibo and Toutiao late last month. And the 11.11 gala, featuring a star-studded cast that included Mariah Carey, Jay Chou, Naomi Watanabe, Miranda Kerr and Cirque du Soleil wowed crowds at Shanghai's Mercedes Benz Arena just hours before the 11.11 kickoff.
New Retail Starts to 'Click'
If this year's shopping festival showed anything, it's that 2018 was when New Retail really started to "click."
Alibaba Group CEO Daniel Zhang detailed how more brick-and-mortar merchants than ever, through newly upgraded and digitized "smart stores," did their part with offline activations around the country. Zhang noted that some of Alibaba' s recent investments, such as hypermart operator RT-Mart and home-furnishing company Easyhome, have contributed to the 11.11 sales.
"Today, around 200,000 smart stores joined November 11," Zhang said. "As we always say, we truly believe the first thing for brick-and-mortar stores who want to go New Retail to do is to go digital 'Ķ For all those retail partners, why they actively participated was not because it was a shopping day, but because it was a day to give people a unique experience."
Besides promotions and sales held by the offline stores, Alibaba offered RMB1 billion in "red packets" ­Рin-store coupons that provided rebates on goods and services. Members of Alibaba's 88 VIP loyalty program enjoyed special 5% discounts for 11.11 on top of their regular ones.
Looking Ahead to 11.11's Future
Looking ahead, executives are optimistic about 11.11's future, expressing a desire to keep growing its reach across the globe.
Short-term, there's no guarantee there won't be speed bumps to the kind of organic growth Alibaba hopes to achieve. But Alibaba executives said they remained upbeat about both the future of 11.11 and the group's e-commerce business.
Tsai explained that talk of a slowdown in China's economic growth isn't something to be terribly concerned about because middle-class consumers haven't stopped buying. Instead, data shows they're stepping up purchases of fast-moving consumer goods, such as beauty products, adding strength to that retail market segment.
Zhang said that as he looks ahead, he sees New Retail leading to creation of one customer base, not separate online and offline groups, businesses that upgrade to have one inventory and stocking system for both online and offline and other streamlining to spread e-commerce.
As big as 11.11 has gotten and as quickly as Alibaba is spreading New Retail around the country, only 17.5% of China's commerce is done online. That means the drive to digitize will continue and pick up pace moving ahead.
"We will, for sure, continue to evolve and continue to be innovative," said Zhang. "I think, going forward, people's lifestyles will change with the development of new technologies and business models."