Glovemaker Dents has enjoyed a growth spurt in sales since its debut on Alibaba Group's cross-border online marketplace Tmall Global two years ago.
The British company's sales on Tmall Global doubled from around £500,000 ($620,000) in its first year on the platform to £1 million in the second year. Dents is targeting £2 million this year.
"Bearing in mind, this was during COVID, we were really amazed," Dents' CEO, Deborah Moore, told Alizila.
Around a quarter of the over 9,000 European businesses surveyed by e-commerce giant Alibaba said they started working with an online marketplace during the pandemic to grow exports.
Royal Connections
While Dents is a small British company with its headquarters nestled in rural England, it has been making gloves for British high society for almost 250 years.
King Charles III will wear the coronation gauntlet that Dents made for his grandfather George VI at his coronation on May 6. Dents' gloves have also appeared in hit TV shows Bridgerton, The Queen and Downton Abbey.
Dents believes its British heritage wins fans overseas, but it wanted the reach of a digital e-commerce platform like Tmall to tell its story to Chinese consumers.
"The China market is going to be our biggest market within the next couple of years," said Moore during an interview at the company's headquarters in Warminister, southwest England.
Digitalization also helps brands spot and adapt to new consumption trends swiftly.
Dents noticed from Tmall data that its driving gloves have been trending in China. They gained additional cachet when Daniel Craig's James Bond sported them in Spectre and Skyfall.
China and Hong Kong are two of the world's largest markets for watches, and Dents found that men wanted to wear a glove and show off their high-end timepieces, so it made driving gloves with a cutout for the dial.
"Men like to have the cool car, a great watch, and the driving glove…It's been selling really well," said Moore.
Below is a transcript of this video, edited for clarity and brevity
Deborah Moore: We're a small company, but we're a big brand. We're a heritage brand. We're a company that punches above our weight. People have a pair of Dents, they don't have a pair of gloves, they have a pair of Dents. We're always really delighted when we see the Royal Family wearing our gloves. We make the gloves for Prince Charles for his ceremonial occasions, the white gloves. We've had a long and glorious history with the Royal Family and we're very proud of it.
We were awarded Prince Charles's Warrant, now King Charles. We were so pleased and delighted but you do have to work for it, you don't just get it. We change every year, and what's been interesting is we now export to 26 different countries and that's not including the web. The web, we're probably in more like 40 different countries. We've made the gloves for Daniel Craig in Spectre and Skyfall, but we also do a lot of film production work, Bridgerton, The Queen, Downton Abbey. Often sitting watching a movie and I go "Those are our gloves", and it's really a wonderful thing.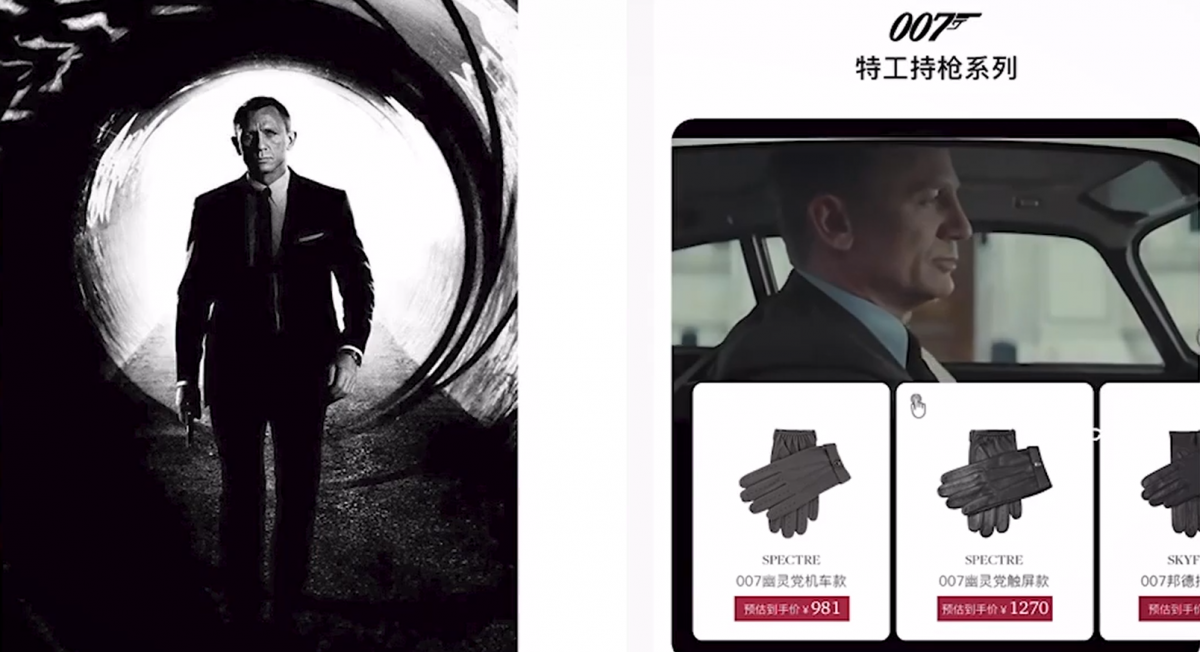 Princess Anne, the Princess Royal, actually opened this building. We were very lucky and proud that we actually made the Coronation Glove for our late Queen. We made [the Coronation Gloves] for her father George VI and also her grandfather, George V. Part of the ceremony is that the newly crowned Monarch actually puts on a glove, and it's a right-handed glove and it's just one glove and we've been so honoured that we made the last three.
We're really excited about the China market; we've seen it grow really quickly. And it's an interesting market because we seem to be reaching a younger audience. It's a challenging market, but it's dynamic, it's fast-moving and we're really pleased to be selling there.
So two years ago, we opened a Tmall store, the first year we did half a million pounds and then the second year one million. So we doubled it, which was wonderful. And bearing in mind this was during COVID, we were really amazed. This year, and it may be a little bit difficult, but we are hoping to actually double the one million pounds. It's been a journey being on Tmall and coming from the UK, not knowing a great deal about it and then seeing the exposure and the customer base has been amazing.
Our Tmall store initially was mostly men's and then in the last 18 months suddenly our women's business has boomed, absolutely boomed. And what's helped it is the technology, we have touch screen gloves, you can use your phone, you can use a tablet and not take your gloves off, which is lovely, and the Chinese absolutely love technology.
We've seen a huge upturn in our driving gloves for men and for women, but mainly men, and men like to have a cool car, a cool bike, a great watch, and with a driving glove. And we've actually just made a driving glove where you can actually have your watch inside the cutout on the driving glove and it's been selling really well. We're so pleased that we are seeing the return of Chinese tourists to London and of course, we have our gloves in Selfridges and in Harrods and Liberty. In fact, most of the finest shops in the UK.
It just re-emphasizes how important the brand is on Tmall, and when a foreign visitor of any nationality comes and sees our brand in major department stores, it just reinforces the importance of the Tmall store.
The China market is so important and I actually foresee that the China market is going to be our biggest market within the next couple of years.
Click here to read more brand stories