With hundreds of new brands participating, Alibaba Group said it would bring a wider selection of perks and privileges to members of its paid customer-loyalty program, 88VIP.
During an exclusive concert for 88VIP members in Shanghai last week, Alibaba announced expanded year-round discounts to cover 388 brands, ranging from Sennheiser and Blueair to Onitsuka Tiger and Pizza Hut, up from the 88 brands that first joined the scheme last August.
Throughout the year – even during 11.11, the world's biggest shopping day – members will get 5% off when shopping at the participating brands' flagship stores on Alibaba's Tmall and Taobao marketplaces, as well as for purchases made on some of its other platforms, such as online grocery channel Tmall Supermarket, cross-border shopping site Tmall Global, online drugstore AliHealth and Mei.com, Alibaba's outlet for off-season luxury and designer goods.
Alibaba is looking to create a seamless customer experience across its ecosystem for its most-active shoppers, the e-commerce giant said. This not only deepens engagement with the platform but also offers more incentives for them to live, shop and have fun, all within the Alibaba ecosystem, the company said.
"The upgraded membership program demonstrates we are committed to enhancing the customer experience and delivering benefits that cover all aspects of our customers' lives," said Chris Tung, chief marketing officer of Alibaba Group.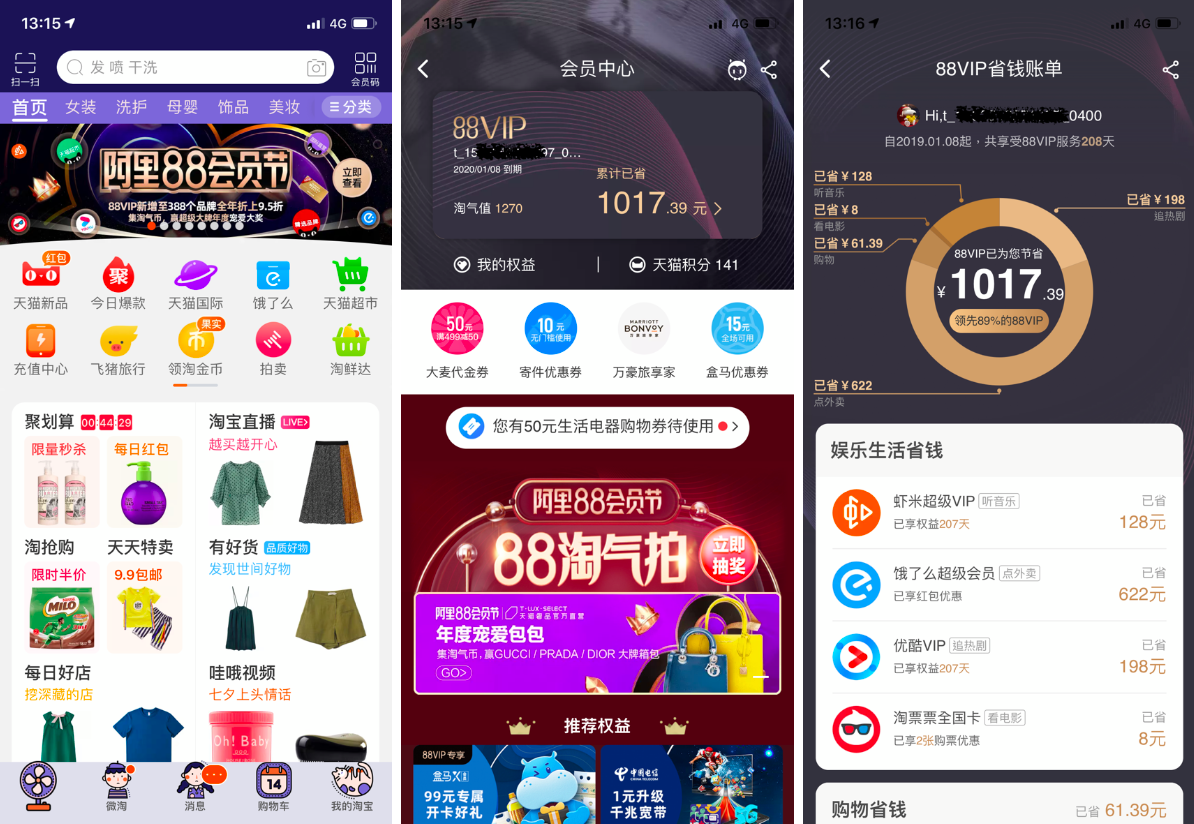 For the first time, Alibaba's online travel platform, Fliggy, has released special benefits to 88VIP members, including cash-back vouchers for global hotel and flight bookings. This makes it the latest Alibaba business unit to offer annual privileges to these consumers, following other business units in the Alibaba ecosystem, including on-demand delivery app Ele.me, video-streaming site Youku, movie-ticketing platform Taopiaopiao and music-streaming service Xiami.
The digital membership card offers access to all of these platforms' loyalty benefits at once, encouraging members to use other services in the ecosystem, which they may otherwise not have tried, said Miya Duan, the director of Tmall Brand Marketing and head of the 88VIP program. For example, about 38 people in every hundred 88VIP members have activated Youku subscriptions for the first time through the program, while 27 members signed up for Taopiaopiao loyalty cards, per Alibaba figures released last September.
Engaging High-Value Customers
As of May, most 88VIP members were spending more than RMB 100,000 per year (US$14,1645) on Alibaba's platforms, the company said.
Duan said that on average 88VIP members spend twice as much as other shoppers on the platform. They are also early adopters of emerging trends, as early as six months to more than a year before they go mainstream in the market.
"These highly active consumers offer a great avenue for companies to quickly test the waters for their newly developed products," she said.


L'Oréal Group, one of the first to sign on to 88VIP, leveraged the partnership to explore new strategies to encourage high-spenders and potential buyers to visit its other stores on Tmall. Last August, it offered shopping vouchers that could be redeemed when users visit four of its flagship stores and gave price breaks for cross-store purchases. For example, a customer buying cosmetics at L'Oréal's haircare flagship would have the option of purchasing a male grooming product in another of its stores for a friend, making it easier to cross above the discount threshold.
Global hospitality company Marriott International said 88VIP members have made twice as many bookings than non-88VIPs since integrating the program last December with its hotel rewards club, Marriott Bonvoy. As part of the partnership, 88VIP members are instantly entitled to Marriott's Gold Elite status, as well as a fast-track route to go from Gold to Platinum Elite status once they stay eight nights at its hotels in four consecutive months.
For American clothing brand Guess, the program Рwhich it joined last year Рhas helped the company expand its customer base: Over 40% of its new customers are 88VIP members. But the value goes beyond acquiring new consumers to identifying and managing specific consumer groups. That has prompted Guess to "rethink the way we do operations online and offline by putting these customers into the center," said José Blanco, vice president of Asian markets at Guess.
"Tmall is thinking about customers from a 360 perspective, not only what will they buy, but also the other activities they are doing in their journey as a customer," he said. "We're looking at each customer in a much more individual, personalized way."
From 88 to 88VIP
In 2017, Alibaba Group merged its Tmall and Taobao loyalty programs into a single membership club based on the level of customer engagement on the platforms, dubbing it the 88 Membership program.
All users qualify as standard members, called "88 members," while more-engaged consumers with a loyalty score of 1,000 or more are recognized as "Super Members." To earn more loyalty points, consumers are encouraged to shop across more categories, leave reviews and interact with other users on Alibaba's sites.
The paid customer-loyalty program, 88VIP, is the latest upgrade to Alibaba's membership system announced in August last year. Super Members can opt in to the program for a discounted price of RMB 88. Members with fewer than 1,000 loyalty points can sign up for RMB 888.
"88" is pronounced "BABA" in Chinese, which is also Alibaba's ticker on the New York Stock Exchange.