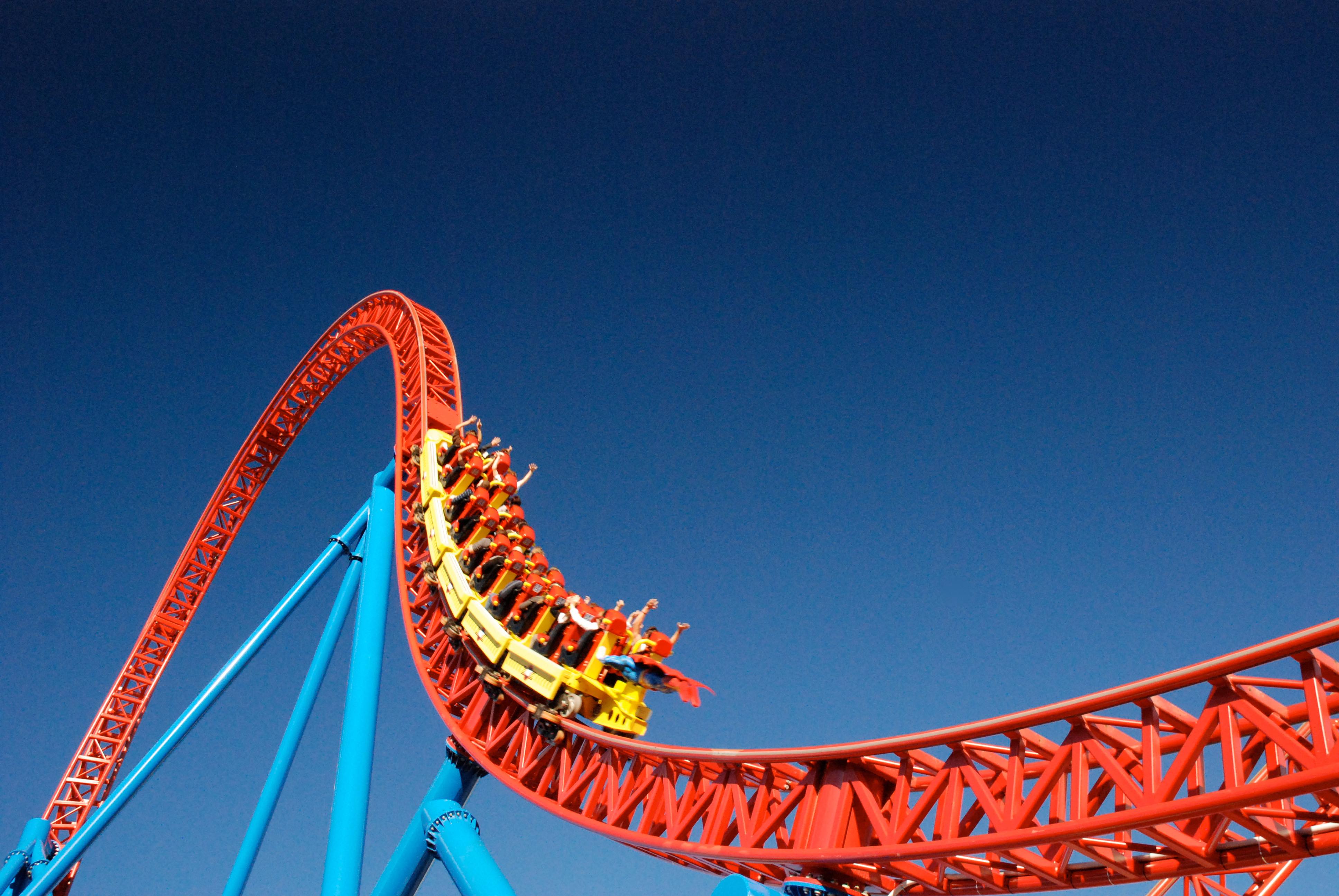 This week, visiting theme parks got a whole lot easier as Alibaba Group's cloud computing branch Alibaba Cloud rolled out a way to track queues, make reservations and digitally hold a place in line for rides.
In other news, Alibaba signed a memorandum of understanding with one of China's largest state-owned energy companies to work together in carbon reduction efforts.
And consumers in Malaysia can look forward to speedy delivery thanks to logistics service Cainiao's newly expanded freight network in the country.
Alibaba Cloud Uses AI to Cut Wait Time for Theme Park Rides
Alibaba's cloud computing arm deployed an AI-powered technology to reduce wait times and improve crowd management at Genting SkyWorlds Theme Park in Malaysia, the company announced this week.
The cloud-based technology, dubbed "virtual queue" (VQ), allows visitors to make reservations in advance for attractions on Genting SkyWorlds' mobile app and view real-time queue lengths.
"The VQ Solution, which was specifically designed for Genting SkyWorlds, uses our advanced, robust, and secure cloud technologies to complement the theme park's exceptional offerings to the guests," said Kun Huang, General Manager of Malaysia at Alibaba Cloud Intelligence.
The app encourages visitors to go to less-crowded areas and can generate personalized itineraries based on crowd volume and the users' personal priorities.
Alibaba Signs Sustainability MOU with China's State Power Investment Corp
Alibaba and government-owned State Power Investment Corporation (SPIC) formed a strategic partnership on July 5 to reduce carbon emissions and reach carbon neutrality through close collaborations.
SPIC is the largest solar power generation enterprise in the world. As one of China's largest electricity generation companies, it holds assets of nuclear power, thermal power, hydropower and other renewable energies.
Alibaba will help SPIC probe new digital possibilities, including clean energy generation in China's rural areas. As part of their partnership, the pair will investigate how to make data centers, offices, logistical networks and retail platforms as energy-efficient as possible.
Alibaba has pledged to be carbon neutral by 2030, while SPIC announced it would reach the peak carbon emission in China by 2023.
Cainiao Expands Airfreight Network in Malaysia
Cainiao Network expanded its direct flight network to Malaysia, adding new weekly cargo trips from China to Kuala Lumpur to boost efficiency for cross-border e-commerce.
A thrice-weekly direct flight will take off from south China's Shenzhen, adding to the five weekly freight trips from Hangzhou to Kuala Lumpur already in operation. Transit times will fall by 24-48 hours, according to Cainiao.
"Our clients will have access to easier and faster order placement, bulk order management, and will be able to track the whole delivery progress with the service we offer," said Kenny Wu, the Senior Logistics Director overseeing Cainiao's global supply chain, in a statement.
Cainiao opened its smart logistics hub, dubbed "eHub", near Kuala Lumpur airport last November. The 240,000-square-meter logistics hub comprises a 100,000-square-meter warehouse, an air freight area and a sorting center. 
Supplement Snacking: China's Gen Z Drives Demand For Modern Health Solutions
Five helpings of fruit and veg aren't cutting it for China's youngest generation of consumers, who would rather chew a vitamin gummy or pop a high-tech capsule to stay healthy and fit.
In June, Generation Z consumers born after 1995 eclipsed shoppers in their 30s and 40s in terms of anti-aging purchases and searches on Alibaba Group's B2C marketplace Tmall.
Health is trending, and companies in China are moving to catch the swell in demand with innovative products to keep pace with young consumers' busy lifestyles.
"In terms of wellness awareness, Gen Z consumers woke up earlier than their parents," Candice Wan, vice president of APAC cross-border e-commerce at German innovation and life sciences company Bayer, told Alizila.
Searches for "anti-aging" as a whole rose 500% year on year in the first sales period of last month's 6.18 Mid-Year Shopping Festival on Tmall.
Read the full story here
British Brands Holland & Barrett, CurrentBody, Others Shed Light On Exporting to China
British brands from health products chain Holland & Barrett to beauty devices maker CurrentBody met earlier this week to discuss the realities of exporting to China amid the pandemic.
The retailers were enthused about the opportunity of selling to China's 1.4 billion consumers and noted that cross-border e-commerce has expanded 10-fold in the past five years.
"The journey hasn't been easy," said beauty devices maker CurrentBody's Head of APAC, Monika Chen, but now "we are in a great position to keep expansion in China going."
The British brands gathered in Manchester at an event organized by e-commerce giant Alibaba Group and swapped tips on selling to China. Conversations covered finding the right partner, identifying the latest retail trends and adopting new technologies.
Read more here
L'Oréal's Guive Balooch on Beauty Innovation and Sustainability
In the latest AliCast episode, Alizila's Managing Editor Alison Tudor-Ackroyd talks with Guive Balooch, Global Vice President of the technology incubator at the world's largest cosmetics company, L'Oréal.
They discuss how the brand embraces augmented reality and blockchain to enhance consumers' experiences. You will also hear about the latest beauty trends, personalization best practices as well as L'Oréal's sustainable initiatives.
Catch the full episode here