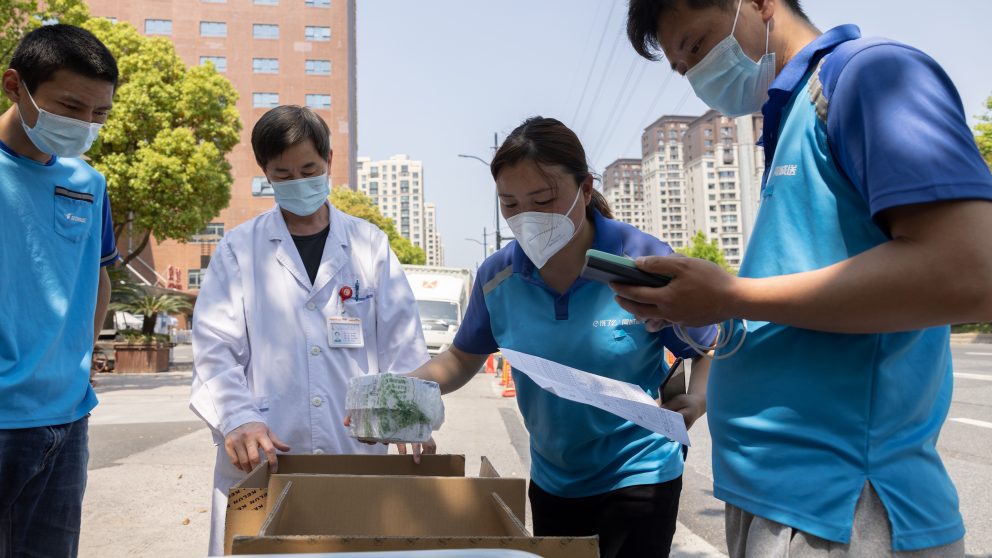 This week, prescription drug orders fulfilled by Alibaba Group's food delivery platform Ele.me for Shanghai's locked down residents topped 2.2 million since closures began in early April.
In other news, millions of Chinese holidaymakers will be staying home this long weekend, according to travel booking site Fliggy, which reported a jump in local museums and camping trips.
Jumping halfway around the world, start-up competition Africa's Business Heroes (ABH) also announced initiatives to give past and present event participants – and their ventures – a boost.
And hold onto your hats computer programmers: Alibaba Cloud announced this week that it is nearing its goal of porting Android functions to RISC-V ISA.
If that last sentence didn't seem like English, scroll down for an explainer on why this could be an industry gamechanger.
Ele.me Keeps Locked Down Shanghai Healthy With Millions Of Medication Orders
Alibaba's on-demand delivery service Ele.me shared this week that it has delivered 2.2 million pharmaceutical drug orders placed online since Shanghai entered lockdown in early April.
The city's sudden shuttering due to an outbreak of Covid-19 earlier this month stretched supply chains and last-mile logistics to their limits as residents struggled to source food and other daily essentials.
But several weeks in, Ele.me's delivery capacity is back on track, and twice as many online pharmacies are open for business compared with earlier in April.
"Our delivery capacity is recovering. We could complete 100,000 orders daily in Shanghai," said Zhe Wang, who oversees pharmaceutical drug deliveries on the platform.
Ele.me recently put together a team to address drug delivery requests. For example, it teamed up with Shanghai Children's Hospital to send medication to children in need across the city free of charge.
Chinese Travelers Become Tourists In Their Own Cities For Holidays
In the shadow of domestic Covid-19 outbreaks, day trips and single-night adventures will gain traction for the upcoming Labor Day holiday versus more extended vacations, online travel platform Fliggy reported this week.
Bookings of quick trips for this long weekend grew three-fold on the platform compared with a week earlier and camping and museum tours are also gaining popularity.
May 1, Labor Day in Mainland China, heralds the country's first Golden Week holiday of the year, which is usually marked by longer trips to local and international destinations.
The pandemic changed everything: average distances traveled by holidaying Chinese dropped by a third last Golden Week holiday to 141.3 km, said the China Tourism Research Institute.
Travel companies are shifting their offerings to keep pace as residents stay close to home. Fliggy collaborated with a Chengdu-based tourism company to run two camping sites for first-time campers to get a taste of the outdoor activity.
Likewise, data from Fliggy shows that museum tour bookings soared 300% year-on-year in 2021. The trend was most evident during national holidays and summer breaks and has spawned an industry of tour guides-turned-KOLs at historical and scientific institutions across China.
It Takes A Village: ABH Program Roll-Out Strengthens Community Connections
ABH recently launched two mentorship and training initiatives to foster connections between participants as the Alibaba-backed entrepreneurial competition enters its fourth year.
Participants have more support than ever with the newly launched ScaleUp learning program and Community Lead networking platform available in six countries around the continent.
"[I am] spreading the word to everyone I know and everyone I can reach about what ABH can do for their start-ups and how it can impact them just seems right," said Khadija El Bedweihy, founder of Cairo-based Praxis Labs and winner of last year's ABH competition.
The ScaleUp training program will be led by industry partners and give this year's finalists training in matters ranging from management development to financial literacy, while Community Lead creates a space for past and present finalists to meet up and exchange ideas.
"I am looking forward to lots of events, networking and knowledge-sharing and giving-back," said El Bedweihy.
Entrepreneurs who were cut earlier in the competition will also be able to participate. ScaleUp program will also include community-based learning sessions that are open to the wider ABH community including past applicants.
To apply to the 2022 Africa's Business Heroes competition and gain access to a wide range of benefits, enter your application on ABH's official site.
Progress Report: Alibaba Cloud Merges Android Capabilities With Open-Source Computing
Alibaba Cloud is close to combining basic Android operating system functions with freely available RISC-V computer architecture, the cloud computing arm announced this week after more than a year of work.
RISC-V is one of many instruction-set architectures that allow programmers to change how a computer's central processing unit operates, but it is available under open-source licensing, unlike many peers.
Alibaba Cloud is working to make powerful Android capabilities – including audio and video playing, driving cameras, and Wi-Fi and Bluetooth radios – available to RISC-V users to spawn further activity in the field.
"We look forward to further contributing to the RISC-V community with our advanced technology and resources and encouraging more innovation in the community together with global developers," said Jianyi Meng, Senior Director at Alibaba.
RISC-V-based Android devices can be used in scenarios ranging from multimedia to signal processing, device interconnection, and artificial intelligence.
Earlier this month, Alibaba Cloud's Xuantie C906 processor attained firsts in the most recent findings from MLPerf Tiny v0.7, an AI benchmark focusing on IoT devices.
CurrentBody Finds Electric Growth In China
Last month, Alizila visited CurrentBody in Manchester, U.K., to learn how this company is working to corner China's beauty device market.
CurrentBody sells the widest range of at-home skincare devices globally, including products from third parties and its own branded products.
The company has partnered with Alibaba's cross-border marketplace Tmall Global to ramp up its presence in China — home to millions of skincare connoisseurs.
Learn more here
Hong Kong Start-Ups Open Ocean and Gense as Winners of Jumpstarter 2022
On Tuesday, Alibaba Entrepreneurs Fund and British bank HSBC said that Hong Kong start-ups Gense Technologies and Open Ocean Engineering have won the Jumpstarter 2022 Global Pitch Competition.
Many of the entrepreneurs in the competition started their businesses to help combat the biggest crises facing society, such as climate change and healthcare.
Gense Technologies, a portable medical imaging device developer, and Open Ocean Engineering, which makes zero-emission boats that scoop trash out of the sea, were representative of the many healthcare and sustainability entrants this year.
The two winners get to take home up to $4 million, including co-investment from competition co-organizers: Hong Kong Cyberport Management Company Ltd and Hong Kong Science and Technology Parks Corp, both of whom have long nurtured fledgling businesses in the financial hub.
Learn about one of the winning start-ups below, or click here to read up on this year's competition
Meet Open Ocean, the AI-Powered Boat Start-up Cleaning Our Coastlines
Hong Kong-based start-up Open Ocean is working to turn the tide against pollution of our oceans with its automated zero-emission boats – called Clearbots – engineered to scoop trash out of the water and bring it ashore to be sorted and recycled.
"The entire idea is to help the marine sector move towards cleaner and greener fuels," said company co-founder and CEO Sidhant Gupta when he collected the Jumpstarter award on Tuesday.
Oceans worldwide could benefit from having a Clearbot or two.
In the roughly four minutes it takes to read this story, another 79,000 kg of trash worldwide will be deposited in the sea, based on estimates by the environmental activist group World Wide Fund for Nature.
"Start-ups tend to happen when innovators have a mission to solve a problem," Cindy Chow, an Executive Director at Alibaba Entrepreneurs Fund (AEF), told Alizila.
Read more here to see why this start-up is making waves
Bob's Red Mill Brings Whole Grain Goodness to China
Bob Moore pioneered the natural food business when he founded his namesake company in 1978. The brand's origin is as straightforward as the natural, stone-ground products it makes: "I found a mill, painted it red and called it Bob's Red Mill," Moore told Alizila.
His simple and unprocessed products are being embraced by health-conscious consumers worldwide, particularly in China where the brand's whole wheat flour and steel-cut oats are top sellers.
Bob's Red Mill is working to grow its young customer base in the Middle Kingdom through partnerships with Alibaba's B2C marketplace Tmall and its cross-border equivalent Tmall Global.
Get the full scoop here
Fliggy Targets Travel Rebound With Global Car Rental Tie-Up
Hogging the headlines this week, Fliggy said it will partner with car rental platform Zuzuche in anticipation of a post-pandemic recovery in travel.
The tie-up announced on Tuesday will allow Fliggy users to book vehicles from 200,000 Zuzuche outlets in 6,000 cities while enabling the platform to grow its car rental merchant base.
"We hope to bring more business to domestic car rental companies and gear ourselves up for opportunities in the post-pandemic outbound travel market," said Li Chen, general manager of Fliggy's transport division, referring to Chinese tourists planning foreign trips.
Chinese tourists' pent-up demand for overseas travel rebounded to pre-pandemic levels in February, according to a McKinsey survey.
Even during the pandemic, domestic car rentals exploded as a safer alternative to traveling in packed public buses and trains.
In 2021, more than 80% of car rental merchants on Fliggy recorded order growth of 100% or above, according to the platform.
Read more here