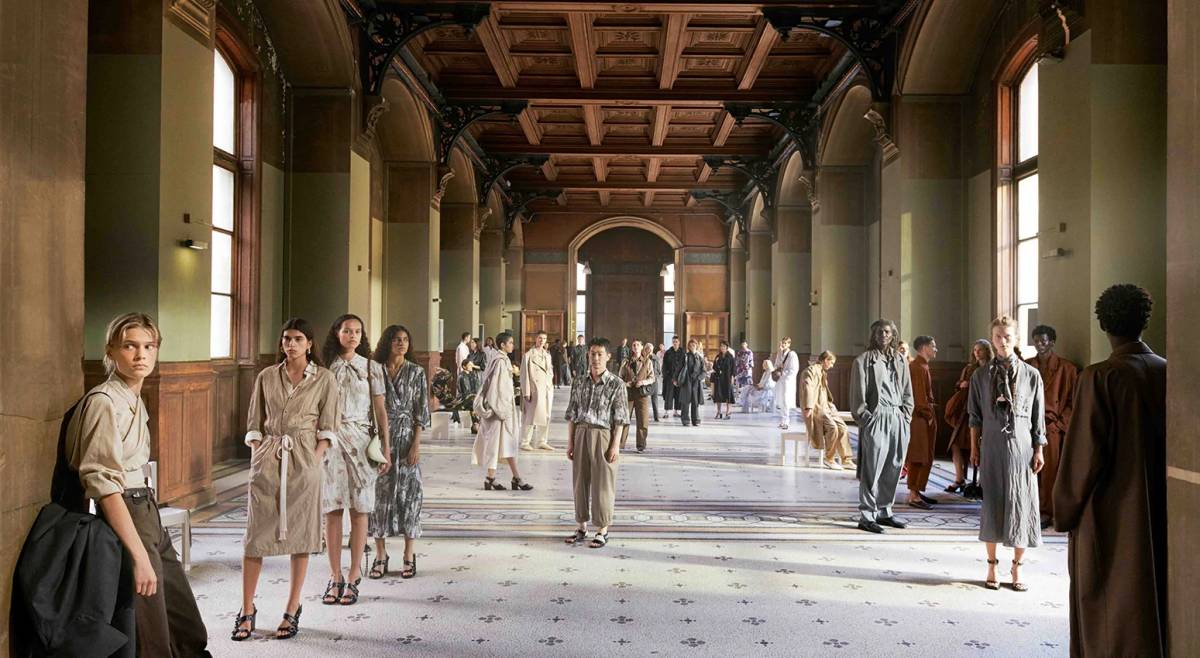 This week, French apparel and leatherwork atelier Lemaire made its debut in China through Alibaba Group's high-end e-commerce platform Tmall Luxury Pavilion.
In other news, European consumers have the hots for everything heat-related, as order volume information from Alibaba's platforms revealed this week.
France's Lemaire Launches E-Commerce Channel in China Via Alibaba
France's Lemaire has started selling its luxury fashion brand via e-commerce across China in partnership with Alibaba.
Paris-headquartered Lemaire has opened a store on Alibaba's Tmall Luxury Pavilion, where prosperous consumers shop for premium products.
Through the mobile platform or via the dedicated website, aficionados of the brand will be available to purchase from its Fall/Winter 2022 collection, along with carry-over styles, such as the Parisian label's popular Croissant Bag or Twisted pants.
Helmed by Co-Artistic Directors Christophe Lemaire and Sarah-Linh Tran, Lemaire's modular collection is designed and developed in Le Marais, Paris.
Lemaire employs 80 people and develops all of its collections in-house, and has an on-site workshop at its disposal.
Winter Is Coming: Alibaba Platforms Record Sizzling Sales of Heaters in Europe
Orders for electric heating appliances among European consumers are rising on Alibaba's cross-border B2B platform Alibaba.com and its cross-border e-commerce site AliExpress as winter approaches.
Alibaba.com's European business recorded a 40% jump in heating appliance orders over the last 90 days compared with the same period last year.
Electric blankets sales are heating up, and the platform noted a 70% year-over-year growth in the number of orders placed in last 90 days. Electric heaters followed with over 50% year-over-year growth, data from the B2B platform shows.
Direct-to-consumer platform AliExpress is also seeing strong demand among European users for electric blankets, heaters, down jackets, gloves, and insulated bottles.
Orders from the Netherlands for electric heaters increased seven-fold in September compared with last month, while orders from Germany and France quadrupled in the last 30 days.
---
Want to hear more about the latest innovations and news shaping the digital economy? Tune in to Alizila's podcast series "Alicast" now available on Spotify, Apple Podcast and Soundcloud.
---
Alibaba's Christina Fontana on Bringing Made In Italy Brands to China
Beyond fashion, luxury handbags and shoes, the international uniqueness of Italy is also showcased in its food, furniture and mechanical engineering.
We spoke to Christina Fontana, Director of Strategic Partnerships for Alibaba Italy and Southern Europe, to hear more about the Italian brands that embody the merchandise mark.
"Luxury brands are about creating something memorable that will last a lifetime. Every day, we are innovating and finding new ways to help our customers and our brands interact," said Fontana.
Fliggy Targets Overseas Chinese Consumers with FIFA World Cup Package
Alibaba's travel-services platform Fliggy launched a special travel package on Tuesday for Chinese consumers living overseas to attend the men's FIFA World Cup in Qatar later this year.
The bundle starts at RMB19,670 ($2,722), including tickets to see one of the French national team's games in November and a two-night hotel stay in the host city, Doha.
"The quadrennial World Cup is an important event and a good opportunity to help the global tourism industry recover from challenges posed by the pandemic," said Zhao Lei, Managing Director of Fliggy's Department of Vacation Business, in a statement in Mandarin.
The platform will also help soccer fans navigate complex Covid travel restrictions in Qatar that require visitors to secure special permission from local authorities.
Read more here
Amap Offers Immersive Navigation with Virtual Modeling
Alibaba's navigation platform Amap rolled out an upgrade this week with AI-powered city mapping features that transport users into another dimension.
The upgraded system creates a digital twin of the world around us, including well-known landmarks rendered with 3D modeling, real-time traffic updates, and a virtual character for in-app guidance.
The upgrade borrowed rendering technologies from the gaming industry, said Sun Chong, project manager of Amap, at a product release event in Mandarin on Monday.
Read more here
Alibaba's DingTalk Doubled Large Corporate Users After Strategy Pivot
DingTalk, Alibaba's workplace communication and collaboration platform, said last week that it had doubled its corporate users with over one million employees to 30 in two years, showing the company's progress in attracting large enterprise clients.
"The pandemic has created a huge increase in demand for online working, prompting many big companies to start to use DingTalk and raising diversified demands," said DingTalk's president Ye Jun at its fall summit held in Hangzhou on Wednesday.
The number of corporate users with over 100,000 people has also reached 600, double that of two years ago. More than one-third of active users on DingTalk are from companies with over 2,000 people, according to the platform.
Read more here