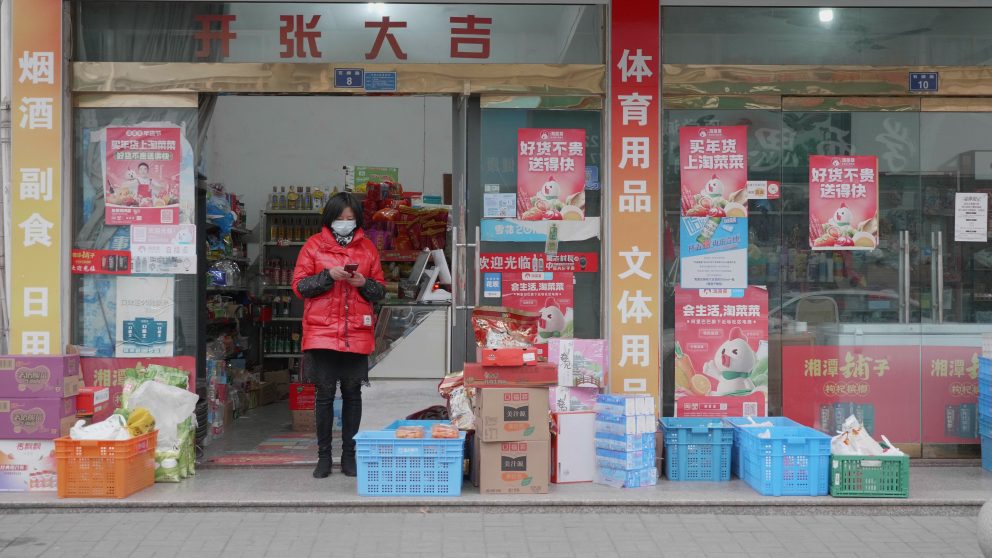 This week, Alibaba Group management revealed that heavy investment in bargain-hunting platform Taobao Deals and community marketplace Taocaicai is paying off.
What is Taocaicai? Glad you asked. Scroll down to see how this app's direct-from-factory model lowers costs for both consumers and manufacturers.
In other news, a Hangzhou-based beauty company shared how it uses heritage-inspired designs and ingredients to capture China's massive cosmetics market, which will be worth an estimated $125 billion by 2025.
Alibaba Q3 Revenue +10% YoY; Taobao Deals And Taocaicai Gain Traction Among Users
Alibaba said on Thursday that its third-quarter revenue rose 10% year-over-year and consumers in its ecosystem swelled to 1.28 billion globally.
Budding businesses, including value-for-money app Taobao Deals and community marketplace business Taocaicai, gathered steam as operating losses decline.
"Alibaba delivered steady progress this quarter as we continued to execute our multi-engine growth strategy in a complex and volatile market environment," said Daniel Zhang, Chairman and Chief Executive Officer of Alibaba Group.
The world's largest e-commerce company is on track to hit 1 billion annual active users in China by March 31, substantively all the consumers with purchasing power in the world's second-largest economy.
Read more about earnings here
What is Alibaba's Taocaicai?
Alibaba is rolling out a community marketplace called Taocaicai in China's lower-tier cities and rural areas. The innovative app offers value-for-money products direct from the factory, lowering costs for both consumers and manufacturers.
Learn more here
AliViews: Alibaba CEO on Q3 Earnings and Investment Strategy
Alibaba Chairman and CEO Daniel Zhang held a conference call this week with investors to discuss the third-quarter earnings report.
"As of quarter-end, our annual active consumers reached 1.28 billion globally, representing quarterly net adds of 43 million. In China, our AACs grew from 953 million to 979 million during the quarter while AACs outside of China grew from 285 million to 301 million," he said.
"We are fully on track to deliver the target of 1 billion China AACs by the end of this fiscal year, and Taobao Deals has been the major contributor to our new user acquisition."
View more of his comments here
How Chinese Beauty Brand Florasis Mixes Tradition And E-Commerce to Win Young Consumers
Chinese cosmetics brand Florasis is attracting younger consumers by combining tradition with modern e-commerce tactics, Alizila reported this week.
The digitally native brand's annual gross merchandise value (GMV) grew to over RMB3 billion ($470 million) between its launch in 2017 and 2020.
Florasis is riding a wave of interest in China's cultural heritage known as Guochao, literally "national tide" in Mandarin. Its ingredients and packaging designs are steeped in local tradition and are a hit among Generation Z and millennial consumers.
"We did the right thing at the right moment," said Florasis' branding director Lin Zeng in an interview with Alizila.
At the same time, it is participating in major e-commerce shopping festivals, working with key opinion leaders (KOLs) including Lipstick King Austin Li, and creating a customer feedback loop that ensures its products are attuned to China's fast-changing consumer market.
Read more here about how Florasis is working to capture China's $70 billion cosmetics market
Alibaba Cloud Drives Sustainability and Inclusiveness at Beijing 2022
Cloud technology makes the Olympic Winter Games Beijing 2022 more sustainable and helps reduce costs for the host city, Alibaba said on Tuesday.
The International Olympic Committee (IOC) teamed up with the Beijing Organizing Committee for the 2022 Olympic and Paralympic Winter Games (BOCOG) and Alibaba Cloud, Alibaba Group's cloud computing arm, to move core operations of the Games to the cloud ranging from communications to content delivery and production.
"Cloud-based technology…helps us to honor our ambition to ensure the Olympic Games are at the forefront of sustainability," said Ilario Corna, Chief Information Technology Officer of the IOC and the man behind recent cloud integration efforts.
As part of its commitment to tackle climate change, the IOC has pledged to reduce carbon emissions by 30% by 2024 and 50% by 2030. The biggest contributor to the Olympic Games carbon footprint is travel, said Michelle Lemaitre, the IOC's Head of Sustainability, in a previous interview with Alizila.
Read all about it here
Retailers Go for Gold as Ski Craze Hits China During Winter Olympics
Chinese consumers are taking to ski slopes en masse and laying the foundations for a lucrative domestic winter sports industry, spurred on by the Winter Olympics underway in Beijing.
"A trend is starting as young Chinese consumers try skiing for the first time," William Yang, general manager of Greater China for luxury sports fashion brand Bogner, said in an interview with Alizila.
The resulting boom in snow-related activities exceeded all expectations. Sales of winter sports equipment rose 300% on Tmall between Jan. 31 and Feb. 4, including a 180% jump in skiing gear alone.
And on Feb. 8, when Team China's Eileen Gu won gold in the Freeski Big Air event, Tmall sales of gear matching hers jumped 450% compared with the day before.
Get the full scoop here