Skateboarding, once a countercultural outpost uniting adrenaline-seeking youth globally, is on a roll in China.
The sport made its Olympic debut at the Summer Games Tokyo 2020, lending it legitimacy and setting off a tidal wave of interest among Chinese consumers that continues to build.
Sales of skateboard-related items jumped 290% on Alibaba Group's B2C online marketplace Tmall between May 31 and June 3 for this year's 6.18 Mid-Year Shopping Festival, according to the platform.
After decades as an underground sport confined to back alleys and building stairwells, this is a paradigm shift for skaters as well as consumers. Brands are working to keep up.
"As more consumers are engaging in outdoor sports, there're increased opportunities for skateboarding brands to grow in the market," said Zander Zhu, who founded the Shenzhen-based skateboarding DBH in 2010.
A local favorite among skateboard enthusiasts, DBH saw sales increase by 200% between 2021 and 2022.
"Parents used to shoo their kids away from skaters when seeing them on the street; now they send them to classes to learn skateboarding skills," Bejing-based skateboarder Elon Shi told Alizila.
Shi, now a key opinion leader (KOL) in skateboarding circles, has more than five million followers across social media platforms, including many first-time skaters.
Demand is growing, and up-and-coming domestic board brands and established overseas names are jostling for market space.
"Given the rise in outdoor sports and China's 1.3 billion population base, skateboarding apparel brands are ready to boom," Zhu noted.
During this year's 6.18, 15 international companies including American board brands Carver and Santa Cruz announced they will be entering China soon with the help of Tmall Global, Alibaba's cross-border e-commerce platform.
From Streets To Stadiums
Chinese consumers are looking at skateboarding with fresh eyes as the newly-crowned Olympic sport moves from a pastime to a profession.
"Skateboarding is seeing its popularity [grow] beyond niche communities," said Lu Jing, general manager of the platform's fashion category.
Shi understands this better than most. When he and his friends started skateboarding in 2011, "no one treated us seriously," he explained.
The city had no skate parks, so Shi and his crew turned to pedestrian infrastructure instead. They learned the ropes on Beijing's street curbs, stairs and public benches, as well as nearby university campuses.
For award-winning Chinese street dancer Zhang Zhukan, these areas were arenas for him to practice new tricks like stair jumping and rail sliding when he started skateboarding in 2014.
Nearly a decade later, riders are busting out these same moves, only in stadiums instead of alleyways.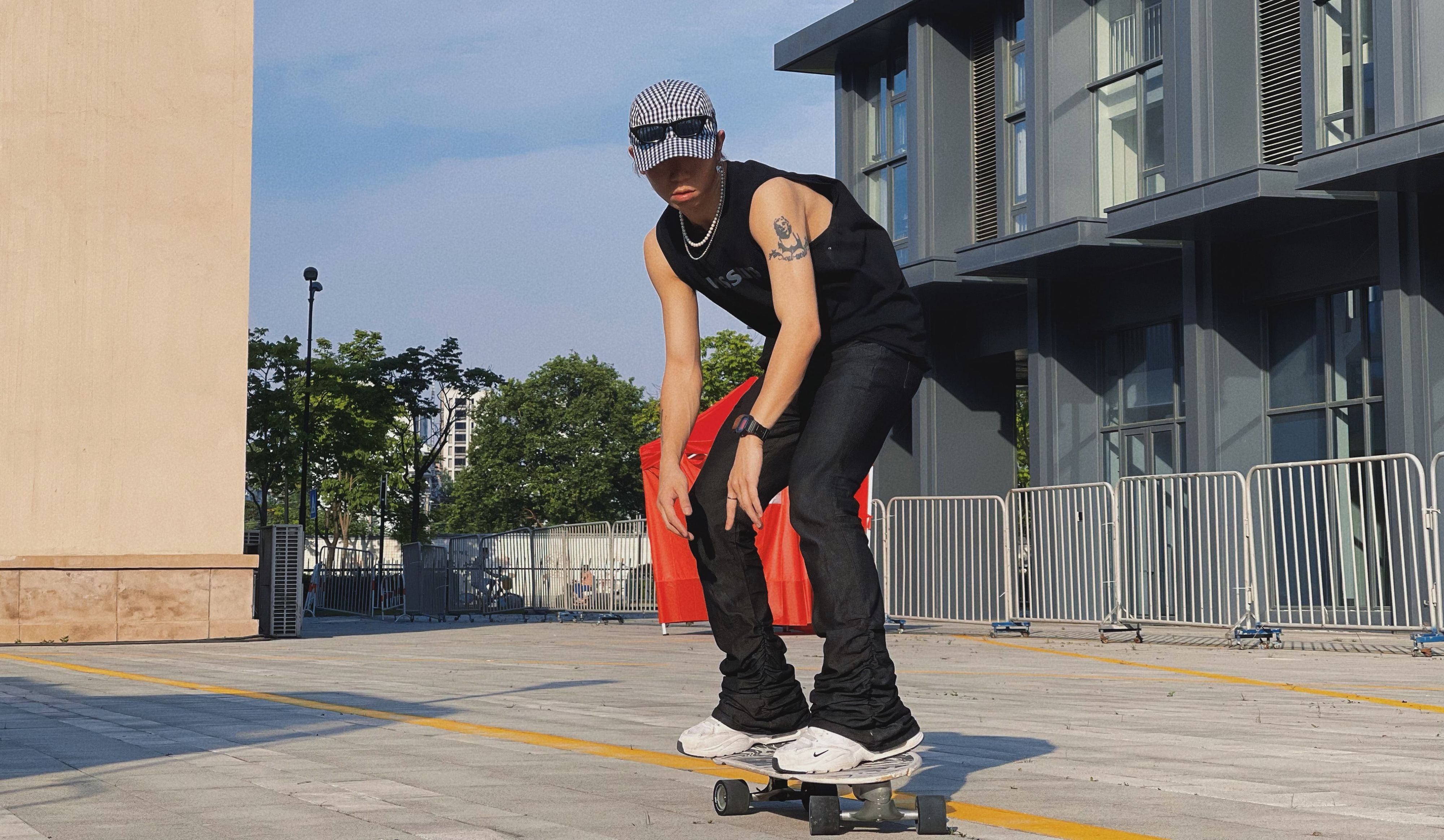 A Cultural Movement
Beyond working up a sweat, skateboarding has spawned a rich and vibrant culture built around creativity and exploration – themes that resonate with many Chinese skaters.
"Skateboarding makes me tougher and stronger. It's made me who I am today, and I wish to share what I have learned through skateboarding," DBH's Zhu explained.
Even the simplest of stunts, like the hands-free jump with a board called an Ollie, can be a mental as well as a physical challenge.
Learning how to do an Ollie forced 18-year-old Chen Juxian to confront his own limitations.
"To skate, you have to overcome the fear of falling. It's about bringing your creativity to deliver a stunt that only you can imagine," he explained.
Chinese skaters express their creativity in the choice of clothing, music and even lingo.
They invest in streetwear style, equipping themselves with Thrasher T-shirts and Supreme shorts.
Interest in skateboarding culture means even people who have never touched a board are lacing up Vans skate shoes and buying up skate hats.
The escalating hype led Chinese sportswear brand Li Ning to debut its skate line led by the veteran skateboarder and designer Erik Ellington in 2021.
All Boards Welcome
Skateboarding isn't the only board sport making waves, or shredding the slopes, in China as brands ride a nationwide outdoor sports boom.
"There is a strong overlap between consumers of winter sports and that of skateboarding," said Jia Xudong, China market distribution partner for Carver.
Many early skateboarders in China were surfers or snowboarders first, according to Tmall Global's Lu, and they continue to buy sportswear, shoes and accessories for both on the platform.
"What I am doing at its core is an exploration of lifestyles," said Shi, who divides his time equally between skateboarding in the summer and snowboarding in the winter.
He is not alone. By 2025, snow-related sports tourism – mostly snowboarding and skiing – will be generating RMB1.1 trillion ($172.9 billion) in revenue while serving more than 500 million people annually, according to the China Tourism Academy.
Fuelled by the Winter Olympics, sales of winter sports equipment rose 300% on Tmall between Jan. 31 and Feb. 4.
The medium may be different, but the core message is the same: "We are all pursuing freedom when riding on the boards," said Zhang.
Alizila's Yashan Zhao contributed to reporting