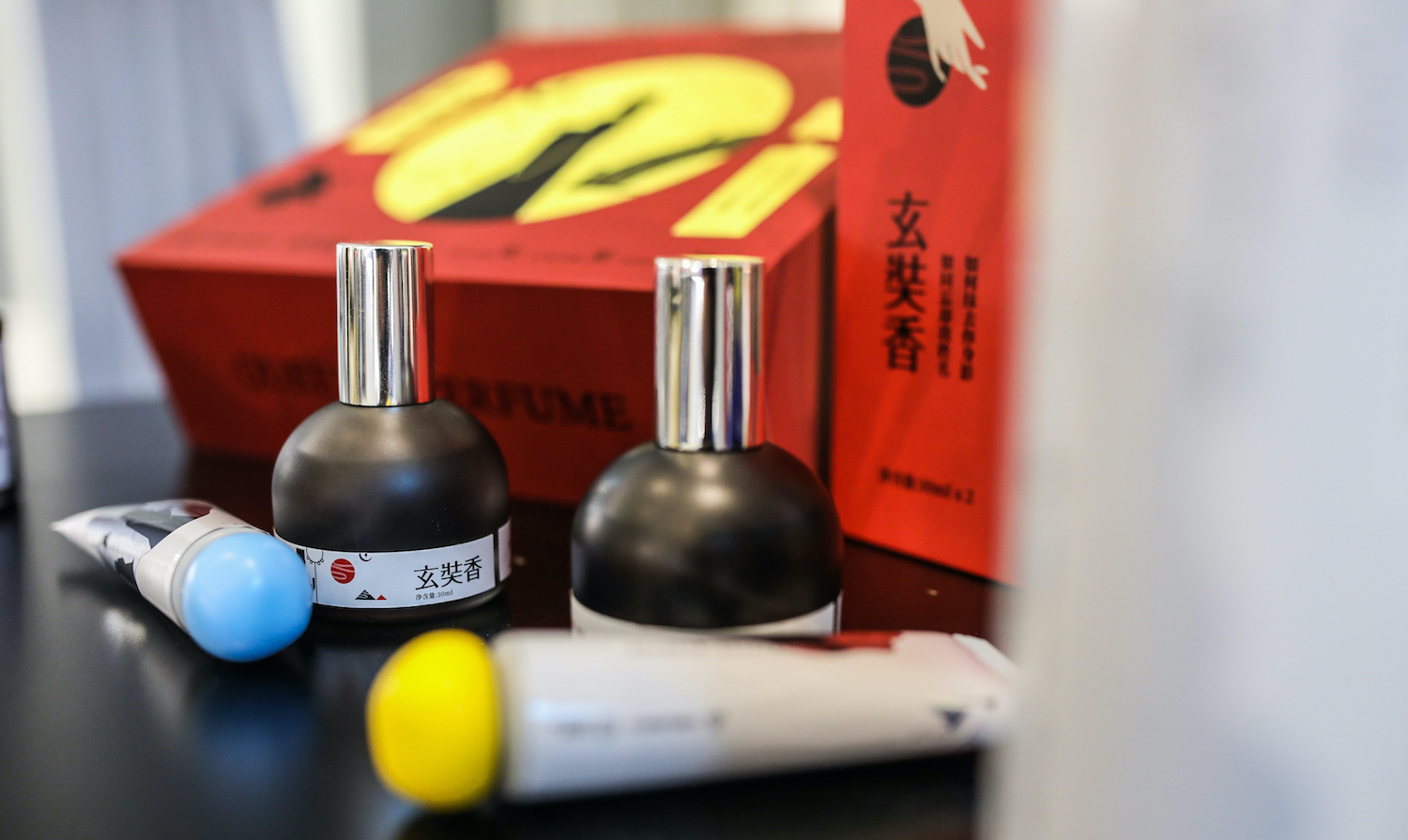 Alibaba Group's product-innovation arm Tmall Innovation Center announced last week that it has teamed up with German chemicals giant BASF and Givaudan, the world's largest producer of fragrances and flavors, to create trend-driven products for the China market.

The new consumer-to-supplier initiative, dubbed "T-Lab," allows the two companies to tap into Alibaba's vast pool of consumer insights and create materials, ingredients and scents that are more likely to trend among shoppers. Other brands can then make use of T-Lab's creations to design their own products and packaging.

As part of the launch, Givaudan showcased product prototypes that drew on key themes and cultural concepts distilled by TMIC, including perfumes and scented hand creams inspired by the enduringly popular Chinese folktale, "Journey to the West."
"Collaborating with Tmall in China is an exciting step forward in our commitment to drive digital innovation across the fragrance industry. Such initiatives are key to Givaudan's 2025 strategy, which aims to expand and deepen strategic relationships with suppliers, startups and partners while enhancing collaboration and co-creation with customers to develop innovative solutions for the future," said Givaudan's president of fragrances and beauty, Maurizio Volpi.

"China's unique e-commerce ecosystem is a leading platform of energy and creativity," said Li Yaling, head of Givaudan's fragrances and beauty division in Greater China and Korea. Givaudan expects the T-Lab partnership to help it pre-empt Chinese consumer trends and shorten end-to-end product development for fine fragrances from 40 weeks to just four weeks.

T-Lab's launch comes as TMIC continues to expand its ecosystem of brands and market forecasters to include more partners, from upstream suppliers to downstream buyers, that help power product innovation in new ways.
TMIC was launched in 2017 to help brands break into the China market with innovative products. An in-house team of market researchers and product-innovation experts use insights gleaned from Alibaba's platforms to help brands spot trends and growth opportunities, refine their marketing strategies and track products post-launch to see how well they perform with consumers.

TMIC's suite of solutions are now used by many international brands, such as L'Oréal, Estée Lauder, P&G and Unilever. In 2020, the platform helped brand partners shorten the average time needed to incubate a product from about 18 months to only six months. It also helped incubate more than 40,000 new products last year, with 150 items generating over RMB10 million ($1.57 million) and 1,500 products totaling RMB1 million in sales on Alibaba's e-commerce platforms. This year, it expects to double the number of products that achieve both milestones.

During this year's 6.18 Mid-Year Shopping Festival, more than 2,000 brand partners released nearly 20,000 new products incubated via TMIC on Alibaba's Tmall marketplace.

"When we talk about smart manufacturing today, it's not just how Chinese brands have embraced innovation but also the global companies that are designing unique offerings specifically for local consumers," said Alan Ao, the general manager of Tmall Brand Marketing. "We want to be a growth engine for smart manufacturing in this sense and help give rise to new forms of supply."
Shaking Up the Innovation Pipeline
TMIC plans to partner with fashion schools to introduce "digital-first product incubation" courses. It will also connect young talent with global companies such as VF Corp. – the parent of Vans, Supreme and Dickies – to design fashion pieces for Chinese consumers.
This decision builds on the platform's successful collaboration with U.S. clothing brand Dickies last year. After rounds of consumer research and pitches from young fashion designers, the brand launched new hoodie designs aimed at China's Gen-Z consumers. During its launch in August, the brand reached 18 times more young consumers born after 1995 than its daily average.
Meanwhile, TMIC said it will continue to enrich its consumer-to-business solutions, including its C2B Innovation Factory initiative, which speeds up innovation by helping brands build more-flexible, leaner supply chains. Philips, Henkel, Unilever, Mondelez, Beiersdorf, and most recently, Nestlé, have opted in to the program to accelerate their R&D processes and better meet Chinese consumers' fast-evolving demands.

For example, Beiersdorf, which owns Nivea and La Prairie, last year mobilized dedicated teams and manufacturing facilities to quickly develop Nivea's first eye mask for men. It launched the product during a livestream session and sold out all 15,000 masks in just three seconds.
Discovering New Trends
TMIC's artificial intelligence-powered Knowledge Hub tool will also see further upgrades this year.

Last year, French beauty giant L'Oréal tapped the TMIC solution to co-create a color-trend database, which tracks 2,000 lipstick shades and analyzes Chinese consumers' color preferences. Maybelline, one of the company's makeup brands, recently customized its newly launched lip gloss based on findings from the database.

"It is a way for global brands to understand China," said Connie Tao, the consumer intelligence director for L'Oréal North Asia. "Consumers are changing fast. This is especially true in China, where change is often more rapid and complex."
WATCH: L'Oreal China CEO on Innovating Products with TMIC
This wasn't the beauty company's first collaboration with TMIC. In 2019, L'Oréal Paris collaborated with the innovation platform to launch its first C2B product, the Midnight Cream, to meet the growing anti-aging skincare needs of younger consumers in China. Thanks to TMIC's insights, the company learned that young consumers would stay up late and wake up the next morning worrying that their faces would lose their glow or show signs of aging. To address this problem, L'Oréal Paris and TMIC co-developed the facial cream in just 59 days. It sold an estimated 100,000 bottles on its launch day and more than 300 million bottles in total to date.
L'Oréal has also worked with TMIC to better understand male consumers' needs, expectations and barriers when using makeup. The platform's research reaffirmed that there was a market opportunity for products designed for men that were positioned differently from women's cosmetics. In January this year, L'Oréal Paris introduced a new oil-free skin corrector for men. The product sold about 35,000 bottles in just three days of launching and was ranked the top-selling male cosmetic product on Tmall.

From the Knowledge Hub to C2B product-innovation tools, TMIC can help bring consumers and brands closer and build stronger relevancy in the market by way of its deep understanding of consumer insights. "Tmall is not just an e-commerce platform with a rich pool of consumer analytics, but it also enables innovation," said Tao.
An earlier version of this story contained an incorrect number of TMIC-incubated products released during the 6.18 shopping festival and has since been corrected