This week, Alibaba Group's on-demand delivery platform Ele.me laid on additional resources to keep Beijing residents supplied with medicine and fruit during the latest wave of the coronavirus pandemic.
In other news, the group's hypermart chain Freshippo cut the ribbon on four stores this week to cater to China's growing middle class.
On the other side of the world, Alibaba's logistics arm Cainiao partnered up in Brazil to open a thousand lockers for parcel pickups.
Ele.me Rewards Pharmacies and Couriers for Keeping Beijing Supplied
Alibaba's delivery service rolled out a series of incentives this week to support pharmacies and delivery workers in Beijing amid the latest surge in COVID-19 cases.
Ele.me said it would offer financial incentives to pharmacies that stay open at least five days a week and fruit shops that operate eight hours a day. It will also help merchants coordinate delivery forces to keep distribution lines up and running. Beijing-based pharmacies and fresh-produce vendors have struggled to stay open as staff have succumbed to the virus and stayed home.
The platform will offer RMB3,000 ($429) to delivery workers who run orders for over 15 consecutive days and is distributing more than 200,000 pandemic supply kits to logistics staff nation-wide.
With the incentives in place, Ele.me said the number of delivery workers on the platform serving Beijing is returning to pre-pandemic levels.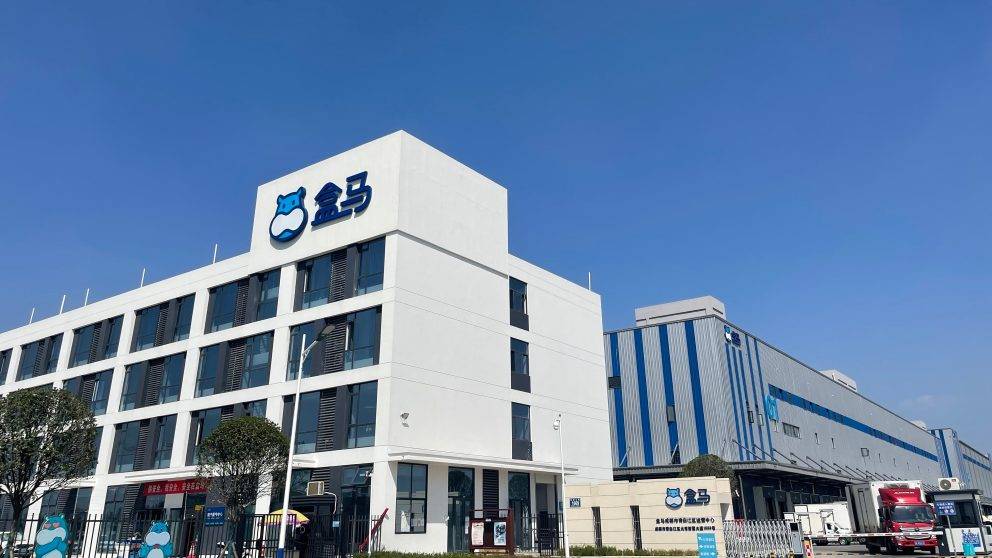 Alibaba's High-Tech Grocery Store Chain Just Got A Little Longer
Tech-enabled supermarket brand Freshippo launched four stores in four cities in China on Friday, with two more stores scheduled to open in as many towns next week.
Freshippo sources fresh produce from all over the world with Alibaba's logistics system, catering to the needs of rising middle-class consumers in China's first or second-tier cities.
The grocery store chain is preparing for the upcoming consumption recovery as pandemic restrictions ease across the country.
Freshippo operates over 300 stores across 27 cities in China in addition to a thriving online ordering system that accounted for over 65% of revenue in the quarter ended Sept. 30.
Brazilian E-commerce Platform Leverages Cainiao To Tackle Last-mile Delivery
Order fulfillment just got even faster for Brazil's millions-strong online shopping crowd.
Cainiao announced a partnership with Brazilian e-commerce platform Facily on Monday, opening access to its logistics infrastructure to make the last-mile delivery smoother for the platform and its Brazilian users.
Cainiao will deploy 1,000 smart lockers across ten cities in Brazil over three years for Facily users. The lockers will operate 24/7 in areas with dense traffic, such as shopping malls, local businesses, banks and subway stations.
Facily users can opt for pickup at their chosen locker at check out and will receive an in-app notification once the parcel arrives.
Often referred to as the Brazilian version of Pinduoduo, Facily had registered over 17.5 million downloads with around 10 million active users as of December 2021.
Chinese Consumers' Obsession With Collectible Toys Explained
From street-art-inspired figurines to cutesy dolls, younger generations of Chinese consumers are driving a boom in popularity – and prices – for collectible toys.
The total gross merchandise value of collectible toys on Alibaba's B2C marketplace Tmall soared 694% year-over-year during last month's 11.11 Global Shopping Festival.
"Younger Chinese consumers view the toys as carriers of their individuality and aesthetics," said Zhu Yimin, director analyst at business consulting firm Frost & Sullivan.
China could become one of the world's biggest markets for collectible toys. In 2017, the country's collectible toy business accounted for 11.18% of global sales, rising to 19.7% in 2020, according to iiMedia Research.
Read more about China's toy story here
Alibaba's Year in Review
Before we turn the page on 2022, let's review the times when Alibaba Group marked a significant milestone or contributed to the fast-evolving digital economy.
Looking back on the year, noteworthy patterns emerged in profitability, sustainability, and corporate governance, while the group's business units made headlines with a number of major announcements.
One of the most noteworthy achievements was the ecosystem-wide coordination at the height of the coronavirus pandemic to support local communities.
Read more here for our retrospective look at the year that was at Alibaba
World Cup Boosts Sales of Soccer-Related Products On AliExpress
Chinese merchants on Alibaba Group's cross-border B2C marketplace AliExpress saw football paraphernalia orders flood in after Argentina and its superstar Lionel Messi won the FIFA World Cup Qatar 2022.
Soccer's biggest international tournament culminated Sunday, with Argentina beating France in a penalty shootout.
Over 10 million soccer products, from foosball tables, football boots, to film projectors, were sold and shipped to other parts of the world from China through AliExpress over the past two months, AliExpress data showed.
Check out the score here
Alizila's Top 10 Must-Read Articles In 2022 On China's Digital Economy
As 2022 comes to a close, Alizila looks back at the stories and events that successfully captured the defining trends across China's digital ecosystem.
The content that resonated most deeply with our readers this year showcased lasting changes in consumer behavior and best practices that brands should follow.
Check out our highlights here