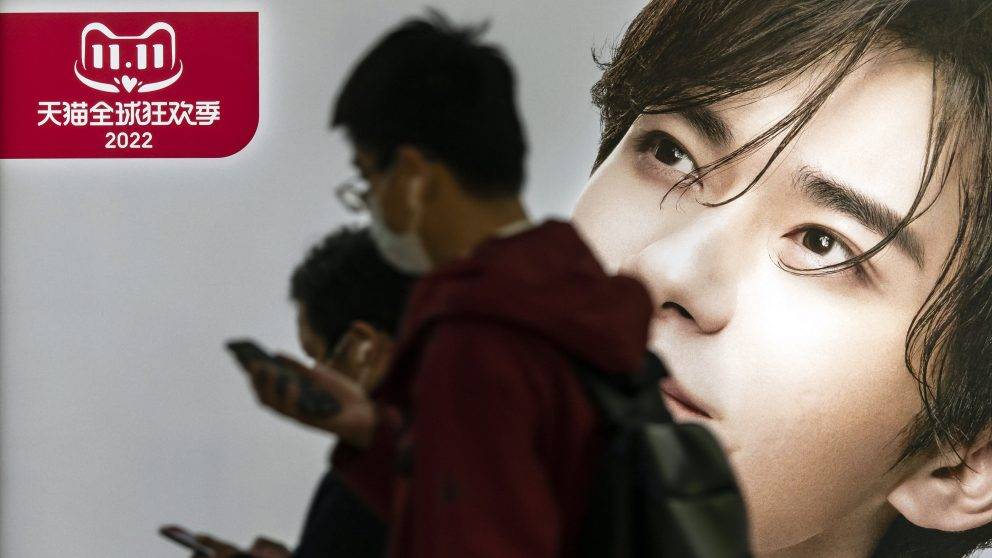 Alibaba Group concluded its most high-tech 11.11 Global Shopping Festival to date on Friday, delivering sales for brands in line with last year despite economic and COVID-related headwinds.
The creator of the world's biggest retail event deployed virtual influencers, spotlighted rewards programs and hosted a record number of product listings to bolster the festival.
Also known as Double 11 or Singles' Day, the shopping holiday routinely dwarfs Black Friday and Cyber Monday combined. Last year, Alibaba said it generated gross merchandise value (GMV) of RMB540.3 billion ($84.54 billion at the time).
The 18-day online campaign is pivotal for brands, large and small, to boost awareness and launch products in the world's most populous nation.
"This is undoubtedly the most important campaign of the year," said Cynthia Carbonell at Freshly Cosmetics. The Spanish startup said it boosted marketing spending for 11.11 on Alibaba's cross-border marketplace Tmall Global by nearly 40% versus previous months.
11.11 pre-sales kicked off on Oct. 24 at 8:00pm China Standard Time, versus Oct. 20 last year, and sales ran from 8:00pm on Oct. 31 to Nov. 10 11:59pm, climaxing on Friday with 21 million products on offer to over 1 billion consumers in China. During the festival, 1,009 Tmall Global brands' GMV more than doubled year-on-year.
Perennially popular categories during 11.11, such as beauty and consumer electronics saw robust growth, as well as up-and-coming areas like pet products and outdoor sports.
Assurance Amid Uncertainty
The campaign took place this year against a backdrop of macroeconomic volatility, COVID-19 outbreaks and supply-chain disruption.
Alibaba's marketplaces responded by streamlining logistics, offering faster payment transfers and equipping merchants with digital tools to reach consumers interested in even the most niche categories, from collectible toys to surfskating.
In a futuristic example of the all-out push, Alibaba dispatched over 700 autonomous delivery robots, called Xiaomanlv or "Little Donkey" in Mandarin, twice as many as last year.
Even in tough times, a presence in the world's second-largest retail market is a must and 290,000 brands took part in 11.11 over Alibaba's platforms, the same number as last year.
"The economy is undergoing substantial transformations this year, and everyone is looking for assurance amid uncertainty. As a result, both merchants and consumers have high expectations this 11.11. Businesses want to lock in certainty and cement confidence, while consumers expect pleasure and joy from 11.11," said Trudy Dai, Alibaba's President of Core Domestic E-commerce, on Friday.
"Flattish" GMV year-on-year was in line with estimates said brokerage Jefferies.
Some 70,000 brands participated for the first time, including luxury houses Bulgari, Moncler and Brunello Cucinelli. A fashion line from Italy's Ferrari launched on business-to-consumer marketplace Tmall last month.
"The Chinese market is too big and too important and too influential to ignore," said Filippa K's CEO Rikard Frost. Scandinavian luxury fashion house launched on Tmall in August, just in time to prepare for 11.11.
Swiss beauty brand La Prairie's GMV during the first four hours of the first sales window surpassed that of the entire 11.11 sales period last year. GMV refers to the total value of orders paid using Alipay on marketplaces Taobao and Tmall, including shipping charges.
11.11 In The Metaverse
China is also a window for global brands onto the latest retail innovations.
The country already has among the highest penetration rates of online shopping in the world and e-commerce continues to take a larger slice of total retail sales. Platforms like Alibaba are rolling out extended and virtual reality features for consumers curious about the metaverse, spurring innovation in the sector further.
"If you really want to see the future of technology, of retail, of the combination between on-and-offline, then China is the place to have a look," said David Roth, CEO of retail practice The Store-WPP.
More brands deployed virtual idols during 11.11, part of a broader push to attract China's digitally native and novelty-seeking younger generations. Market research firm Forrester predicted that a fifth of B2C brands in China will use digital idols by 2023.
Alibaba's hyper-realistic digital influencers, Ayayi and Noah, helped retailers, from Chinese electronics giant Haier to American fashion house Tommy Hilfiger, amass followers this Fall. Upmarket shopping platform Tmall Luxury Pavilion launched a virtual influencer called Timo to showcase digital collectibles from luxury brands.
"We want virtual idols to help brands with the digital upgrade and reach out to younger consumers," said Rocker Hu, manager of digital marketing at Alimama, Alibaba's digital marketing arm.
More than 300 million people have tuned into Taobao Live, China's premier livestreaming commerce channel, since Oct. 24 to watch virtual and real-life hosts hawk products.
E-commerce is rapidly evolving to match the physical experience of entering a brick-and-mortar store. In the vanguard, Alibaba launched a virtual shopping mall for 11.11 where shoppers browsed over 700 products through the eyes of customizable avatars and checked out purchases in virtual shopping carts.
Alibaba rendered more merchandise digitally into three dimensions, so consumers could virtually try on accessories or view furniture from multiple angles.
All this is only possible with cloud computing, which is getting greener. Alibaba Cloud's five hyper-scale data centers across China doubled the amount of clean energy used to support this year's 11.11 compared with last year.
Loyal Fans
As Double 11 marked its 14th year, brands' success metrics shifted in tandem with changing consumer behavior.
Instead of chasing growth through discounting drives that are starting to look tired and generic, more brands rolled out customer membership programs to generate revenue all year round, according to consultancy Bain & Co.
"Winning on price alone isn't enough," Bain Partner James Yang explained on an episode of Alizila's podcast.
Alibaba offers several loyalty programs, including its 25-million-strong 88VIP ecosystem-wide club whose members spend on average $8,000 annually.
"11.11 represents a significant opportunity for merchants to reach the most valuable consumers on our platforms," said Alibaba Group's President Michael Evans.
Alibaba is helping merchants build their own membership programs. Many household names, including Oregon-headquartered Nike and London-based Unilever run loyalty programs through their stores on Tmall.
On Nov. 1, 82 brands surpassed RMB100 million in GMV generated from their members, including Nike and beauty brands L'Oréal and Estée Lauder. Over 130 brands topped RMB100 million in GMV from members of their loyalty clubs betweem 8pm and midnight on Nov. 10.
"A few of our most popular products have been sold out and our newly launched DHA product for young kids has received [an] incredible amount of interest from our loyal consumers," said Dylan Zhang, the distributor in China of Belgian fish oil supplement brand WHC.
11.11 2023 Beckons
While merchants and platforms dialed back the razzamatazz of earlier festivals, brands still seized the opportunity to debut products and gather data insights for the year ahead.
Many new products were exclusively available on Alibaba's marketplaces for Single's Day and brands released a flurry of limited editions, collaborations and capsule collections.
"We deeply feel the resilience and vitality of consumption," said Chui Xue, President of Industry Development and Operation Center of digital marketplaces Taobao and Tmall, on Friday.
Britain's Burberry launched a wool scarf emblazoned with a mounted knight exclusively for Tmall shoppers, while skateboarding brand Vans released limited edition shoes and The North Face partnered with artist KAWS on a jacket line.
Smaller brands such as Australian wellness brand Inner Health took the opportunity to expand their range of products in the Chinese market.
"It is a great opportunity to test whether our strategy is successful or not," said Icy Huang, the brand's China Marketing Director, during a virtual news briefing.
In fact, Double 11 can be just the beginning, according to WPP's Roth.
"11.11 contributes to growing your brand, clearly generating sales at a very important time, but also creating a springboard for the brand's strategic and tactical activity right across the year."
Additional reporting by Ivy Yu and Chloe Shen
This article has been updated to clarify the time span of 130 brands topping RMB100 million in member-generated GMV in paragraph 33 and the number of products in paragraph six