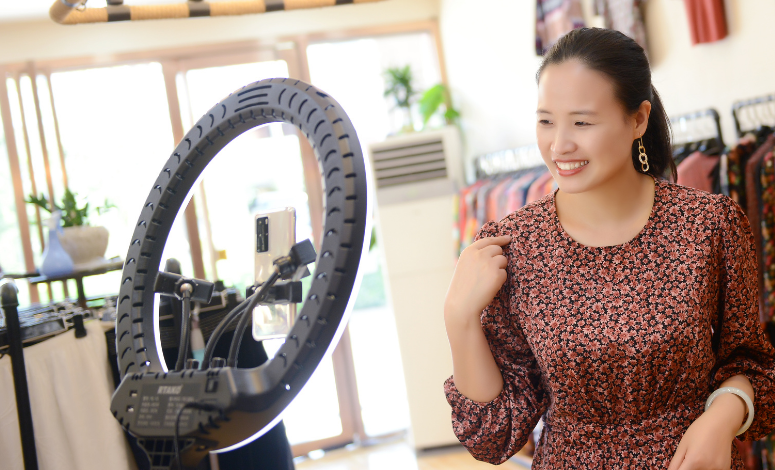 As livestream e-commerce – a trend accelerated by the Covid-19 pandemic – continues to heat up, Taobao Live pumped out a series of measures for brands to supercharge their growth through its immersive technology.
One way that the Alibaba Group-owned livestreaming platform has sought to do this is by deeply integrating its livestream technology with brands' e-commerce stores.
Slated to roll out soon, the upgraded "live stores" will be highly customizable, the platform said. Brands will be able to display their streams prominently on their store homepage and can also tailor special experiences for different tiers of customers. For example, they can create invite-only VIP programs and interactive features and vouchers that only pop up for their loyalty-club members.
"A major trend going forward will be elevated livestream experiences," said Alibaba Group Vice President Yu Feng, who oversees content e-commerce at Taobao. "More and more consumers have adopted livestreaming as a way to shop. It has become an irreversible trend and, at the same time, an increasingly competitive space."
Live Brand Storytelling
Brands' original livestreams, as opposed to those created by influencers, have surged since 2019, as an increasing number of brands have mastered the popular medium to connect with Chinese consumers. Some companies have even invited celebrities or their CEOs and senior executives to appear on camera to answer viewers' questions. Others, like Dior or Cartier, have broadcast private jewelry exhibitions and fashion shows for consumers to "see now, buy now."
These brand-operated livestream accounts have since become among the top performers on Taobao Live – representing over half of the 1,000-plus livestreaming accounts that raked in RMB100 million (USD $15.4 million) in transactions in the 12 months ended March 31, 2021.
Meanwhile, ahead of the 6.18 Mid-Year Shopping Festival, Alibaba is looking to upgrade its search algorithms and layout across its apps to boost the exposure of brand-produced livestreams throughout the entire user journey.
Livestreaming has also become especially popular with those looking to build up their presence. Over 90% of new brands – those that have joined Alibaba's e-commerce site Tmall within the past three years – have tapped Taobao Live to engage consumers, the company said.

Amid the growing popularity of its platform, Taobao Live has continued to roll out new, experimental New Retail experiences within its streams, including artificial intelligence-powered hosts, augmented-reality beauty tests, 3D home decoration and mix-and-match features for clothing.
The platform is also partnering with DAMO Academy, Alibaba's research arm, to develop a smart livestreaming camera capable of processing real-time speech, visual cues and hand gestures. The launch of this device will reimagine how livestream presenters interact with fans.
Leveling Up
Launched in 2016, Taobao Live has become an indispensable branding, marketing and sales tool for merchants and influencers across Alibaba's platforms.

During the pandemic, restaurant owners on Ele.me made use of Taobao Live to stream cooking tutorials and stay connected with their customers. Tourism companies and cultural heritage sites on Fliggy also tapped livestreaming to offer virtual tours to Chinese shoppers amid Covid-19 lockdowns and travel bans.
According to Alibaba's financial results released in February, Taobao Live generated over RMB400 billion in gross merchandise volume in 2020.
Per Taobao Live's latest figures, users had access to over 500,000 combined hours of livestreaming content each day in 2020. Also, loyal users who tuned into livestreaming six times a day placed an average of more than 10 orders per month, translating to roughly over RMB1,500 in monthly spending.
During its industry event on Wednesday, Taobao Live announced its aim to help 2,000 livestreaming channels on the platform and 200 of its ecosystem partners each achieve annual sales of RMB100 million.
It will also give livestream presenters access to an official pool of products listed from Taobao and Tmall. All products are prescreened and offer livestreamers, who might not have the capability to have their own quality-control team, an efficient resource to find and explore quality products to recommend to their followers.
This year, Taobao Live also plans to build 300 physical livestreaming centers, which will serve as workspaces and professional filming studios for influencers and merchants. It will also continue to train farmers and aspiring livestream hosts from rural regions through its 102 dedicated training facilities across the country, which have helped cultivate 10,000 new livestreamers so far.
As of March, a total of more than 100,000 farmers and rural livestreamers have broadcast 2.52 million sessions via the platform.
"This past year, we've made not only digital advances, but we've also made heartwarming memories by innovating for good," said Alibaba's Yu Feng.

"Looking ahead, we are committed to further investing in and developing innovative technologies and services to better support our partners."
Sign up for our newsletter to receive the latest Alibaba updates in your inbox every week.