Alibaba Group's entrepreneurship competition Jumpstarter 2022 is wrapping up with a celebration of innovation, technology and creativity in Hong Kong next week, featuring guest appearances from humans and robots alike.
In other news, another Alibaba entrepreneurship course called NetPreneur Masterclass is also gearing up for its second edition in Europe and will be accepting Portuguese entries for the first time.
Alibaba also received international accolades for its anti-counterfeiting measures this week.
Roll up! Roll up! The Jumpstarter Tech Pop-Up is Next Week
Check your inbox because invitations have landed for the Jumpstarter event next week, where you can immerse yourself in the world of art tech, NFTs, Web 3.0, start-ups and the metaverse.
In the opening keynote, Alibaba Group Executive Vice Chairman Joe Tsai will moderate a discussion between New World Development CEO Adrian Cheng and Animoca Brands co-founder Yat Siu on how the metaverse will shape our lives by 2030.
Audiences can expect a thought-provoking conversation with Hong Kong's leading finance experts, tech gurus and artists in English and Cantonese.
The top ten finalists of Jumpstarter 2022's competition will also make an appearance and audiences will get up close and personal with their entrepreneurial innovations ranging from CO2 vacuums to portable medical imaging devices.
If this isn't enough, get ready to play catch with Boston Dynamic's robotic pup SPOT, the first of its kind in Hong Kong deployed by robotics start-up RC2C.
And catch previously unseen footage of local filmmaker Wong Kar-wai's masterpiece In the Mood For Love preserved by blockchain technology as a non-fungible token.
Register here to view online or visit the event in person
Explore China's Digital Economy with an Alibaba Netpreneur Masterclass
Mark your calendars because next week the second edition of Alibaba's Netpreneur Masterclass kicks off in Europe.
The four-week online and hybrid course teaches budding and experienced entrepreneurs how to harness digital technology to transform their businesses and the local economy.
Business leaders from across Alibaba and China will share the latest trends and practices shaping China's digital economy and discuss approaches and frameworks for building a successful and innovative company in today's digital world.
"[It is] an unparalleled training initiative that offers entrepreneurs, company founders and decision makers exclusive training, with top-notch teachers, to thrive in the digital economy," commented Rodrigo Cipriani Foresio, General Manager Alibaba Group Southern Europe.
This year, the program opens for the first time to Portuguese entrepreneurs. Lessons will be online and in-person, and selected alumni from last year's program will also attend the opening and closing events in Milan on May 9 and Madrid on June 14.
Alibaba Global Initiatives and its partners – the Italian Trade Agency, Netcomm, and other trade agencies and digital commerce organizations sponsor the program.
President of International Anti-Counterfeiting Coalition Praises Alibaba's IP Protection
The International Anti-Counterfeiting Coalition (IACC) held its annual meeting in Washington, D.C. last week where Alibaba's President Michael Evans gave a keynote speech on the company's efforts to protect intellectual property rights (IPR) and engage the community of IP stakeholders.
IACC President Bob Barchiesi introduced Alibaba to a packed room of 500 people saying, "Alibaba has so substantially enhanced their IPR protection program to the point that we and many of the stakeholders are comfortable in referring to the intellectual property rights protection program as the gold standard within the e-commerce industry."
Such support shows a sea change in attitude towards Alibaba's IP protection efforts in the six years since Evans first spoke to the IACC's membership. Then, many in the audience questioned the company's commitment.
Evans said over the past six years, Alibaba's guiding principles have remained the same: being responsive and proactive; partnering with brands; and collaborating with all stakeholders, including government regulators and law enforcement.
Evans assured the audience that Alibaba remains committed to continuously adapting its approach and working closely with brand partners and other stakeholders, including government agencies, law enforcement, and trade associations, to protect IPR.
Learn more about Alibaba's IPR protection program here
Go Camping! Fliggy Helps First-time Campers Enjoy the Great Outdoors
Chinese campers stayed near their home city to enjoy the Labor Day holiday, traveling an average of just two hours, according to Alibaba's online travel platform Fliggy.
Local bookings accounted for 80% of the online platforms' orders between April 30 and May 4. People likely stayed close to home because there were outbreaks of Covid-19 in some Chinese cities last month.
Qi Liu, the business leader of Online Travel Service, said that Fliggy teamed up with local tourism spots from China's Southwest city Chengdu, providing catering, barbecue services and live music shows, which helped boost local orders.
"Camping, Rural Tourism, and Sports Tourism" were trending words on its site for the week-long holiday. Camping orders increased 3.5 times compared with last month, the platform said in a statement.
Fliggy said 90% of the campers were young customers born in the 1990s and parents in their early forties. Hangzhou, Chengdu, and Guangzhou were the top three popular camping sites.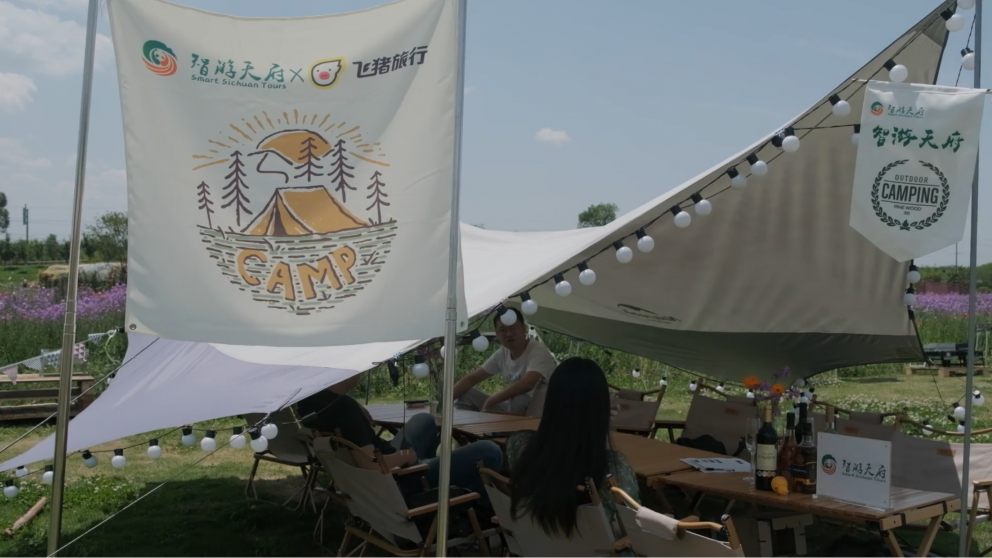 DAMO Academy Open Sources its Federated Learning Platform for Privacy-Preserving AI
This week, Alibaba research institute DAMO Academy opened the source code of its latest federated learning platform FederatedScope to facilitate research on privacy-preserving computation.
Training machine learning models usually require reams of data to be collected on a centralized server for the algorithm, potentially putting sensitive user information at risk.
"Training AI models without compromising privacy is critical, and that's why we have devoted a lot of resources to drive the research of federated learning," said Ding Bolin, Research Scientist at Alibaba DAMO Academy.
Federated learning enables decentralized machine learning while keeping all the training data on the device. Instead of sending raw user data across different end devices to the cloud server, it sends intermediate training results to the cloud, making it possible to take advantage of machine learning while minimizing the need for data transfer.
According to Gartner, 60% of large organizations are expected to use one or more privacy-enhancing computation techniques by 2025.
"We hope that by sharing our source codes and technology platform, we can support global developers in the community and encourage more innovation in this emerging field," said Ding.
DingTalk Launches XR-Driven Workspace to Support Remote Working
Alibaba's workplace communication and collaboration platform DingTalk launched an extended reality (XR)-driven workspace on Thursday.
Users can download the software from DingTalk's official website and use Rokid Air augmented reality glasses to access a range of XR features, from attending meetings virtually to tracking messages and operating three virtual screens simultaneously.
The XR feature also supports voice control, making it easier for workers to communicate remotely even when their hands are tied, literally. For example, manufacturing workers can use the XR features to communicate with experts remotely for advice on projects while working in the field.
DingTalk expects use case in other sectors, such as telemedicine, remote education and remote construction monitoring.
AC Milan's Chinese Fans Score Big in Tmall Launch
Italian football powerhouse AC Milan opened a flagship store on Alibaba Group's B2C e-commerce platform Tmall earlier this week to engage with its large and growing base in China.
The seven-time Champions League winner is the best-regarded Italian club in China, where it boasts roughly 146 million followers – more than the populations of France and Italy combined.
"[The launch] will bring the many Chinese Rossoneri fans even closer to their favorite team, through a unique shopping experience that takes advantage of the latest digital innovations," said Rodrigo Cipriani Foresio, General Manager at Alibaba Group Southern Europe, in a statement.
China's massive sports market doubled in size between 2014 to 2019 to reach 1.1% of the country's entire GDP and is expected to reach 4% by 2035, according to the General Administration of Sport of China.
Read more here
What is Amap – Alibaba's Lifestyle Super App
Alibaba's navigation platform Amap has come a long way since its early days as a simple map and location finder.
Amap is now integrated with other local services such as commerce resource Koubei and travel booking tool Fliggy to form an all-encompassing app catering to every facet of daily life in China.
In this video, Alizila looks at how a quick search on Amap yields everything from restaurant reviews to bike rental information.
Watch now
Hong Kong Start-Up Gense Tech Seeks To Relieve Pressure on Hospitals During Pandemic
The memory of the coronavirus pandemic overwhelming public health services looms large for Hong Kong-based start-up Gense Technologies, which is working to ease the pressure on hospitals by making portable imaging devices widely available for at-home use.
"Hospitals are overburdened," Gense Tech CEO and co-founder Justin Chan told Alizila. "If we can move some of the detection or screening outside of hospitals…then it helps with the burden."
Gense Tech's diagnostic tool helps patients detect and manage some of the world's costliest liver, lung, and kidney diseases with cloud-based devices from the comfort of their own homes.
The start-up has picked up more than HK$24 million ($3.1 million) in private and public funding, and was one of two winners at this year's Jumpstarter competition sponsored by the Alibaba Entrepreneurs Fund.
Give the story a full scan here