Editor's note, 11.21.19: This story was updated with new information about the number of neighborhoods hosting recycling stations for National Cardboard Box Recycling Day and the total number of people that have participated in the "green 11.11" campaign.
Alibaba Group for this year's 11.11 Global Shopping Festival generated 1.3 billion delivery orders. That's a lot of boxes.
The sheer size of 11.11 – and resources needed to pull it off – is not lost on the e-commerce giant. So, Alibaba has committed to making the world's largest one-day sale as much about sustainability as consumption.
"In the past 10 years, we've continued to set new GMV records and with that our responsibility has grown," said Jiang Fan, president of Taobao and Tmall. "For 11.11 this year, it will not only be about our GMV volumes but also about sustainable development."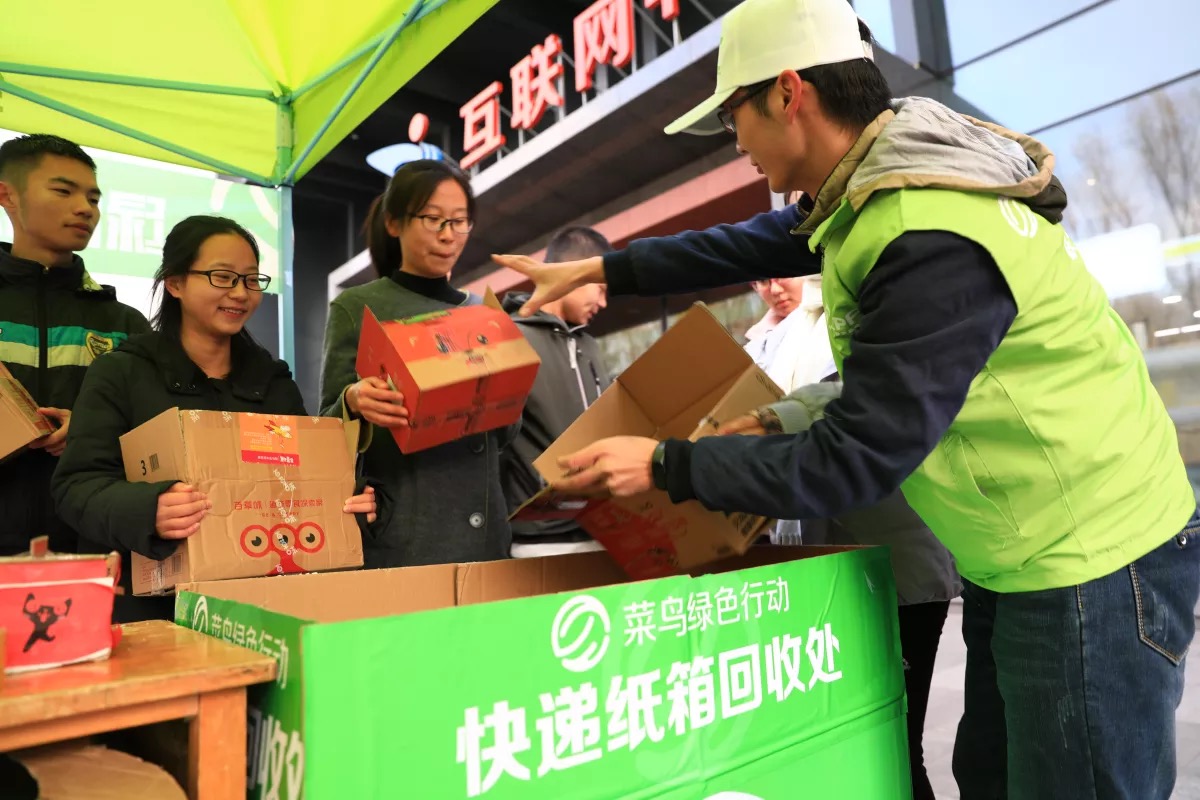 To that end, he said Alibaba has set up recycling stations for unwanted shipping boxes and bags – 40,000 of them – across China through its Cainiao Smart Logistics Network, while its express-courier partners are hosting an additional 35,000. These 75,000 locations will continue to serve as permanent recycling stations after the sales event, helping to recycle over 100 million boxes annually, according to Alibaba's estimates. Alibaba will also establish Nov. 20 as "National Cardboard Box Recycling Day" in China, rolling out flash recycling stations across 220 neighborhoods in Shanghai, Beijing, Guangzhou, Shenzhen and Hangzhou that day.
For every box recycled at Cainiao recycling stations, consumers can scan a QR code via their Taobao, Cainiao or Alipay apps to receive "green energy" points on Alipay's mini-program Ant Forest. Their points can be redeemed to plant real trees in China's most arid areas, such as desert regions in Inner Mongolia, Gansu, Qinghai and Shanxi.
WATCH: What is Alipay Ant Forest
Alibaba previously said it expects more than 50 million people to participate in green logistics efforts during the shopping festival. Consumers can get involved both online and offline, from making eco-friendly purchases to recycling packaging. By the end of Nov. 11, more than 200 million people have participated in the 11.11 go-green campaign, the company said.
Ahead of the event, consumers can pledge to join the recycling effort on Mobile Taobao and receive "Meow Coins," an interactive game currency that converts to shopping discounts for 11.11. More than 20 million people had made a pledge on the app as of Nov. 11.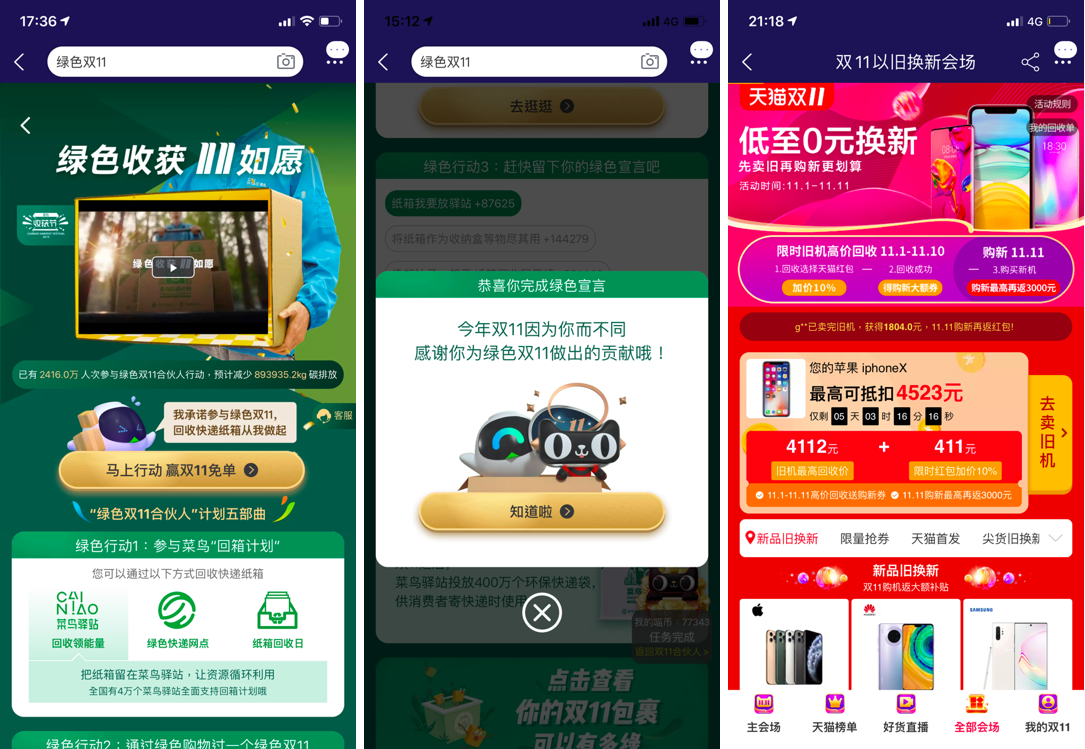 Alibaba is also encouraging consumers to recycle their unwanted products, rather than throw them away. From Nov. 1-11, it hosted a gadgets and electronics "trade-in" program across the Taobao, Idle Fish and Alipay apps. Consumers can book free pick-up for used devices spanning 80 categories – from phones and laptops to air-conditioners and laundry machines – and receive compensation for the recycled items, as well as special discounts to buy new items. For example, consumers can receive up to RMB 4,112 ($587) for recycling an iPhone X smartphone, as well as red packets worth about RMB 411 to buy a new model.
Tmall, Alibaba's B2C e-commerce marketplace, has spotlighted environmentally friendly products, as well, such as by recruiting over a hundred rural livestreamers to promote saltwater rice, a more-sustainable alternative to the water-intensive crop thats grown in diluted seawater rather than fresh water. The platform sold 358,000 kilograms of saltwater rice only 10 days into 11.11 presales. This represents the equivalent of 716,000 square-meters of land that had been transformed from salt-affected "waste land" into arable land.
Nearly 40 brands on Tmall, such as L'Oréal and Giorgio Armani Beauty, have opted into using eco-friendly packaging materials, such as boxes that don't require sealing tape. They have shipped out a combined 150 million plastic-free boxes in the past year, helping to reduce more than 200 million meters of plastic tape. Cainiao also partnered with Tmall Supermarket and Lingshoutong to promote the reuse of boxes in daily operations. More than 70% of their deliveries today are shipped in reused cardboard boxes instead of new packaging.
When consumers do their grocery shopping at Alibaba's Freshippo supermarket, they receive Ant Forest green energy points when opting out of plastic bags. Freshippo shoppers have contributed nearly 1 billion points up until October, the equivalent of planting 560,000 saxual trees. Freshippo also sought to further its plastic-waste reduction efforts via designing more-efficient packaging, which has helped reduce about 70 tons of plastic.
This comes as Chinese consumers become increasingly environmentally conscious. Earlier this month, Alibaba Group's research arm, AliResearch, said more than 380 million consumers have purchased eco-friendly products on Taobao and Tmall in the past year, the majority of whom are young: About 41.8% of these consumers were born after 1990 and 32.9% were born after 1980. On the platforms, searches for keywords such as "biodegradable" went up by 284%, while "garbage-sorting" increased by 2000 times.
These measures follow Cainiao's most comprehensive green campaign to date: Alibaba Green Logistics 2020. The campaign represents joint efforts across the company to improve material recycling, packaging, route-planning and delivery methods to reduce waste and promote sustainability.
Cainiao said its self-developed smart-packaging algorithm, which assesses purchased items by category, volume, weight and area, and then matches the goods to the most space-efficient form of packaging, helps improve packaging efficiency for about 290 million parcels each year and cuts the amount of wasted materials due to overpacking by 15%. To save paper, Cainiao also expanded the use of e-shipping labels to replace traditional paper stickers. It applied e-shipping labels to about 100 billion parcels in the last five years, helping offset 1 billion kilograms of carbon emissions.
"Green logistics are an essential part of our business model," Niu Zhijing, who heads Cainiao's Go Green Campaign. "We believe that sustainability can be only tackled through joint efforts across the value chain, from packaging suppliers, e-commerce platforms and brands to express-delivery companies, consumers and policymakers. All stakeholders need to act together."
"We want to inspire consumers to action, too, by making it easier to participate through small actions," Niu said.