Alibaba Group on Monday kicked off the 2019 11.11 Global Shopping Festival, the world's largest one-day shopping extravaganza, promising that this year would be bigger than ever in both scale and reach.
More than 200,000 brands will participate in what is the 11th 11.11, according to Alibaba, 22,000 of which will be from 78 overseas markets. The number of new products available on offer alone is at 1 million, and more than 500 million users are expected to participate during those 24 hours – about 100 million more than last year. The e-commerce and media giant also plans to distribute more than RMB 2 billion ($282 million) worth of "red packets," or digital cash vouchers, while hosting over 2,000 key opinion leaders on its platforms via livestreaming to showcase products and boost engagement with consumers for brands that want to leverage China's seminal shopping event to expand their customer base.
Speaking at a press conference in Shanghai, Tmall and Taobao President Jiang Fan said there were two trends driving the 2019 11.11 season, giving rise to these numbers: new consumption and new business. As China continues to undergo a massive upgrade in consumption, among both city dwellers and those in so-called lower-tier areas, there is an opportunity for Alibaba and the merchants on its platforms to move to meet that demand.
WATCH: 2019 11.11 Global Shopping Festival Kicks Off
"Our goal is to stimulate consumption demand and support lifestyle upgrade in China through new brands and products," Jiang said, who announced that pre-sales for 11.11 had begun at midnight, officially starting 11.11 season. "We will enable merchants in China and around the world to grow their businesses through data-driven product innovation and consumer insights, as well as leverage our recommendation technology and content-driven user engagement to delight consumers in urban coastal cities and less-developed areas of China."
Higher Spending in Lower-Tier Markets
The rising consumption power in China's lower-tier areas has created a new channel of growth for Alibaba, as these consumers see their earnings – and now, their spending – increase. Alibaba said that 226 million new mobile monthly active users had joined Taobao over the past two years as of June 2019. In fiscal 2019, 70% of them were from lower-tier areas.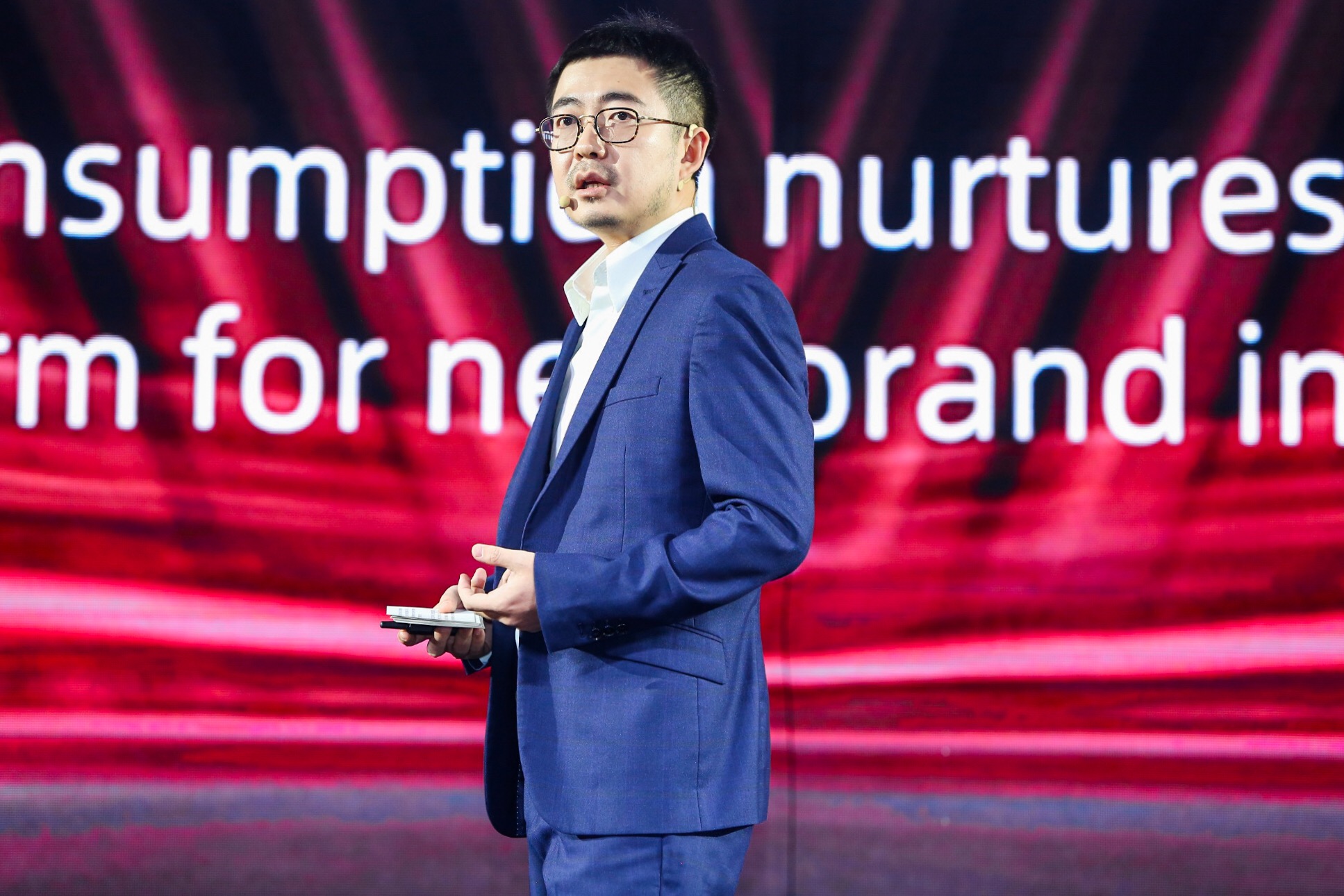 To highlight their growing prominence, Alibaba Group Chief Marketing Officer Chris Tung appeared at Monday's press conference via livestream from the northern Chinese city of Harbin.
"The success of our focus on less-developed markets in China is reflected in our new customer acquisition growth," said Alibaba Group CMO Chris Tung. "We are equally driven to help local enterprises and factories digitize, which improve their operational efficiency and ability to engage with customers across the country."
Tung was referring to Alibaba helping China's factories digitize their operations and improve their businesses by giving them access to analytics, Internet of Things technology and marketing tools. These tools will allow them to manufacture more products to meet the demands of consumers from these less-developed areas, Alibaba said.
Brands recognized the importance of this demographic as well.
"It's critical for our future growth to target lower-tier consumers. They are spending more and more than before," said Oliver Cheng, vice president of sales management in Philips Greater China's personal health division. "We will have a lot of new initiatives to try to engage these consumers during 11.11, and we will promote products, such as shavers, oral healthcare, toothbrushes and skincare, to make their lives better and improve their shopping journey."
Consumer Engagement Gets an Upgrade
Tmall this year has rolled out new ways for brands to reach those hundreds of millions of consumers shopping on Alibaba's platforms – 730 million annual active consumers in China by the company's most recent count. In July, the B2C shopping site unveiled the Tmall Flagship Store 2.0, which delivered a range of new tools available to brands for interactive marketing. Through the revamped storefronts, brands can now create more-personalized experiences for consumers, create content tailored to loyal customers and help drive foot traffic to brick-and-mortar stores offline.
"Taobao and Tmall previously offered a standard mode of shopping, but we want to offer more personalized experiences and allow different industries to customize according to their needs and inspire the creativity of third-party developers and use innovation to bring higher efficiency," Jiang said during the press conference. "Flagship stores are not only shelves for products, but channels for service and touch points for marketing."
Tom Ford, MAC, Giorgio Armani Beauty and Victoria's Secret, will roll out the upgraded Tmall flagship stores for the 2019 11.11, while Jiang said that Alibaba would work with 10,000 brands in the coming year to upgrade their Tmall flagship stores as well.
The flagship enhancement was just one way that brands are increasingly leveraging the entire Alibaba ecosystem to expand their business and reach ever-greater numbers of consumers – and not just in China.
"Alibaba for us is not just an e-commerce relationship," said Rohit Jawa, executive vice president of North Asia for Unilever. "We are increasingly now connected across various parts of the ecosystem."
In addition to Tmall and Tmall Global, Alibaba's dedicated cross-border e-commerce site, Unilever also leverages Cainiao, Alibaba Cloud, Alipay, B2B platform Lingshoutong and even Youku to reach consumers via video content, Jawa said.
"We're also working on how we can make this an even more-deep relationship, not just in China, but elsewhere in Asia through Lazada and even across the world," he said.
Chinese Festival, Global Audience
Similar to recent years, Alibaba will also host a "See Now, Buy Now" runway show and Countdown Gala Celebration in the run-up to the 2019 11.11. The two-hour, livestreamed show, called Tmall Collection, will take place Monday night in Shanghai just hours after the kickoff press conference. Aimed at China's Millennial and Generation Z consumers, the show will feature not just clothing and apparel but also fast-moving consumer goods and electronics from 24 Chinese and international brands, including MAC, Levi's, Polo Ralph Lauren, Johnnie Walker, Sisley and Burberry.
WATCH: 'See Now, Buy Now' the Products Available for 11.11
At the gala, held Nov. 10 in the hours just ahead of 11.11's midnight launch, will again air live from Shanghai's Mercedes Benz Arena on Alibaba's video-streaming hub Youku. And not only Chinese audiences will see the show. Through partnerships with Zhejiang TV and Shanghai Dragon TV, as well as distribution on nearly 30 other platforms and TV channels, the gala will reach 50 countries and regions globally.
In addition, Alibaba's Southeast Asian flagship platform, Lazada, and South Asian platform Daraz will take part in 11.11 for the second time, comprising 11 markets in those regions. Also, India will celebrate through the UC Shopping Festival, in association with Paytm, VMate and 9Apps. B2C shopping site AliExpress, which connects international consumers with Chinese companies and products will bring merchants from Russia, Spain, Italy and Turkey into the 11.11 fold for the first time.
Making 11.11 Green
"In the past 10 years, we've continued to set new GMV records and with that our responsibility has grown," Jiang said. "For 11.11 this year, it will not only be about our GMV volumes but also about sustainable development."
To that end, he said Alibaba would set up more recycling stations – 40,000 of them – across China through its Cainiao Smart Logistics Network, while its express-courier partners would host an additional 35,000. Consumers will also be rewarded "green energy" points on Ant Forest for their recycling efforts.
In addition, Alibaba will also establish Nov. 20 as "National Cardboard Box Recycling Day" in China, converting those 75,000 locations into permanent recycling stations.
Additional reporting by Liyan Chen and Megan Tung.