Alibaba Group's 13th annual 11.11 Global Shopping Festival is underway.
The 11.11 Global Shopping Festival began in 2009 with participation from just 27 merchants as an event for merchants and consumers to raise awareness about the value of online shopping. It is now by far the largest shopping festival globally.
We invite you to follow our live blog this year as we share updates, insights and a behind-the-scenes peek into the making of the world's largest shopping festival.
That's a Wrap, Folks!
We've been on quite a journey over the past three weeks. The 2021 11.11 Global Shopping Festival is done and dusted with a tidy — and record-breaking — RMB540.3 billion ($84.5 billion) in gross merchandise value. 
Meanwhile, two brands surpassed RMB10 billion in GMV for the first time in history while a whopping 36 topped RMB1 billion. And can you believe that products bought during 11.11 have traveled to 224 countries and regions?!
This year's 11.11 was Alibaba's most sustainable and inclusive shopping festival to date. More than 2.5 million consumers purchased green products on Tmall during the sales period and green packages sent out from Cainiao sent out roughly 90 million green packages between October 21 and November 14.
We are now winding down this live blog, but fret not — same time and place next year! Thank you for tuning in and zàijiàn from the Alizila team.
AliExpress Lives Up to Name on 11.11
Alibaba Group global marketplace AliExpress reported faster delivery and strong sales during the 11.11 Global Shopping Festival this year, said a release from AliExpress on Monday.
The company's 11.11 sales ran from Nov. 11 to Nov. 13 this year. The sales of goods from AliExpress in Brazil in the first 15 minutes of Nov. 11 equaled that of the first hour last year. Meanwhile, in South Korea, it took 23 minutes for the sales of goods to surpass the first-hour gross merchandise value achieved last year.
AliExpress cut down its dispatch and delivery time during 11.11 by upgrading its logistics network. Earlier this year, the platform and its logistics partners built five new warehouses in China for companies to pre-stock goods and deliver products faster. In Europe, its warehouse system was also expanded with additional warehouses in Germany, France, Poland and Italy.
A League of Their Own: Apple and L'Oréal Hit RMB10 Billion in 11.11 Sales
Apple and L'Oréal saw their 11.11 sales hit RMB10 billion (US$1.4 billion) each, scoring an all-time high for brands in the history of the 11.11 Global Shopping Festival, Alibaba Group reported on Friday.
This is a remarkable achievement. No brand, let alone two, has ever earned more than RMB10 billion in gross merchandise value (GMV). Other brands reached new personal bests as 36 companies saw their GMV shoot above RMB1 billion and a further 485 brands reached over RMB100 million.
This year Alibaba reached a record-breaking RMB540.3 billion in final GMV. The company said its "steady and quality growth" this 11.11 revealed China's dynamic consumption power.
How to Turn China's 11.11 Shopping Festival Into Year-Long Success
The party's over and gala gowns are going back into storage…Now the work begins again!
Already merchants are turning their minds to 11.11 next year, mulling how to turn the traction gained among Chinese consumers during the festival into sustainable growth in the world's second-largest economy.
Retailers have traditionally used gross merchant value (GMV) as a yardstick and investors have applauded the ever-swelling metric. Between 2014 and 2019, the compound annual growth in 11.11 GMV for the sector was 35% as more shoppers took part.
However, there is a new definition of 11.11 success, consultants at Bain & Co point out in a new report, one that's anchored in customer loyalty as well as customer acquisition.
Record-Breaking Statistics Keep Rolling In
Alibaba Group reported RMB540.3 billion (US$84.54 billion) in gross merchandise volume (GMV) at midnight on November 12, a new record high for the company's 11.11 Global Shopping Festival.
A record-breaking 290,000 brands participated this year, including 78 businesses that saw their GMV grow more than ten times compared with last year to hit above RMB100 million. Another 698 brands made the leap from RMB1 million in GMV last year to over RMB10 million this year, according to the company.
Young millennials and Gen-Z made more purchases than ever. More than 45% of shoppers this year were born after 1990, while the number of 2000s babies buying up goods grew 25% year-on-year.
Alibaba's 11.11 Mega-sale Closes on a High Note
As the clock strikes midnight, Alibaba Group has officially concluded its thirteenth-annual 11.11 Global Shopping Festival with a record-breaking RMB540.3 billion (US$84.54 billion) in gross merchandise volume.
"This 11.11 Global Shopping Festival, we delivered steady and quality growth that is a reflection of the dynamic Chinese consumption economy," said Yang Guang, vice president at Alibaba Group.
"We also leveraged the power of 11.11 as a platform to fulfill our social responsibility. This year's festival was a meaningful milestone as part of our commitment towards building a sustainable future."
You can find our full wrap-up story here.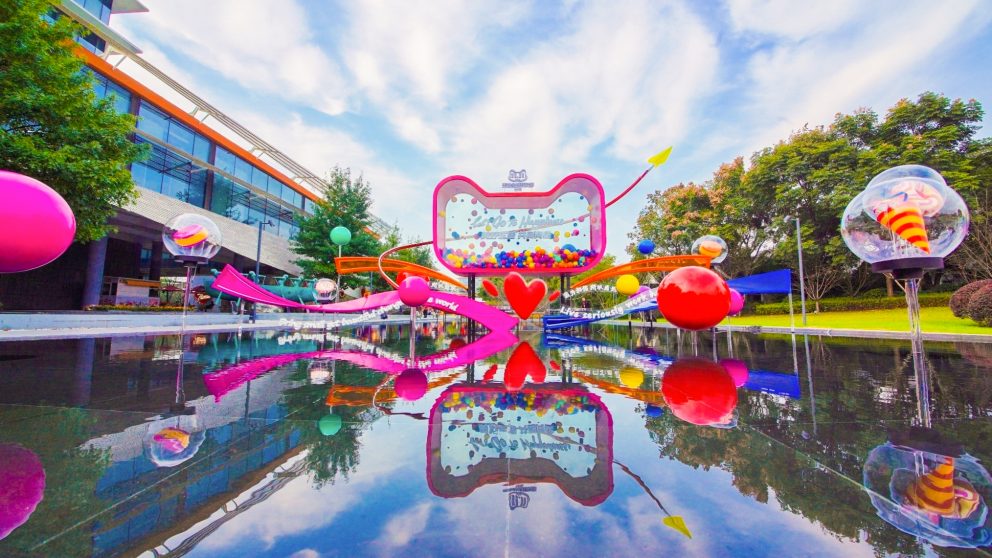 Good Heavens!
Alibaba Group ran this year's 11.11 Global Shopping Festival on the public cloud, said Cheng Li, Alibaba's Chief Technology Officer.
Alibaba used its self-developed Shenlong architecture and its cloud-native database PolarDB to support its cloud-native approach, Cheng said during a sharing session held on Thursday by a group of Alibaba's executives.
"11.11 is an important testing ground for technology," said Cheng.
Small is Beautiful
About two-thirds of 290,000 merchants participating in this year's 11.11 Global Shopping Festival, are small and medium-sized enterprises (SMEs), industrial firms and new brands, said Yang Guang, vice president of Tmall, the highest proportion ever.
About 70,000 of these merchants were participating in the annual sales event for the first time, said Yang during a panel discussion of 11.11 among a group of Alibaba Group executives held on Thursday.
Apple and L'Oréal Kick Off Big Day with RMB100 Million in GMV
Consumer tech company Apple and beauty retailer L'Oréal topped RMB100 million ($15.6 million) in sales between midnight on November 1 and 00:45 on November 11, Alibaba Group reported on Thursday.
They are among 382 brands that saw their gross merchandise value (GMV) surpass RMB100 million in the 10 days before 11.11. Also in the same category are popular Chinese brands including Huawei and ERKE, and upcoming brands such as lingerie brand Bananain and smart home device brand TINECO.
40 brands which recorded more than RMB10 million in GMV during last year's 11.11 have already surpassed RMB100 million in GMV this year, with almost a full day to go before the event officially ends.
Good Morning and Get Ready
We've made it to the big day! November 11 is here: a date brands and customers across Alibaba Group platforms wait all year for.
So pour yourself some coffee, get your scrolling finger ready and stay tuned as we share the latest sales figures and news on the world's biggest shopping festival.
Counting Down: 11.11 Gala Going Live
Alibaba Group's 11.11 Countdown Gala Celebration is set to kick off on Nov. 10 at 7:30 p.m. at the Mercedes-Benz Arena in Shanghai – in the few hours running up to the final leg of the world's largest shopping festival.
While it will not have a live studio audience amid an outbreak of new Covid-19 cases, this year's event will be broadcast live by Youku, Zhejiang TV, Shanghai Dragon TV and other partners.
The gala will feature appearances from celebrities including Zhou Dongyu, Jackson Yi, Li Ronghao as well as track star Su Bingtian, who became the first Chinese sprinter to compete in the men's 100-meter final at the Olympic Games Tokyo 2020. English actor Benedict Cumberbatch will also virtually make a "surprise appearance" at the gala.
Digital Experience Draws Chinese Consumers on a Shopping Spree for Luxury
China is luxury's growth engine, as this year's 11.11 shows. During November 1 to 3 sales window, the number of luxury buyers in China grew more than 40% year-on-year, Alibaba Group reported Tuesday.
The number of luxury buyers from lower-tiered cities increased close to 50% year-on-year, according to recent sales data. Consumers from nearly 400 cities in China placed orders on Tmall Luxury during this 11.11, defying the expectation that luxury is limited to urbanites.
Fueling the rise in spending on luxury in smaller cities and remote towns, is partly the digital experience. Buyers in lower-tier cities, who do not have access to brick-and-mortar stores of luxury brands, move their browsing online, powered by Tmall Luxury's virtual try-on services.
ESports Accessories and Other Emerging Consumption Trends to Watch
Chinese esports team Edward Gaming (EDG) was crowned champion in the 2021 League of Legends World Championship on Saturday, in a game that riveted young people across China.
That drove another wave of sales for esports accessories on Tmall, Alibaba Group's online marketplace. Gaming desks and chairs, mouses, graphics cards and gaming laptops are already among the most popular products list for this year's 11.11, as esports go mainstream.
Gaming chairs' Gross merchandise volume (GMV) increased by 300% for this year's sales event, while Intel's 12th Gen processor, which Intel says is the world's best gaming processor, sold out soon after sales started.
Apart from esports accessories, designer toys and Chinese heritage-themed goods are also what young consumers are gravitating towards this year.
Consumers From Smaller Cities and Rural Areas Power This 11.11
Spending by consumers in lower-tier cities and rural areas increased by nearly 25% during 11.11's November 1 to 3 sales window, Alibaba Group reported Monday.
Gross merchandise volume (GMV) of robot vacuum cleaners in lower-tier cities and rural areas increased 122.5% compared with last year, while the sales of dishwashers in the regions reported a 47.1% increase.
Consumers in lower-tier cities, including less-developed urban centers and rural areas, are driving the next wave of consumption growth in China. According to China's National Bureau of Statistics, the per capita disposal income of those living in rural areas grew 19.1% in the first half of this year, nearly twice as fast compared to urban residents year-on-year.
Inside the Making of Taobao's 'Senior Mode'
Shao Xi, the project manager overseeing Taobao's "senior mode," spoke to media in a livestreamed event on Wednesday, sharing the backstory behind the new elderly-focused version of China's top shopping app.

Alibaba Group has stepped up its focus on inclusivity during the 11.11 sales period with more than 900 million shoppers expected to take part this year. Taobao's senior mode features larger texts and icons and voice-assisted technology, making it easier for senior citizens to search for products using voice commands.

"Population aging is not just a looming trend but already a reality in China, so finding ways to help them adapt to the digital world has become increasingly important," Shao said.
AliExpress Breaks into Green Scene with Logistics Push, Product Spotlight
Alibaba Group's online marketplace AliExpress has established a dedicated vertical for eco-friendly products and integrated green logistics ahead of this year's 11.11 Global Shopping Festival.
The upgrades place green products in the spotlight, ranging from energy-efficient electronics to water-saving home appliances, and leverage AliExpress' self-pickup locker network in Europe to shrink the carbon footprint for its last-mile logistics.
All Hands on Deck as Tmall Launches Green Alliance
Tmall, Alibaba's online marketplace, launched a green alliance with 14 brands on Tuesday to promote green production and consumption among merchants.
"We believe if there are more green suppliers, there will be more low-carbon consumption. And if there are more green production, it will lead to greener lifestyle," reads the alliance's appeal.
The green alliance called for brands to adopt green production and logistics, use more green energy and green data centers. It is also encouraging people to embrace a low-carbon and eco-friendly lifestyle. More efforts are needed to protect the natural environment, the appeal said.
iPhones are the Apple of Consumers' Eye this 11.11
In the first second of sales on November 1, shoppers bought RMB300 million (US$47 million) worth of iPhones — a figure which grew within four minutes to eclipse all iPhone sales on the first day at last year's 11.11 Global Shopping Festival, according to Alibaba Group.
Apple is one of around 2,600 brands that saw sales in the first moments of day one surpassing last year's November 1 full-day Gross Merchandise Value (GMV), including electric car manufacturer Xpeng, smartphone brand Vivo and consumer electronics company Xiaomi.
A record 290,000 brands are offering more than 14 million deals during this year's 11.11 in tandem with cross-store rebates and sustainable product shopping vouchers.
11.11 Shoppers Score 120,000 Green Home Appliances in 9 Hours
Consumers bought more than 120,000 eco-friendly and energy-efficient home appliances over the first nine hours of sales at the annual 11.11 Global Shopping Festival, Alibaba Group said in a release on Monday.
Tmall, Alibaba's online marketplace, saw its newly launched green vertical for sustainable brands and products experienced a surge in orders in the early hours of Monday morning, shortly after sales started.
How Big is Your Carbon Footprint? Cainiao Helps Consumers Measure Improvements
Less is more, so the saying goes, and carbon emissions are no exception. Cainiao Network, Alibaba Group's logistics arm, rolled out a new feature on Monday enabling customers to check and share how they've reduced their carbon footprint over the year with green logistics.
By searching "delivery package recycling" on Taobao and Cainiao apps, users can check the number of green packages they've received since last year's 11.11 Global Shopping Festival, as well as the number of times they used old cardboard boxes for shipping at Cainiao Post pick-up points.
The app will then calculate how much consumers reduced their carbon footprint annually, by adopting those green measures.
Cainiao's Logistics Tech Helps Alibaba Dodge Pandemic Fallout
Cross-border e-commerce business remains robust despite Covid-19 logistics challenges, said Alibaba Group chief marketing officer Chris Tung.
The pandemic had an undeniable toll on the economy and society, he noted at an international press panel on Wednesday, acknowledging that the company's logistics and supply chain took a hit.
But all is not lost, Tung explained, as Alibaba logistics platform Cainiao Network incorporates the latest technology to deal with the pandemic's effects.
One For All, All For One (Million) this 11.11
1.1 million people are expected to benefit Alibaba Group's Goods for Good philanthropic program during this year's 11.11 Global Shopping Platform, with the company donating RMB1 (US$0.16) for every purchase shoppers share on social media.
Launched in 2006, the initiative lets merchants pledge a portion of their sales to a charity of their choice. When consumers purchase the "Goods for Good" products on Taobao, the platform directly transfers the money to the charity organization.
This year Alibaba will make an RMB1 donation for every 11.11 purchase successfully shared on social media by consumers. And for Tmall merchants whose donated proceeds exceed a certain limit, they will earn a label that recognizes their philanthropic efforts from Taobao.
Better Together: Alibaba Platforms Join Up Ahead of 11.11
Alibaba Group chief marketing officer Chris Tung stepped into the shoes of shoppers on Wednesday to describe his vision for a seamless browsing experience between the company's e-commerce platforms.
"As a consumer, I'd want to be able to browse freely from platform to platform and have an overall convenient online shopping experience," said Tung on Wednesday. "But as an Alibaba employee, the openness excites me even more."
Bridging these gaps also improves operational efficiency for merchants, who are able to engage in more promotional initiatives on their Tmall flagship stores.
Green Home Appliances are Stars of the Pre-Sale Show
More than 20,000 shoppers scooped up green home appliances during the first two hours of 11.11 pre-sales on October 20, helping to save 300 tons of carbon emissions that would otherwise come from the manufacturing and use of inefficient devices.
The products, ranging from refrigerators to heaters, hold an official Green Product Certification that buyers can redeem green shopping vouchers on. Purchasing these eco-friendly appliances will also earn consumers Alipay Ant Forest points that they can watch become real trees planted in China's dry regions.
Q&A: Tmall Global's Anita Lyu on Cross-Border E-Commerce Trends to Watch
Tmall Global has ramped up preparations under the watch of general manager Anita Lyu.
Thanks to recent upgrades, brands using Tmall Global can include short videos from influencers and Key Opinion Consumers (KOCs) on their product pages, while a freshly launched warehouse network facilitates next-day deliveries in China. What's more, a new production facility is helping global manufacturers customize products for Chinese consumers.
Level Unlocked: Livestreaming Channels Hit RMB10 Million in Pre-Sales
Seven days in and 165 Taobao livestreaming channels have reached more than RMB10 million (US$1.6 million) in total pre-sales, the platform announced.
Taobao Live, used by brands to promote products on Taobao's virtual marketplace, launched a range of new livestreaming features ahead of this year's 11.11 including content marketing resources and brand channel membership programs, Alibaba Group chief marketing officer Chris Tung told an international press panel on Wednesday.
Go Green or Go Home This 11.11
Alibaba Group is encouraging shoppers to consume with care at this year's 11.11 Global Shopping Festival, Chris Tung, the company's chief marketing officer.
"With the influence and reach of 11.11, I think this is the best chance for us to not only help to sell the products but also to deliver the message to shift consumer mindset to a more sustainable consumption concept," Tung told international media at a panel on Wednesday.
Tmall Bumps Up 11.11 Discounts and Rebates
Shoppers can expect bigger discounts than ever at this year's 11.11 Global Shopping Festival, Tmall's head of consumer marketing Zheng Liqing announced at an international media panel on Wednesday.
Cross-store rebates at the Alibaba Group-owned online marketplace increased from RMB40 (US$6.3) off every RMB300 spent to RMB30 off every RMB200 spent. Tmall also moved up the pre-sale start time from 12 pm to 8 pm this year and will continue to provide shoppers with two sales windows during 11.11.
"Over the past 12 years, 11.11 has consistently been the bed of innovation in the retail industry and much of it has revolved around elevating and improving the consumer experience," said Zheng during the panel.
How Alibaba's 11.11 Shopping Festival is Going Green
Alibaba Group's logistics arm will introduce package recycling across 60,000 post pick-up points during this year's 11.11 Global Shopping Festival, said Niu Zhijing, Cainiao Network Vice President and head of the Go Green campaign.
70% of the packages Cainiao handles each year are sent with old shipping boxes recycled at the logistics network's post stations, said Niu, at a panel held on Tuesday at the company's headquarters in Hangzhou.
Cainiao is committed to further expand the scale of recycling for this year's 11.11 Global Shopping Festival, as the company vows to make sustainability and inclusiveness the central themes of this year's shopping bonanza.
Go Green with Sustainable Vouchers on Tmall
Alibaba Group's online marketplace Tmall will offer RMB100 million (US$15.7 million) worth of green shopping vouchers as part of its green 11.11 Global Shopping Festival initiative, the company announced Tuesday.
From Wednesday on, shoppers will be able to earn and redeem the vouchers, one part of Alibaba's plan to reduce the carbon footprint of business operations and incentivize consumers to shop sustainability.
"Going green has already become a major trend among consumers in China, and the platform can play a major role in promoting the green consumption trend," said An Xin, head of Tmall Consumer Marketing at a panel with media held at the company's headquarters in Hangzhou.
Tmall Helps People with Disabilities Buy Single Shoes
Alibaba Group's online marketplace Tmall launched a "One Shoe Program" last Friday, making it easier for people with physical disabilities to buy footwear.
Launched ahead of the 11.11 Global Shopping Festival, consumers can now buy one shoe for half the price of a pair on participating brands' Tmall flagship stores.
The program seeks to provide a more inclusive shopping experience for people with disabilities. There are around 85 million people with disabilities in China, according to China Disabled Persons' Federation.
Over 200 Luxury Brands Taking Part in 11.11, Riding Wave of Demand
On Thursday, the first day of 11.11 pre-sales, the head of Alibaba's Tmall Luxury Division Janet Wang sat down with local media in Shanghai, sharing some key highlights to watch during this 11.11 Global Shopping Festival.
She expects this year's event to be their biggest 11.11 campaign yet, with more than 200 luxury and designer brands are participating – including Hermes and Saint Laurent for the first time.
From their initial sales figures, Wang pointed to watches, handbags and jewelry as categories that have particularly seen marked growth.
Boosting Customer Loyalty and Engagement
This 11.11 will feature two sale periods, giving consumers more time to browse and explore the 14 million promotions on offer. The first official wave of sales will run from November 1 to 3, followed by a second round on November 11.
Members of brand loyalty programs can expect to see more perks and benefits, as thousands of brands rev up exclusive privileges to engage their top customers, everything from limited-edition offerings and member-only vouchers to complementary after-sales maintenance and repairs.
Nike, for example, launched a first-of-its-kind program allowing Tmall members to customize their avatars and join online-to-offline sports challenges to unlock special perks during the mega sale.
Ready, Set, Shop! Alibaba Group Kicks Off 2021 11.11 with a Green Twist
Alibaba Group kicked off its 13th annual 11.11 Global Shopping Festival with an emphasis on sustainability and inclusiveness.
This year marks the largest Festival to date, with a record 290,000 brands participating. Alibaba's business-to-consumer online marketplace Tmall is offering more than 14 million deals to over 900 million consumers in China
"Over the last 12 years, 11.11 has showcased the tremendous consumption power of Chinese consumers and pushed boundaries for the global retail sector," said Chris Tung, Chief Marketing Officer of Alibaba Group.